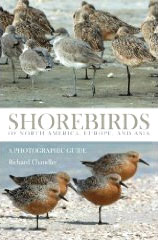 Shorebird season is upon us once again and with the waves of undifferentiated brown and gray birds arrives yet another resource by which to tell them apart. Shorebirds of North America, Europe, and Asia: A Photographic Guide by Richard Chandler is an excellent addition to any shorebirder's library.
With only 217 species worldwide, shorebirds are not paragons of diversity. However, considering how tough it is to tell peeps apart, we should be grateful they don't come in more flavors! Shorebirds of North America, Europe, and Asia addresses all 134 shorebird species found in the Northern Hemisphere. That's a lot of birds! Chandler's work also includes detailed species accounts with key identification features, status, habitat, and distribution along with full-color distribution maps for every species.
The first aspect I judge in a field guide is the illustrated or photographic representation of the subjects. What can I say? I'm a visual person. Anyway, Shorebirds of North America, Europe, and Asia acquits itself rather well in this regard. Over 850 color photographs are combined with dense text in a format that combines all species information in the same place rather than separating the intellectual stuff from the eye candy. Overall, the quality of the photos is good though lacking in sharpness and brightness in spots.
Because I am far from a shorebird expert with an embarrassing absence of exposure to Eurasian species, I'll leave the grisly task of picking this work apart for errors to those better suited to it. That is not to say, however, that this guide seems perfect to me. I have to admit, some aspects of the work don't sit right with me. For example, I love how graphically the Ruff gallery illustrates this bird's astonishingly variable plumage but was somewhat surprised to find no photo of the bird's telltale ruff or ear tufts. One would think such an obtrusive, not to mention attractive field mark would be included.
Also, it is impossible to review a field guide about shorebirds without comparing it to the book to beat in this narrow niche, The Shorebird Guide. Grant at The Birder's Library composed an excellent Shorebird Guide Comparison matching up both of the books mentioned here along with a couple of less distinguished works. His conclusion was that Chandler's guide is second only to The (hallowed) Shorebird Guide and I concur.
However, my perspective is that of a North American, which means The Shorebird Guide specializes in the species I see every year. The magic of Shorebirds of North America, Europe, and Asia lies in how the procession of northern hemisphere shorebirds plays out, a continuum that blends American into European into Asian species until at last one understands the bigger picture of birds of the shore. I'm not sure how invested Richard Chandler is in my personal enlightenment but he's definitely enhanced my understanding of a rather recondite selection of species. For that reason along with the overall quality of the work, I can recommend Shorebirds of North America, Europe, and Asia: A Photographic Guide as a worthy international resource for anyone with an interest in shorebirds.