Canada is blessed with 1.4 billion acres of Boreal Forest, a vast ocean of habitat that lives up to the title of North America's Bird Nursery. Why is the Boreal a big deal? Here are four good reasons I've shared before:
The Boreal Forest is the world's single-largest terrestrial carbon storehouse.
The Boreal Forest contains the majority of North America's fresh, unfrozen water.
The Boreal Forest shelters some of the planet's largest populations of wolves, grizzly bear and woodland caribou.
The Boreal Forest is home to HUNDREDS OF MILLIONS OF BIRDS!
Canada may have set aside a significant swath of the Boreal for conservation purposes back in July 2008 (hurrah!) but as my friends at the International Boreal Conservation Campaign explain, "while less than 8% of the Boreal is permanently protected, already 30% has been allocated to industry."
I'm going to ask you to do a very small thing for the Boreal. But first, allow me to remind you that true conservation, the kind of concerted effort that may actually save species from eternal extirpation, demands a eye on the big picture. Most people don't live in Canada… I certainly don't even though many of my relatives believe that Rochester is actually part of Ontario. Yet anyone who takes pleasure in the procession of spring migration (heating up this very moment!) has a healthy respect and possibly even an unhealthy obsession with many birds that must fairly be considered Canadian. The iconic "Neotropical migrant" may winter in Mesoamerica and pass through the States come spring and fall but countless millions of them breed in the Boreal. Thus, you may never visit the Boreal – though you should – but the Boreal will continue to visit you as long as it exists.
The constellation of conservation groups behind the Save Our Boreal Birds campaign have achieved remarkable success in garnering nearly 60,000 signatures for their Petition to Protect the Boreal. Their goal, however, is an even more magnificent 70,000 signatures on the petition to keep vital Boreal habitat intact before they send it to the Prime Minister of Canada and other provincial leaders.
Whether you live in Canada or not, please take 30 seconds to sign this letter urging government leaders to protect the Boreal. Your signature matters and your support is appreciated!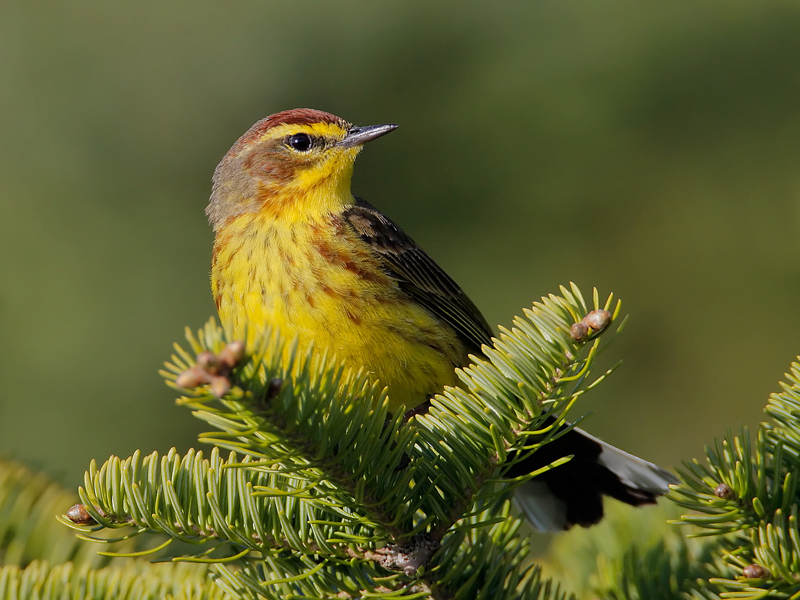 Palm Warbler (a Boreal breeder!) by Jeff Nadler