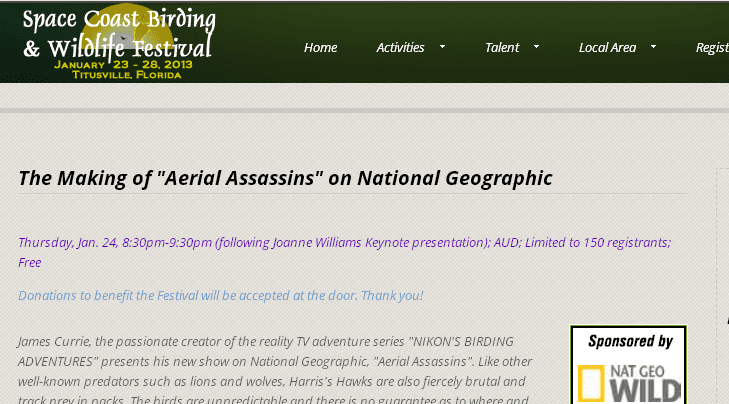 Wow, is it Space Coast time already?  By the time this post goes live I'll be boarding an airplane to sunny Florida to begin the festivities.  To say that I'm excited about it would be a gross understatement.  The birding in North Carolina, for reasons both of my own making and the vagaries of southern "winter" weather, has been a bit slow.  I don't know what to expect from the festival itself, but I think I can say at least that the birding will be off the charts good, which really ought to make for a pretty sweet festival experience.  Because it's Merritt Island National Wildlife Refuge in January, and that's all any birder really needs to know.
As many of you may know, in addition to holding down the southeast/IATB fort here at 10,000 Birds, I also do some work for the American Birding Association.  So I'll certainly be part of that contingent as well.  The ABA will have a presence on the trade show floor in addition to the field, with President Jeff Gordon and First Lady Liz Gordon and #ABArare guru John Puschock around besides myself.  I'll be wearing both the 10,000 Birds and ABA hats (sometimes even literally) while I'm there, so I'll be spending quite a bit of time at the ABA lounge, by which I mean the comfortable couched set-up the ABA has been running out at various bird festivals in the last couple years.
So here's an invite to any of your ready to get your Florida birding on.  Please come by and hang out, say hello, chat about what you're seeing and where you've been and share any particularly great birding experiences you've had at Space Coast.  At the ABA booth we'll be giving away new Common Nighthawk Bird of the Year stickers so come by and grab a couple of those to adhere to your optics, cell phones, laptops, etc.  We're also debuting a brand new ABA sticker, over at the left, at the festival that you can purchase for a low low special Space Coast price.
As for the times you can get out in the field with yours truly, providing that's something you'd like to spend your Florida trip doing (no judgment), I'll be heading out to Viera Wetlands early Wednesday morning in the hopes of finding something cool, or close, and preferably both.  After that, it's all over the mid-east of Florida vacuuming up specialties like Florida Scrub-Jay and Limpkin like they were so much schmutz on my living room rug (though obviously much more exciting).  I hope I have the opportunity to say hello to as many 10,000 Birds readers as I can, and I'll be sure to throw up a few photos on the blog here and there if anything particularly amazing comes up.
So here's to Space Coast!  Let's get this thing started already!