In contrast to last year, when I began my year in tropical Cairns in Queensland, Australia, I began this year's birding in my parent's rural house in Cheshire in Northern England. Where Cairns was hot this place isn't, but where Cairns was new Cheshire is familiar. It was particularly nice for the first bird to be one of my favourite birds here, a flock of Long-tailed Tits feeding on some peanuts.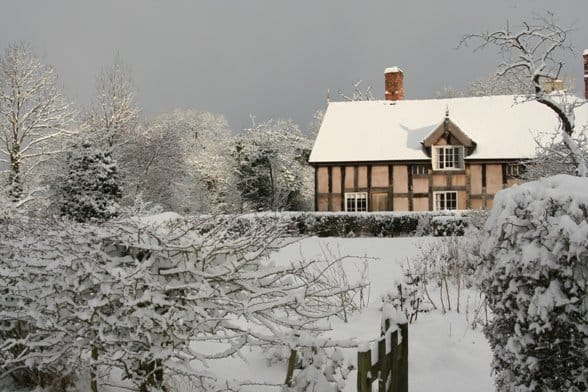 Gratuitous winter shot taken several years ago of my parent's three hundred year old home.
My parents feed a lot of birds (at great expense, as they never fail to point out) and it wasn't long before we also had Blackbirds, Robins, Dunnocks, Great Tits, Blue Tits, Chaffinches, Goldfinches and Greenfinches on the feeders as well. The latter are making a welcome return after dropping in numbers recently due to an outbreak for disease. Also present in large numbers were Bramblings, a migrant from Scandinavia. These were very rare visitors in the past, with maybe a few birds every winter, but lately we've had flocks of up to ten most days. Other birds that passed through the garden or visited the feeders were a pair of magnificent Greater Spotted Woodpeckers, Jackdaws and Carrion Crows, Pheasants, Wood Pigeons and the diminutive and rarer Coal Tits.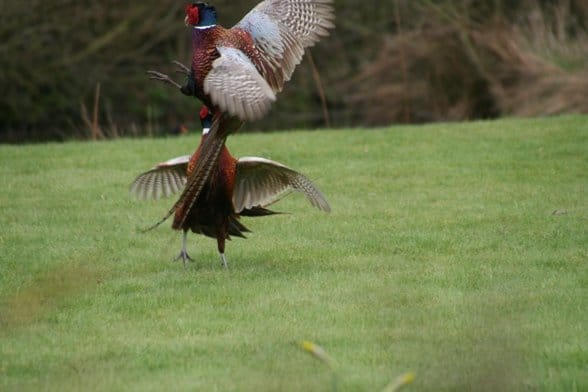 Action shot of some Ring-necked Pheasants going at it at my parent's house.
As I said, the birding here is quite familiar to me, so it was something of a surprise to have three unusual birds in the garden today. The first was a female House Sparrow, which is unusual insofar as it is the first time we have ever had one in this remote property (even Tree Sparrows are a rarity here). The second was a pair of Great Cormorants flying far overhead – another new species for the house! And finally was series of fleeting glimpses of a very shy bird; a Marsh Tit! This species used to be rare but regular, but of late has become something of a rarity unfortunately. In fact I hadn't seen one at all last year, and was worried they were not in the area any more. Hopefully he'll stick around for a few days.