This past Saturday the Bloggerhead Kingbirds once again, for the third consecutive year, participated in the Superbowl of Birding.  Our third attempt netted us more species and points than ever before but we finished out of the money, with not a single award being won by our team.  None of us even managed to win any of the 40-something door prizes!  Despite not experiencing the thrill of victory we still managed to have a great time and we definitely saw some amazing birds.  Continue reading for a rundown of our day birding the snowy landscape of Essex County, Massachusetts.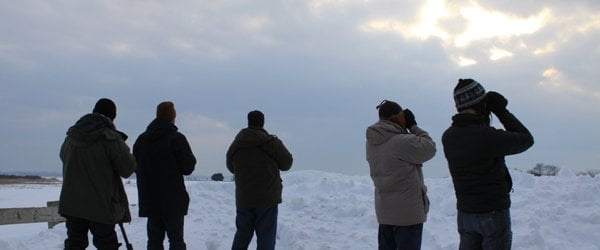 Before I get into the day I should, of course, make sure you know what bird bloggers made up our intrepid team.  Christopher Ciccone of Picus Blog served as our captain, mostly because he tends to whine and cry if he isn't in charge.  He also had to suffer through an up-close view of my driving as our navigator.  This may or not be why he decided to change his pants halfway through the day.  Mike Powers, hereafter referred to as Mikey Flowers for less than obvious reasons, blogs on Feathers and Flowers and performed admirably as our designated ocean-scoper and eBird expert.  Nate Swick, our token southerner, blogs at The Drinking Bird and about twelve other blogs.  He was our cold canary in our Superbowl of Birding coal mine because his complaining is in inverse proportion to the temperature.  Andrew Baksh of Birding Dude was our motivator because he yelled at us when we flagged and whipped those who fell behind.  He also did an amazing unintentional half-gainer when he got distracted by a bird while climbing over a snowbank.  John Beetham of A DC Birding Blog was our vulture bait and checklist keeper and also made the rest of us jealous as he racked up life birds.  Me?  I served as resident leadfoot behind the wheel and tried not to screw up too many identifications.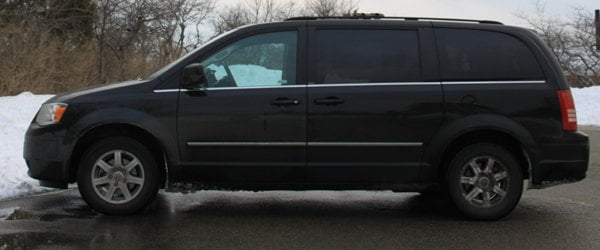 Our day began at Flax Pond as it has every year and we had the spotlight on the ducks in the small patch of open water within thirty seconds of he 5 AM start of the competition.  While we spotted several species, including a surprise Ruddy Duck, we did not see the bird we really hoped to see, the five-point Northern Shoveler.  As we drove away from the pond to start our pre-dawn owling we called in to the Superbowl of Birding headquarters to see if anyone had reported any five-pointers and we were flabbergasted to learn that a Northern Shoveler had been reported at Flax Pond!  We did a quick U-turn and went back and scanned through the ducks again but had no luck finding it.  Muttering about stringers and in a foul mood we arrived at our Barred Owl spot and were pleased to hear a Barred Owl within a couple of minutes.  We had an Eastern Screech Owl quickly respond to Nate's wonderful whistle.  Well, actually, it responded once the extremely loud snow-moving machinery was out of the way…
Once we had checked Eastern Screech Owl off the checklist we headed out to our Great Horned Owl spot and quickly had a Great Horned Owl respond as well.  All three common owls for the first year in Bloggerhead Kingbirds history!  We were happy as a pigeon locked in a bakery overnight and we decided to reward ourselves with a Dunkin' Donuts stop, which usually numbers among the highlights of the day for me.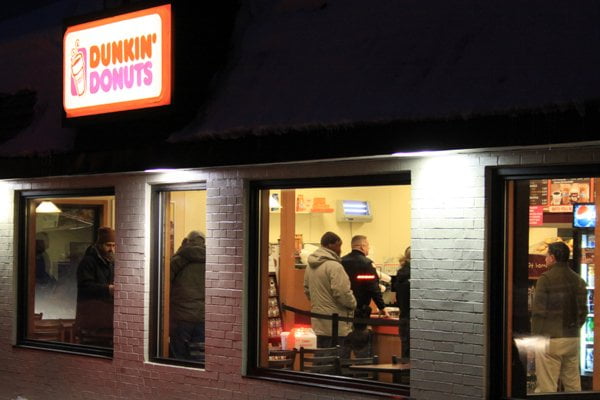 We were rather surprised the next time that we called in to find out if any five-point birds had been reported to hear that we had reported a Northern Shoveler but that bookkeeping error was quickly fixed (though we were tempted to let it stand).  We spent the first hour of daylight checking some feeders and and a couple spots with open fresh water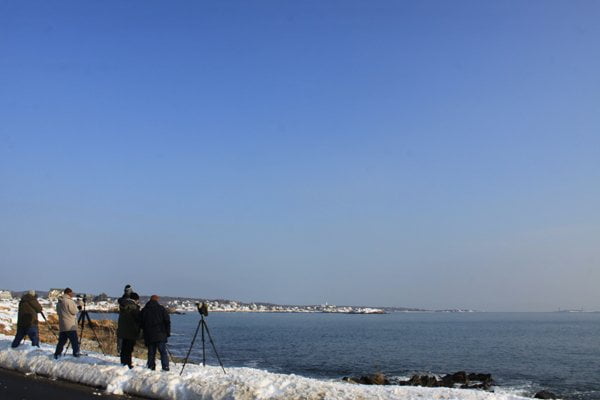 and quickly tallying some basic expected species but nothing spectacular.  We had another shoveler disaster when one flew over but only three of us spotted it, one short of the majority of the team needed to count a bird.  Then we headed to Gloucester Harbor to add a wide variety of ducks, gulls, and other waterbirds.  Our best find there was when Andrew picked up a distant Dovekie and we all got on it, getting the five points for the bird plus the bonus three points for being the first team to call in a Dovekie.  This year both John and Mike saw the bird, meaning they were exceptionally pleased both because they managed to not see the one we spotted last year and because it was a lifer for both of them!  We also found a Black Guillemot and a Thick-billed Murre in the harbor, giving us three alcids from land before 10 AM!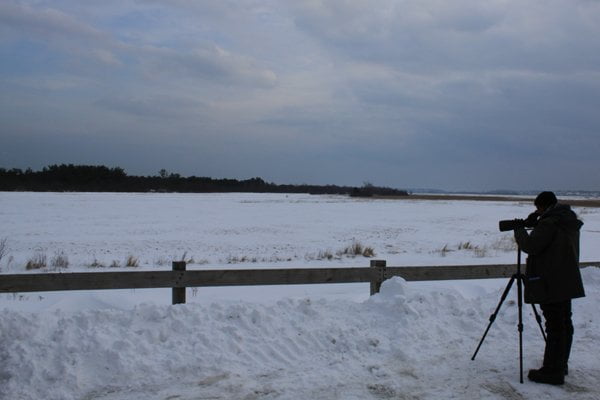 We then made our way from point to point along the rocky coast picking up bird after bird, everything from Great Cormorant to Corey's Guillemot, which is the consensus team name for a drake King Eider after I finally got one in the scope and spoiled the moment a bit by asking what the guillemot with the orange bill was (in my defense I had distant, lousy, wave-obstructed views).  Harlequin Ducks are always great birds and so was a drake Barrow's Goldeneye at Loblolly Cove, John's second lifer of the day!  By the time we arrived at Granite Pier the only seaduck we really needed was Long-tailed Duck, though we nearly picked up another seabird that Christopher almost does a nice imitation of, as you will see in the next video.
Sadly, we would end the day without a Northern Gannet, to say nothing of missing Black-legged Kittiwake, Bonaparte's Gull, and any shorebird except Purple Sandpiper.  We did manage to find Long-tailed Ducks though, and John somehow spotted a Cooper's Hawk that was perched on the side of the road as we went blazing past.  Land birds of note included a horde of American Robins, several Cedar Waxwings, and a Gray Catbird.  Out at Andrews Point we picked up our fourth alcid of the day, a Razorbill, and our second King Eider of the day, this one a juvenile male.  The video below, in which I mispronounce our location as "Anders Point" illustrates well one of the reasons I like birding: you go great places!
A quick stop back at the fishing pier netted us a Glaucous Gull to go with our earlier Iceland Gull and then we began the long journey north and west through Ipswich to places like Plum Island, Salisbury Beach, and the Chain Bridge.  En route we stopped at a dairy farm and were very pleased to see a flock of Horned Larks that held not only a single Snow Bunting but several Lapland Longspurs, John's third lifer of the day!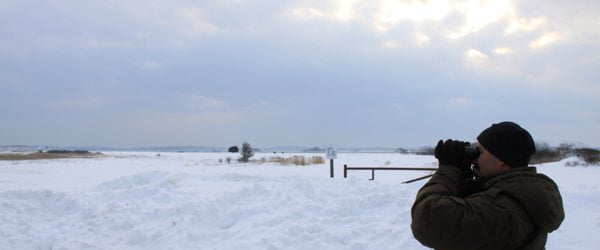 Common Merganser, Bald Eagle, and not much else were added in the next hour or so, and Salisbury didn't add much more, with a nice Ipswich Savannah Sparrow being the highlight there.  Some feeders netted us a couple icterids, finally, and John picked another accipiter from thin air from the van, this time a Sharp-shinned Hawk.  By the time we arrived at Plum Island we were dragging, pretty sure that we were out of the running after missing every five-point bird that was spotted except for our Dovekie, and some other relatively easy birds as well.  Nonetheless we persevered, adding a Hermit Thrush and a second catbird before cashing in our chips and calling it a day.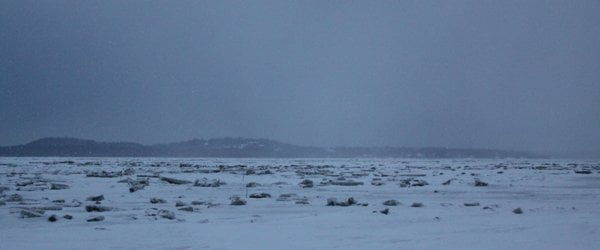 Our 73 species and 142 points was our best showing as a team, but there were many teams that had better days.  We learned at the dinner that the shoveler that had so vexed us at Flax Pond to start the day had actually been in a different patch of open water out of sight of the patch we were at, and so we took back all of the insults we had heaped upon the teams that got the bird.  Though we missed a host of birds that we should have seen, like Red-breasted Nuthatch, Rough-legged Hawk, Wild Turkey, and many more, we still had a great day in great company and it was well worth the time and treasure put into the competition.  Just wait 'til next year!
And if you want to read how this year's champs, the Burger Kinglets, managed to win just click here.