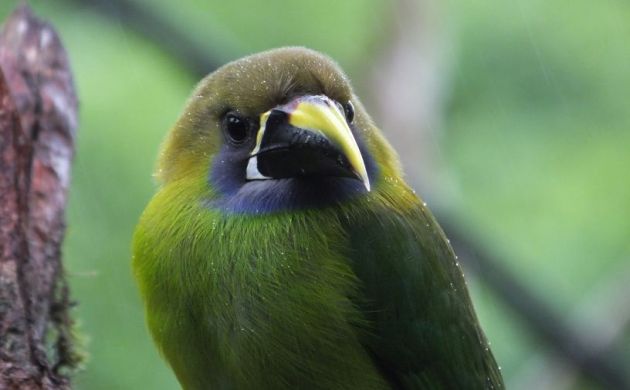 Global Big Day is an initiative created by the folks at the Cornell Lab of Ornithology to promote the use of eBird and birding in general. A birder can participate in Global Big Day (GBD) by eBirding as much or as little as one feels like doing but why not just go all in and give yourself over to birding? Think about it. How many days of the year do we allow ourselves to do that? To bird until we drop? To put most of our focus on watching and identifying birds, all day long? The GBD is a modern birding holiday that is the perfect excuse to celebrate birds all day long. Need to do laundry? Paint the porch? Go to traffic school? Reschedule that visit to the in-laws, cancel the company picnic and drop everything else because GBD is in the house!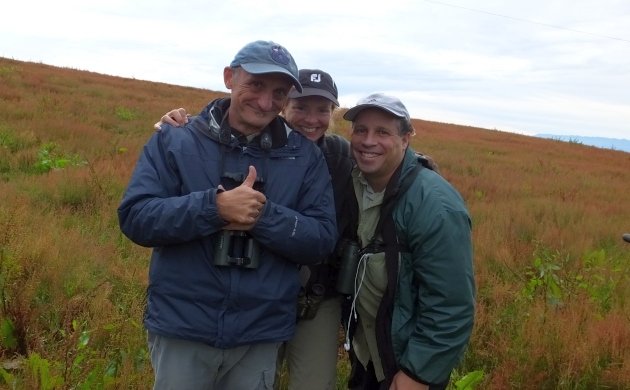 Because birding makes you happy…well, especially after seeing Maroon-chested Ground-Dove.
Although many a birder in the temperate zone of North America does take GBD seriously, for birding communities in some Latin American countries, this day has become the most important birding day of the year. People talk about it for months in advance, organize teams, have tee-shirts made, and get support from local businesses, respective tourism ministries and NGOs. This happens in Peru, Colombia, Panama, Costa Rica and other major birdy places because GBD isn't just viewed as a day to watch birds. It's when a country can have massive, community-based, collective marketing for birding tourism. Colombia usually gets the number one spot for GBD (most bird species for any country, no surprise there) but any country with a high total can and does use the results to their advantage.
High totals aside, though, birders on GBD also give it their all out of national pride. They want to showcase how many birds can be found in their country, their place, in just one day. From India to Argentina, they also want show how well their local birding communities can do. In Costa Rica, we wanted to eBird as many of the resident species as possible, even the super tough ones. This is why we had teams starting in the middle of the night from the lowlands to 3,000 plus meters high on Irazu Volcano (in feet, 11,000 of them), and why multiple birders were tasked with finding megas like Maroon-chested Ground-Dove and Slaty Finch. I shared information to find some of those evasive species but my personal task on Global Big Day wasn't finding a Lanceolated Monklet or other seriously challenging species. The goal of my partner Marilen and myself was identifying all of them, or, at least as many as possible on May 4th, 2019.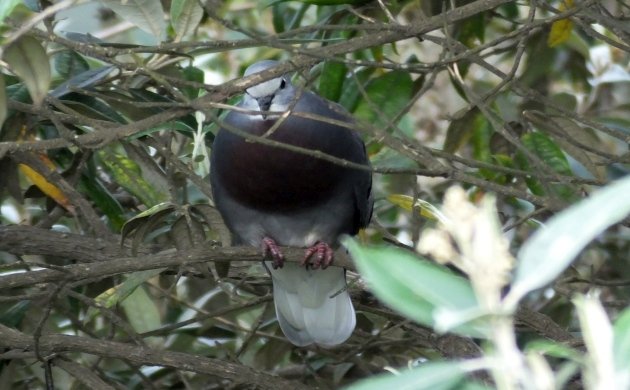 The much desired ground-dove.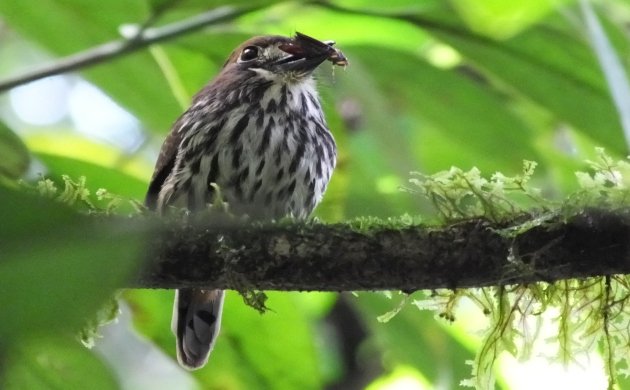 A monklet would always be a welcome addition to our list but many other, more common and friendly species were more likely.
Given that most migrants had left our lands, seeing or hearing more than 300 species was going to be a challenge. But, with a route that provided potential access to more than 500 species and one I had scouted on many occasions and for which I had already worked out driving and birding times, yeah, we figured we would give it a shot! It was for GBD so why not? Why not do the two hour drive to the Pacific coast so we could start GBD at salt ponds in the dark of the tropical night? Why not listen for owls and other nocturnal birds just before the break of dawn? Why not follow that up with a fierce dawn chorus before birding our way up and over mountains with different suites of bird species at each elevation? Then, we could also end our GBD in the humidity of the Caribbean lowlands, maybe picking up a few more species before the clock struck midnight.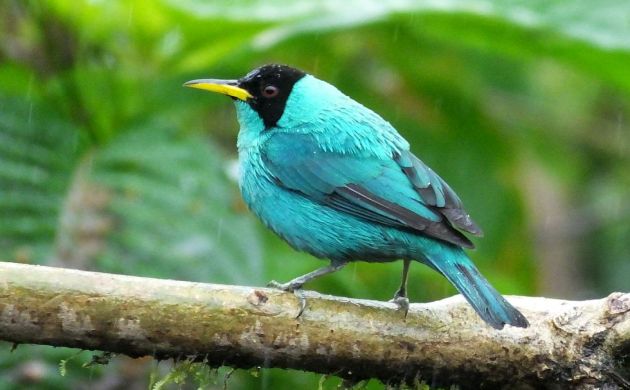 Would we find a beautiful Green Honeycreeper?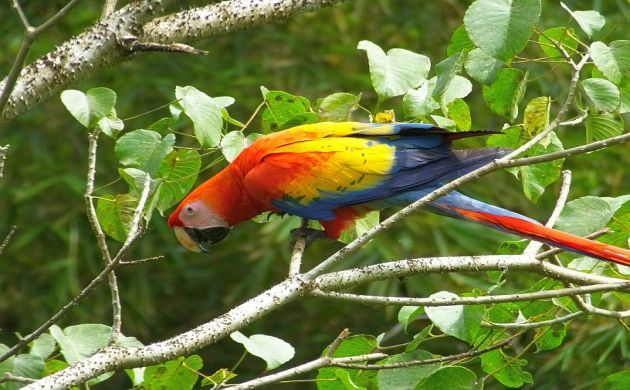 Scarlet Macaw?
The funny thing was we weren't even sure if we could do GBD in Big Day fashion until a few days before May 4th. We had to make sure that someone could watch Mary's daughter, we had to make sure that she had studied enough for exams the following week. We had to make sure we had enough Red Bull and other wacky caffeinated drinks, enough snacks, and enough rest. Much to our fantastic fortune, it all worked out (even getting rest!) and just before midnight, we found ourselves on curvy, winding roads that led to the Pacific. This is how our GBD went:
The Clock Strikes Midnight! 
It turned May 4th and it was time to count birds! The only problem was that we were still driving and there were no birds to be seen. No luck with perched owls, nor any errant roosting Rock Pigeons but that was alright. Common Pauraques eventually called and our luck would eventually change.
Shorebirds in the Dark and a Sweet Potoo
The reason we began GBD at salt ponds in the dark was because it was our main chance at adding several shorebirds. The birds would have to call and we would need to identify them but given the possibilities, the nocturnal shorebirding was worth a shot. Despite some worrisome light precipitation on the drive in, it was dry when we reached the shorebirds and we ended up hearing and managing to see 8 or so valuable species. More species were likely present but were either quiet or just too far away to identify before we had to drive an hour to our next stop, an area of mangroves that can host roosting birds and maybe even Northern Potoo. As we drove along the edge of the mangroves, the night sky was deathly quiet and bereft of bird calls, nor were any birds seen until, like magic, just before leaving, there was a Northern Potoo spotlighted, just next to the car! Not an easy bird in Costa Rica, this was one of our best birds of the day.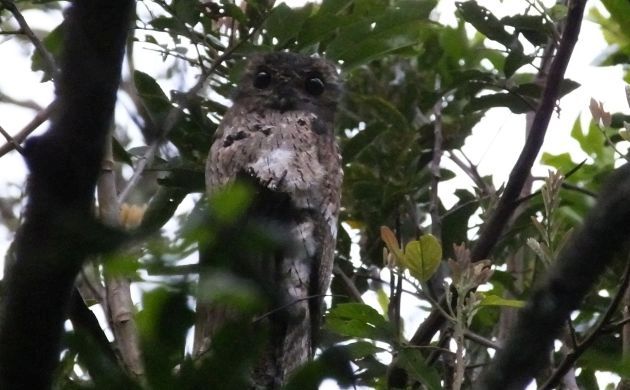 A Northern Potoo from another day.
Hitting Big Day Paydirt
On a Big Day, every single bird counts, even a House Sparrow. You don't want to overlook common or edge species because although you may have seen them every other day of the week, come Big Day time, their absence is typically uncanny. In the tropics, since a lot of common birds have low population densities,  it's especially important to find them and as many other birds as possible during the first vital two hours of day. The dawn chorus can make or break a Big Day, you have to make absolutely sure that you are in the best possible spot; one that features the vocalizations of as many species as possible, especially forest birds. With that in mind, we chose our dawn chorus at a spot near Jaco in the Pacific lowlands where mature rainforest borders second growth and open fields.
It's a nice blend of habitats, features some specialty birds we can't find elsewhere on that route, and, as a bonus, it's excellent for owls. On May 4th, we arrived shortly after 4 a.m. and it didn't take long for them to call. Tropical Screech-Owls from the second growth! Mottled, then Black-and-white Owls from the forested hills! A thick-knee called from the field, hoped for Crested Owl growled from the forest, and a Barn Owl flew right overhead! The only owl species that didn't vocalize was Spectacled Owl. Thanks to a brief stop en route for Pacific Screech-Owl, we had 6 owl species under our belts, a bonus Northern Potoo, and as Great Curassow, Crested Guan, and Great and Little Tinamous began to call, we knew we had a chance at a serious total for the day.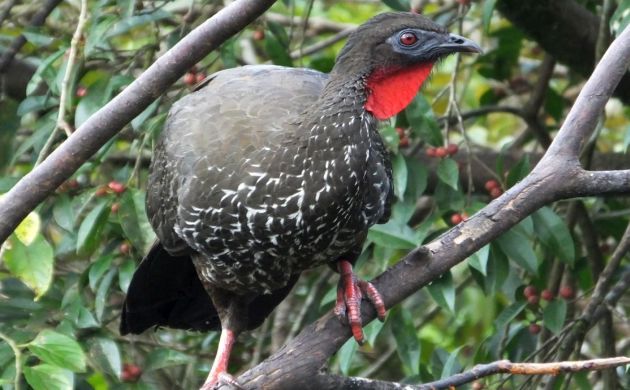 Crested Guans rattled their wings and thank goodness, we did not have this species again.
Dawn kicked off with a host of rainforest and edge species and within an hour, we had all five possible trogon species, two motmots, four woodcreepers, four woodpeckers, various flycatchers, and many other species including one of our targets, the rare and local Slate-colored Seedeater. The birds kept coming and although hummingbirds and parrots were scarce, on the drive out, we still managed last minute vital ticks in the form of Plain-breasted Ground-Dove, Scrub Greenlet, Red-breasted Meadowlark, and other birds. Many of these only called once, thank goodness they did! When we left around 7:15 a.m, I think we had already identified 120 or more species. I was particularly happy with a singing Marbled Wood-Quail, one of several species unlikely at other sites on our route.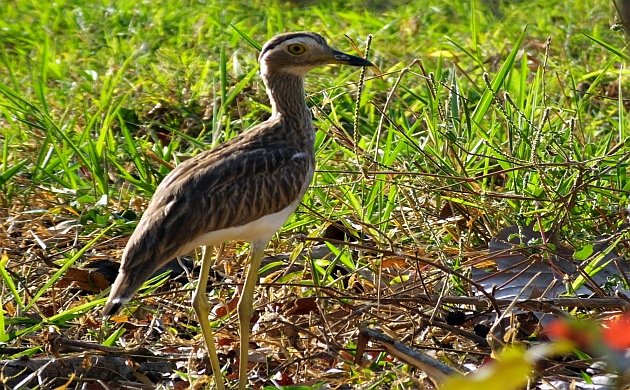 The Double-striped Thick-Knee was one of several uncommon species that did us a favor.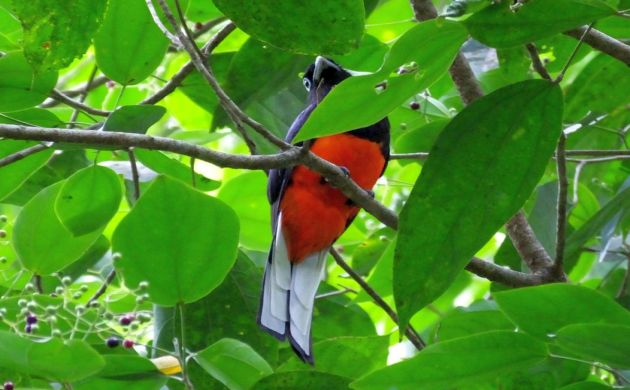 One of those was the beautiful Baird's Trogon.
The stunning Turquoise-browed Motmot was seen and heard along with several Lesson's Motmots.
Tarcoles Waterbirds and Deep Forest Species at Carara National Park
Racing to the seaside village of Tarcoles, we made a quick stop at the river before heading to the national park. The river treated us very well with most possible heron species and some other key birds. The national park was even better. There was so much acitivty, it was almost too easy but we weren't complaining! Within an hour, we had picked up most of our deep forest targets including three manakin species, an excellent Ruddy Quail-Dove, three more woodcreepers including the rare Long-tailed, Streak-chested Antpitta, Spot-crowned Euphonia, Rufous Piha, White-whiskered Puffbird, and more flycatchers among other species.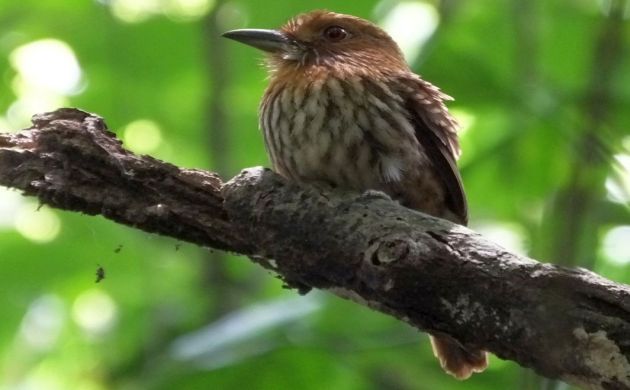 The puffbird.
After the national park, we made our way back to Tarcoles for mangrove species and beach birds. The beach was mostly a bust but the mangroves came through with Mangrove Vireo, Northern Scrub-Flycatcher, and a couple other species.
A Last Stop for Dry Forest Species, Waterbirds, and the Drive to the Volcano
One last stop for waterbirds at an oxbow lake wasn't as fruitful as I had hoped but Solitary and Pectoral Sandpipers inched the list upwards. Although we had picked up some dry forest birds at dawn, a lot more were still possible. Luck was once again on our side when several key species called and came in to the whistles of a Ferruginous Pygmy-Owl. Olive Sparrow, Rufous-capped Warbler, an Olivaceous Woodcreeper, Nutting's Flycatcher, and others made it into our day list before we began the drive to the high elevations of Poas Volcano. On the way, Vaux's Swift called, we got our House Sparrow, heard one Flame-colored Tanager, and listened to an Orange-billed Nightingale-Thrush, our first of all five nightingale-thrushes for the day. Next stop was the road to Poas Volcano, a site with mature high elevation forests that host a healthy variety of species not possible at other spots on the route.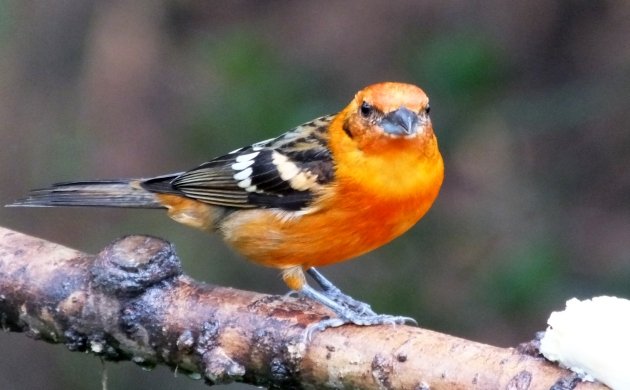 Flame-colored Tanagers are common in Costa Rica but still easily missed on a Big Day.
Poas Volcano
We only had 30 minutes to play with but thanks to reoccurring ideal birding weather (cloudy, misty conditions), we did very well and found a high percentage of possible targets. The best were probably Resplendent Quetzal, Wrenthrush, and Large-footed Finch. Thanks to guiding and previous scouting at this site, I knew where the quetzal was hanging out as well as various other bird species. We didn't get all of them but were very happy with our total during a half hour of birding.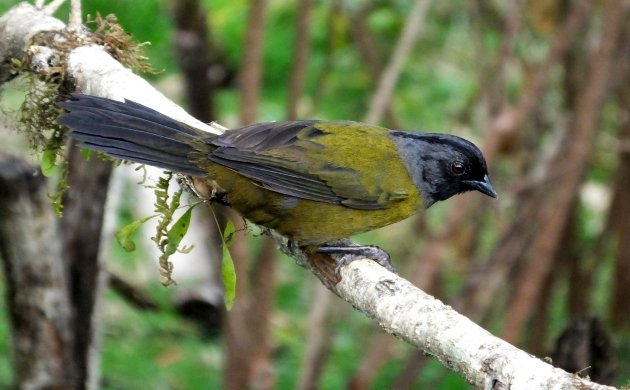 Large-footed Finch.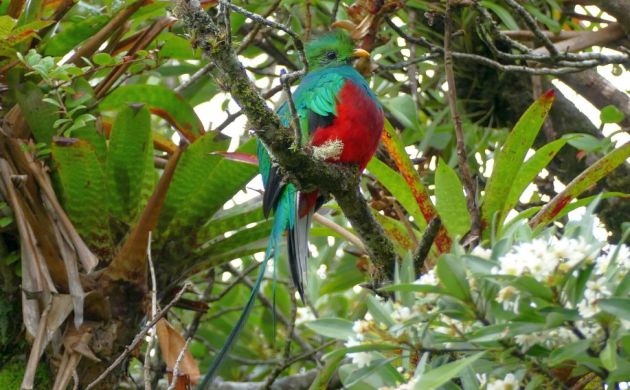 A quetzal from another day on Poas.
Mid-Elevations and Cinchona
On the way down, time constraints kept us to brief stops and listening from the car. Thanks again to ideal conditions, we picked up several species as we drove along. Sooty-faced Finch singing! Slaty-backed Nightingale-Thrush! There's a Brown-capped Vireo, Rufous-browed Peppershrike! The birds treated us very well and continued to do so at the Cinchona Colibri Cafe. A quick stop gave us hoped for Northern Emerald Toucanet and Prong-billed Barbet. We lucked out with White-naped Brush-Finch and got our expected hummingbirds including the local White-bellied Mountain-Gem.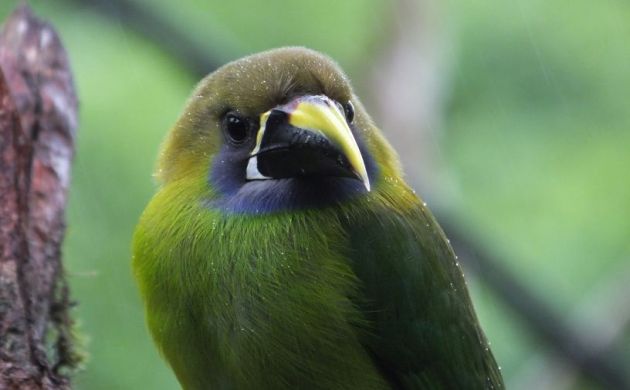 Thank you toucanet!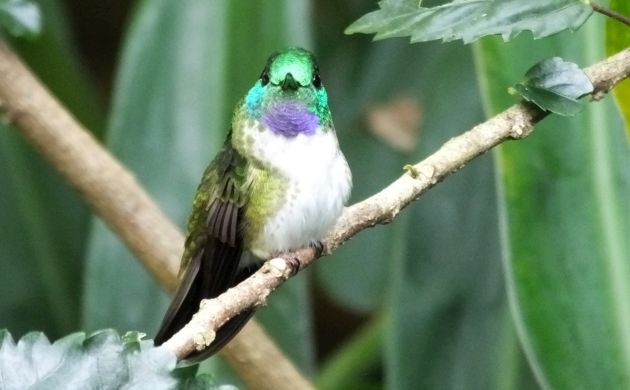 And many thanks to you mountain-gem.
Socorro until Dusk
Our last main stop, our last chance to add a bunch of birds was in the foothill zone in an area of mature forest that can host nice mixed flocks and a blend of lowland and mid-elevation species. On the way, we picked up a few other birds, adding things bit by bit mostly from hearing them call. One of the best was the only Yellow-winged Tanager for Costa Rica on GBD, others were Black-headed Saltator, Roadside Hawk, and Black-throated Wren. In the Socorro area, although the soundscape was quieter than I had hoped, other species eventually made it onto the list including Olive-crowned Yellowthroat, our only Least Grebes at a small reservoir, and a few tanagers. We finished off that birdy area with a scouted Central American Pygmy-Owl before deciding to give the lowlands a shot. Given that dusk was just around the corner, it was a long shot but we still managed to pick up Rufous Motmot on the way. That ended up being our final bird.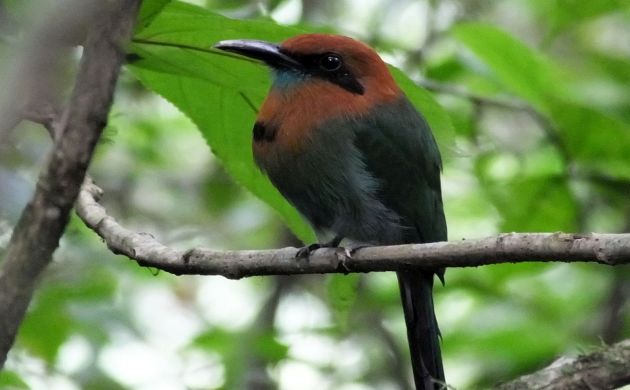 We also had Broad-billed Motmot, our fourth motmot species for the day.
As dusk fell in the Caribbean lowlands, no more birds called but given our birding luck, we knew we must have had a really good total. We tried a bit more for night birds around La Selva but since nothing was calling and exhaustion was sort of taking over, we called it a day, went to a hotel, and counted our species. After doing the eBird lists, Marilen said, "It might not be as much as we hoped. It's not 350 species…but eBird says we got 305". After double-checking and making sure that we didn't leave anything out, yes indeed, we had identified 305 species for the day! This included 33 species of tyrant-flycatchers, 14 species of wrens, 10 thrushes, American Dipper, Shiny Cowbird, Swallow-tailed Kite, and too many other species to mention. Perhaps the craziest part of surpassing 300 species in a day was that another team doing a similar route in Costa Rica on the same day found 335 species!
It just goes to show what might happen when you give yourself over to birding from dawn to dusk and then some, especially in Costa Rica. When the migrants are back, and with a few tweaks to the route, I wonder if we (Team Tyto) could find 400 species in one day..