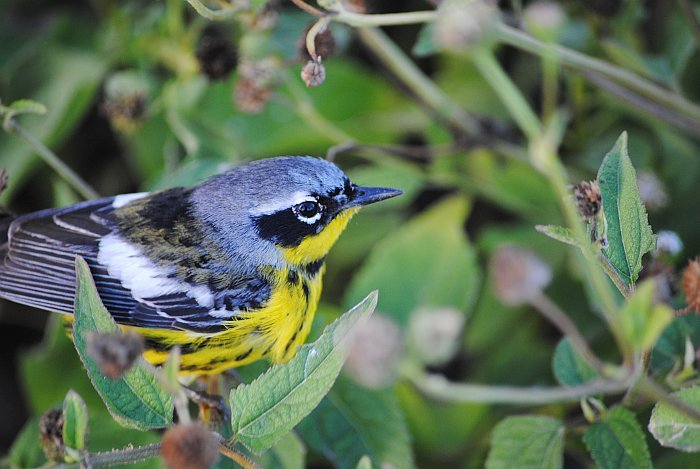 Lying about 70 nautical miles west of Key West, Dry Tortugas National Park is a small group of low lying islands rich in history and in wildlife. Discovered by Ponce de Leon in 1513, the islands were named after the numerous sea turtles that were collected for food by the first European explorers (tortugas) and the fact that there is no freshwater on the island (dry). The United States built Fort Jefferson on Garden Key between 1846 to 1875 to protect its interests in the Gulf of Mexico, but was later abandoned without ever being fully completed. Surrounded by beautiful coral reefs, harboring immense seabird colonies, and functioning as a prime migrant trap, this history-rich national park has also become one of the most coveted destinations within the United States to see birds. In 2011, I had the opportunity to visit Dry Tortugas National Park and remain for several days.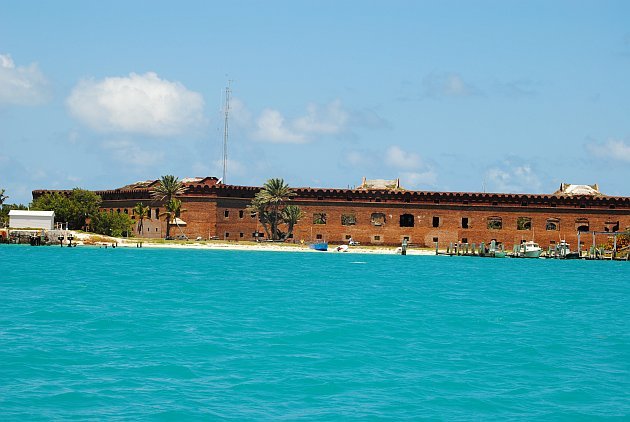 A first impression of Garden Key on the approach to the tiny isle.
After a few hours of travel from Key West to the Dry Tortugas (and seeing Black-capped Petrel and Roseate Tern along the way — keep your eyes open for pelagic species in the deep channel separating Key West from the national park), the boat slowly approached Garden Key, a tiny but immediately captivating island surrounded by crystal clear, turquoise waters. The channel markers on approach were good for Brown Booby, flotsam and jetsam around the islands had Bridled Tern, and Brown Noddy and Sooty Tern were so abundant as to be omniprescent at all times. The Brown Noddies and Sooty Terns nest in nearby Bush Key by the thousands — the only regular nesting site for both of these tropical terns in the continental United States.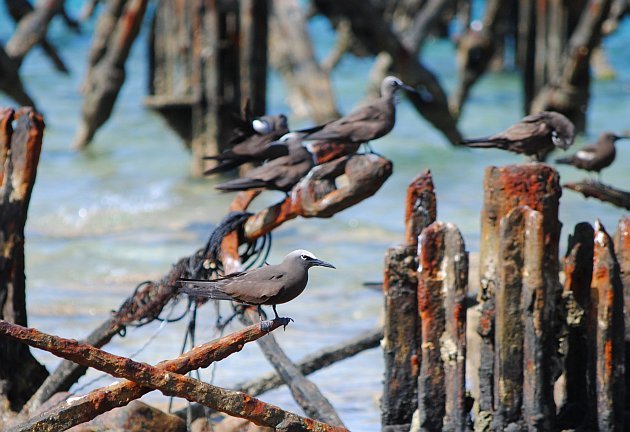 Good views of Brown Noddy are guaranteed during the nesting season.
After soaking up the seabirds and the atmosphere of being on such a remote, tiny island, I headed into the fort to look for neotropical migrants. Being that Garden Key has no natural source of freshwater, a tiny fountain installed among the old, steadily declining grove of buttonwoods in the middle of the fort's parade grounds is a good place to start searching for birds or just relax in the shade. Every single tree and bush on the scantily vegetated island has to be thoroughly inspected for migrants during April and the first half of May, which can include up to twenty species of warbler, various vireos, Summer and Scarlet Tanager, Rose-breasted and Blue Grosbeaks, and Baltimore and Orchard Oriole. While inspecting the vegetation, it always pays to check twice as exhausted birds are constantly landing on the islands throughout the day and night. While I was there, a pair of Gray Kingbirds made a sudden appearance at the top of a snag. The key is also to expect the unexpected — Red-headed Woodpecker, Long-eared Owl, La Sagra's Flycatcher, and Loggerhead Kingbird are among the various very disparate species that have been recorded in Dry Tortugas National Park. Sadly, one also learns how difficult it must be for these small birds to make their migrations twice a year. It is the norm to find dead or dying birds, as most of these migrants make a stop at Dry Tortugas National Park moreso out of desperation rather than the quality of available habitat and profusion of feeding opportunities.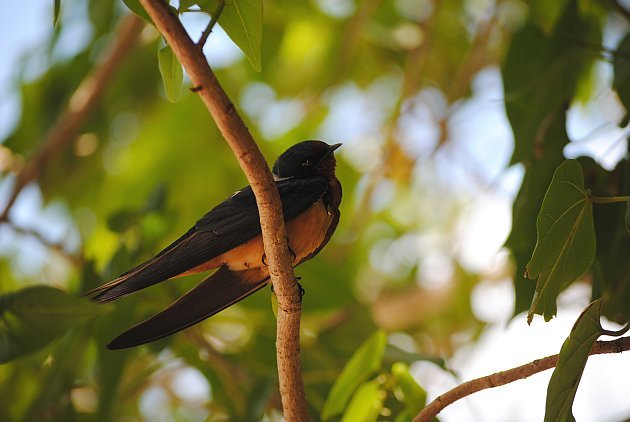 A listless Barn Swallow that might not be able to make the journey north any longer.
How does one visit Dry Tortugas National Park? The Yankee Freedom III offers day trips to the island which gives you a few hours to explore Garden Key. If going with the Yankee Freedom III, make sure to ask the captain of the ship to make a special stop near Hospital Key so that you may see the colony of Masked Booby. If you wish to explore the other island of reasonable size — Loggerhead Key — one must make special arrangements or join a guided tour run by locals such as Larry Manfredi. Loggerhead Key is a reliable site for the Antillean race of Short-eared Owl. As a reminder, remember to bring a scope as it is very necessary for searching for Black Noddy, almost annually recorded here, among the the thousands of Brown Noddy on Bush Key. So where are you birding this spring break? The islands that are part of Dry Tortugas National Park form a dynamic birding site with a constant turnover of migratory species, nesting tropical seabirds, and a high chance of finding an ABA-level rarity. I can't wait to go back.