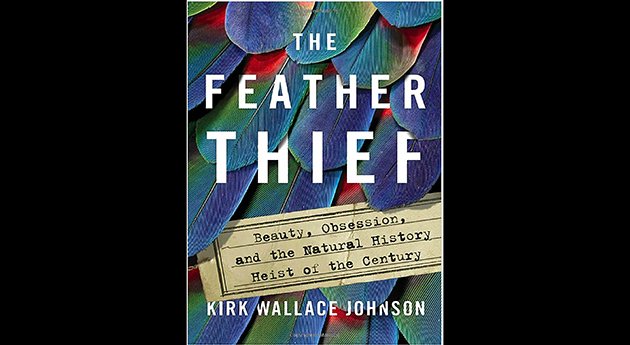 There's more than one obsession in The Feather Thief, and though the mind boggles at the lengths to which the obsessed go in order to satiate their passions, as a birder I couldn't help but feel a sense of kinship. And, rage and frustration. The Feather Thief is the story of Edwin Rist, a 20-year old flutist from New York State, who, on a June evening in 2009, broke into the British Museum of Natural History at Tring, grabbed 299 bird skins, and, ignoring an almost priceless elephant portfolio edition of Audubon's The Birds of America nearby, packed the skins into a suitcase and took an early morning train back to London.
What? Why? That's pretty much the reaction of anybody hearing this for the first time. Author Kirk Wallace Johnson does more than simply tell a quixotic heist tale, though. He roots the theft in the history of collecting bird skins, in the brief life history of Edwin Rist, in the secretive world of classic fly tying, and in his own efforts to follow up on a police investigation that got the man but not all of the loot. The result is a really good read, a suspenseful true-crime narrative that reads like a novel yet also probes real-life questions focused on the purpose of natural history museum collections and the ethics of closely gated "hobbyist" communities.
Johnson smartly starts off with the two obsessions that are at the core of the book–an intriguing description of Rist breaking into the museum (we're not told the why, just the how, which is pretty impressive because it's done so amateurishly and successfully) followed by Johnson himself learning about the theft several years later from his fly fishing guide, Spencer Seim, while casting for trout in New Mexico. Johnson is not a birder or a naturalist; he was fly fishing to get his mind off the stress of working on the List Project, an advocacy organization he founded to aid Iraqis who had helped the U.S. government (Johnson had worked in Iraq for USAID, where he learned about his friends and colleagues problems first-hand). The theft of some "dead birds" captures his imagination, and by the end of the book we've traveled with him around the world as he talks to famous fly tiers,* the Tring police, and Rist himself, seeking for the truth behind the story.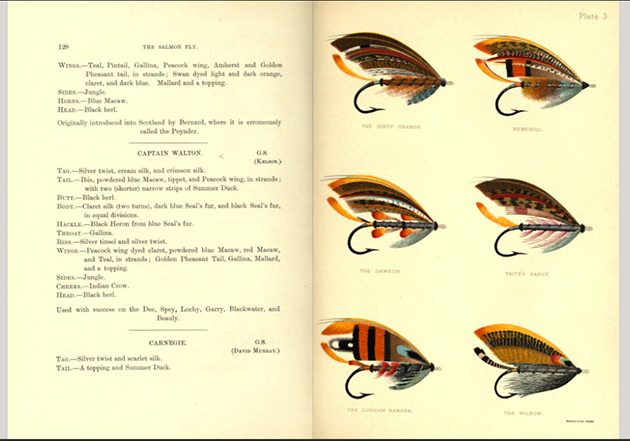 Spencer Seim also introduces Johnson, and us, to the world of Victorian fly tying, Rist's obsession, the raison d'être for the Tring heist. These are images of Victorian flies above, taken from the classic fly tiers bible, The Salmon Fly: How to Dress it and How to Use It by George M. Kelson, published in 1895. Each fly has a name and a 'recipe' to follow for its creation, a complicated procedure utilizing a hook, sometimes fur, sometimes wool, but always brightly colored feathers from rare birds.
The 'recipe' for the Durham Ranger, the first fly Edwin Rist ever tied gives you a good idea of the ingredients required, though it doesn't describe the minute, complicated procedures required, nor list the instruments a classic fly tier will need, including a specialized vise, specialized pliers, magnifiers, bobbin, bobbin threader, and a metal thingamabob called a 'whip finisher.' To get a feeling for how difficult it is to tie a Victorian fly like the Durham Ranger, look up a video on the Internet, it's impressive.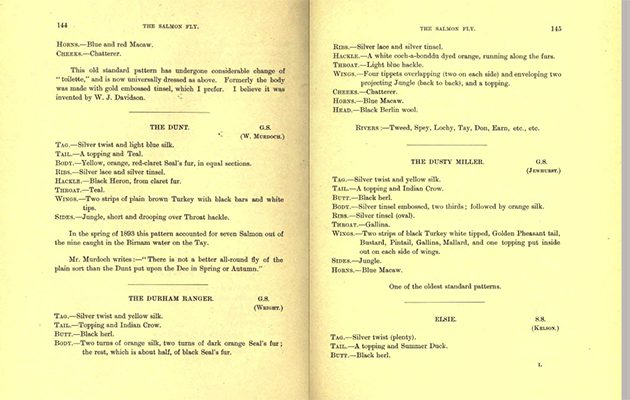 Can't make it out? Here it is as typed out in The Feather Thief (p. 71):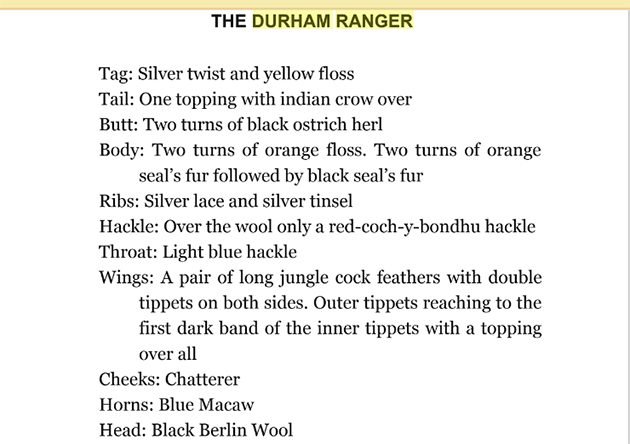 Ingredients include feathers from a Spangled Cotinga (called 'Chatterer' by tiers), Blue Macaw, Red-Ruffed Fruitcrow ('Indian Crow'), Ostrich, and, according to Johnson, Golden Pheasant (the jungle cock, I think). Teenaged Edwin Rist didn't get to use these feathers on his first Victorian fly tie, he used dyed substitutes, but his appetite was whetted when his instructor gave him a bag of rare bird feathers.
Are these flies actually used for fishing? No. The original Victorian developers of these flies claimed they should be used for fly fishing, that they were practically guaranteed to get salmon to attack your hook, but the truth is, as Johnson emphasizes, that it was all a crock. He even finds a political connotation, point out that the fly "was like a snapshot of the British Empire at midcentury: employing plumes shipped up by Ostrich farmers in the Cape colony, blue Chatterer and indian Crow extracted from British Guiana, and Golden Pheasant crated in the port of Hong Kong" (p.72).  Still, Victorian fly tying has attracted its disciples over the decades, and tiers today consider it to be an art form and pursue it with passion. Sort of like birders and their lists. Only, birders don't require pieces of dead birds to satisfy their desires.
So, that's one part of the puzzle–Rist stole the 299 bird skins because he coveted beautiful feathers that were unbelievably expensive to purchase or simply not available. He needed them to tie his Victorian flies, and he sold many of them to other enthusiasts, ostensibly so he could buy a new flute (he was about to graduate London's Royal Academy of Music) but also, one gets the impression, to ensure his stature in the gray world of classic fly tying, where feathers were, and still are, sold on e-Bay and at gated web sites, no questions asked. There are other questions though, and Johnson patiently teases them out.
Red-ruffed Fruitcrow (Indian Crow) and Spangled Cotinga (Blue Chatterer); photographs used in image section of The Feather Thief. Credits: Red-ruffed Fruitcrow, Brazil, by Francesco Veronesi, used under Creative Commons license; Spangled Cotinga by Mathias Appel, Flickr, public domain.
The Feather Thief is divided into four parts. The Prologue presents the two contrasting obsessions, a narrative that intrigues with promises of more details to come. "Dead Birds and Rich Men" describes the history of collecting bird skins and fly tying. It's a meaty section, with chapters devoted to Alfred Russel Wallace, the Darwin contemporary who obsessively collected thousands of specimens, including 8,050 birds and, famously, five species of Birds of Paradise, from the Malay Peninsula for the halls of British museums and private collections; and to Lord Walter Rothschild, the odd scion of the banking family who obsessively collected everything representative of nature, but dead, for his private museum, which on his death was given to the British Museum and became Natural History Museum at Tring.
This section also gives us a history of salmon fly tying, originally a hobby of the Victorian rich, and how it survived into the 21st-century as a niche passion for people, mostly men it seems, around the world and came to the attention of 11-year old Edwin Rist. We learn how Rist, homeschooled by his free-lance writer parents in the small town of Claverack, indulged in whatever interest captures his fancy, without many friends other than his younger brother, becomes captivated by a video of fly tying his father his using for research for an article (it doesn't appear that anybody in the Rist family actually ever fished). In a few years, he achieves rock-star status in the classic fly tying world, invited to tie flies at conventions, cited in Internet chat rooms, mentored by the best in the field.
Section II, "The Tring Heist," tells the story of the theft again, in more detail, and the troubling story of its aftermath. The museum doesn't discover the missing 299 skins till over a month after Rist's final, fateful visit (he has previously 'cased the joint' by posing as a research assistant; the police are, understandably stymied; and, when he is finally caught by Detective Sergeant Adele Hopkin, an astute, tenacious, single mother detective right out of a BBC series, he spends no time in jail thanks to an autism spectrum defense. (The expert witness is Dr. Simon Baron-Cohen, cousin to the comedian. Seriously, this book is crying out for a movie treatment!)
This is also where Johnson starts talking about the cost of the theft to the Museum and to science. The birds Rist grabbed included Resplendent Quetzals, Spangled Cotingas, Red-ruffed Fruitcrows, and Birds of Paradise collected by Alfred Russel Wallace himself. Mostly adult males. In some cases, he took all adult males of the species or subspecies held by the museum. The Flame Bowerbird, for example. Rist took 17 Flame Bowerbird skins, the Tring's entire collection and "more than half the specimens in all the world's museums" (p. 168). The skins were invaluable tools for ornithological, ecological, environmental research. The hope was that they would be recovered with the tags attached. Separated from its biodata, the stolen skins were scientifically worthless. And, reading Johnson's narrative, knowing what we know which the museum curators and p0lice don't know yet, we realize with sinking hearts that this is the reality. Prized for their feathers, most of the birds that are recovered do not have their tags, the biodata, attached. Rist has de-feathered them as part of a black market enterprise. Irreplaceable scientific evidence, part of our ornithological heritage, has been exchanged for the opportunity for a few tiers to re-create Victorian salmon ties. Or, to keep the priceless feathers hidden away in drawers, protected in small plastic bags, prized in secret.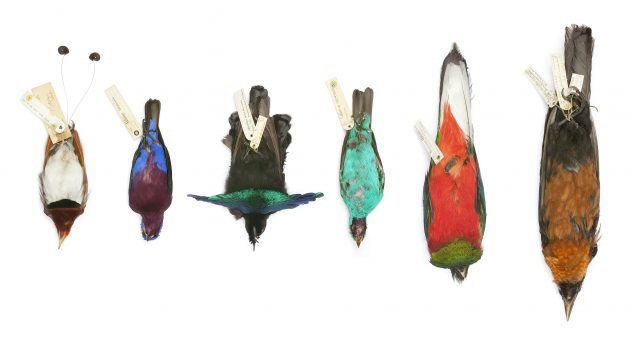 Photograph used in image section of The Feather Thief.  Caption: "The Tring Museum's press release announcing the theft included this photo of the species of birds the thief—or thieves—had targeted the most: Indian Crow, Resplendent Quetzal, Blue Chatterer, and Birds of Paradise, several of which had been collected by Alfred Russel Wallace. Detective Inspector Fraser Wylie of the Hertfordshire Constabulary offered a number of theories about how the stolen birds might be used—for dressmaking, costume jewelry, or fishing lures—and asked collectors to keep an eye out for these species. credit: Natural History Museum, London"
Section III, "Truth and Consequences," is where Johnson becomes an active character in his own book. Frustrated with the U.S. government's resistance to his refugee work, he finds himself drawn to a very different world, and starts researching the heist and the world of classic fly tying, first on the Internet, then in person. He attends the 21st International Fly Tying Symposium held, of all places, in Somerset, New Jersey; he flies to England to talk to museum curators Robert Prys-Jones and Mark Adams and Detective Sergeant Hopkins; he mines the Internet, looking for fly tiers who were connected to Edwin Rist, discovering the librarian's secret weapon, the Wayback Machine of the Internet Archive.
Johnson has a new mission–64 of the bird skins stolen by Rist are still missing, and he is determined to track them down. His dream is to find them still intact, attached to their tags, their biodata. He says he is motivated by what he has learned from the curators about the skins importance to science, but he is also clearly irritated by the fact that Rist has gotten off so lightly. And, although he doesn't say it, after so many years of stress with his work in Iraq and the List Project, Johnson appears to relish his new chosen role of International Science Detective– discovering leads the police missed, tracking down possible purchasers of the missing skins, finding drama at the fly tying convention and, several years later, in Düsseldorf, where he has convinced Edwin Rist to talk to him.
Johnson does an excellent writing job here, balancing his emotional perspective, which has admittedly become obsessive, with a more balanced viewpoint that paints the characters he encounters with understanding, even when he is suspicious of them. And, he has good reason to be suspicious of many of the classic fly tiers he talks to; it's clear by the end of the book that the community is more abashed than ashamed or upset by Rist's museum theft, that they little respect for museum collections or science (a common retort to Johnson's questions is that even though Rist did something illegal, the feathers were better off being used for as part of Victorian salmon ties than being kept away from people in a drawer in a restricted room), and that if Rist had not been caught, he could have continued selling the rare feathers, even those that clearly had to have been obtained illegally, to tiers around the world. In fact, Johnson points out that using web platforms, including eBay, a gray market in feathers continues with no accountability. It's a sobering aspect to a narrative that, for the most part, is an absorbing, even thrilling read.
And, well researched. I can't end this review without talking about how impressed I am by Johnson's research and documentation. Chapters are thoroughly footnoted for print resources and interview, and the seven-page Bibliography gives complete citations for articles and books on all the diverse threads of the book. Excellent, thorough Index. The photographic section is fascinating, illustrating much of the historical section, and also giving us visuals of Edwin Rist and the feathers he stole and sold. You can see many of these images in The Gallery of the The Feather Thief website, which is something to keep in mind if you read the Kindle version of the book on a black-and-white reader. And, you'll want to see the flies and the feathers in color, their brilliant colors gives some insight into why tiers become obsessed.
Looking for a good summer read? This is it. If you thought birders could be weird, wait till you meet the fly tiers.
—
*I found the spelling for all forms of the word 'tying' confusing, so I am following the spelling used by Johnson: 'fly tying' for the process and 'tiers' for the people who engage in it. To the end of the book, though, I would get confused between 'tier' for a person who ties flies and 'tier' for a layer or level of a structure.
---
The Feather Thief: Beauty, Obsession, and the Natural History Heist of the Century
by Kirk Wallace Johnson
Viking, April 2018
Hardcover, 320 pages, $27.00 (discounts from the usual sources)
Also available in Kindle, ebook, and audio formats.
ISBN-10: 110198161X; ISBN-13: 978-1101981610