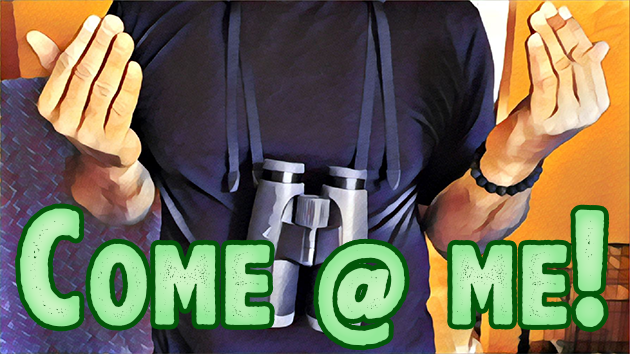 Another amazing 10,000 Birds theme week is in the tank. Joining Poop Week, Wood-Warbler Week, Bird Love Week, and other theme weeks lost in the ether, Come@Me Week was an unbridled success, causing arguments, hurt feelings, bar fights, and at least one felony during its week-long run. We hope you enjoyed it! (And that you didn't get too rowdy in the comment section here or on Facebook.)
If you managed to miss anything during our week of belligerence and strong opinions here's your chance to go back and click on some wonderful posts!
SUNDAY
MONDAY
TUESDAY
WEDNESDAY
THURSDAY
FRIDAY
SATURDAY
What should we do next as a theme week? Any amazing ideas out there? Let us know in the comments. Bonus points if you present your idea in an absolutist tone, as if we would be morons to disagree!
…
Come@Me Week is a cheap ploy ginned up by some high priced consultants we at 10,000 Birds hired and then stiffed on the bill. We're desperately trying to stay relevant in a bird blogosphere being decimated by Facebook, Twitter, Instagram, and memes. We here at 10,000 Birds have no shame and it was either this or lots of posts about woodcocks, boobies, and woodpeckers. All the posts in Come@Me Week are probably the opinions of the authors of said posts and no one else. Well, except maybe you. Weirdo. Agree? Disagree? We'll see you in the comments. Or, more likely, on Facebook. Sigh…
…