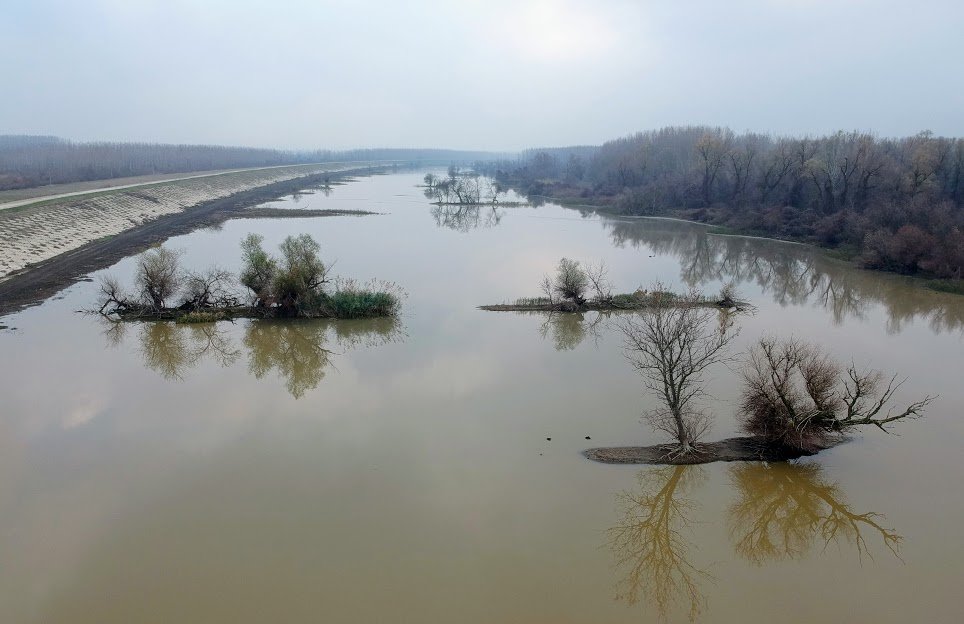 In mid-December, I was birding along the Beljarica levee (Beh-LYAH-ritza), my local patch north of Belgrade, when something other than birds attracted my attention: three wild boars, appearing all black because they had just swam through the swamp to reach the bottom of the levee. I think all were males, at last two huge ones certainly were. And here in Europe, they are the real deal, an indigenous species and not domesticated animals gone wild.
For a while, they followed the levee, then climbed and crossed it in front of me, only to disappear in the poplar plantation at the other side. This was only my second time ever to observe this subspecies (the first time was here as well), two other subspecies I have observed in India. They may have been disturbed by the presence of hunters in the Danube backwaters.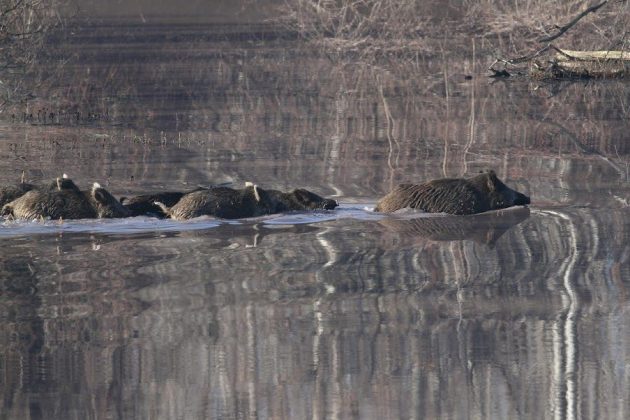 Photographed within Beljarica: six wild boars by Snezana Panjkovic
When I reached the levee earlier that morning, I met an elderly hunter from whom I learned that there was an ongoing duck and pheasant hunt, but no one was shooting from, nor towards the embankment, hence I should be safe there. I heard barely a shot or two, but the ducks were noticeably missing from the square ponds ("cubicles") all along the levee, from where the soil to construct the levees was dug back in 1930s.
Whenever I come here, I am focused on birds, but I have had some good mammal sighting as well: a roe deer swimming across a pond (only its head and antlers visible), a pair of otters playing in the water, a curious (young?) badger observing me for a few seconds, a pair of young golden jackals showing well (maybe too well for their own safety), brown hares sometimes running joyfully along the levee and paying no attention to me, as well as the ubiquitous invasive coypus (originally from Patagonia). The only wildcat I found was illegally killed by hunters during closed season.
Photographed within Beljarica: five White-tailed Eagles by Snezana Panjkovic
I barely started when some sulphur (a.k.a. clouded yellow) butterfly and one Brambling greeted me. These handsome finches breed in the far north of Europe and come here for the winter only. Two hundred metres further on, two young White-tailed Eagles were soaring. They are generally quite easy to spot here, especially in winter. Last year, two Serbian ornithologists were guiding a group of French birders and, prior to their return to the airport, the guides phoned me to enquire how to reach Beljarica – they had dipped the White-tailed Eagle! Easily enough, they got it here.
A dozen Water Pipits, several Pygmy Cormorants, Great White Egrets and a Eurasian Sparrowhawk, a Mistle Thrush, European Robin and a surprise, a pair of European Stonechats. Stonechats are insect eaters and here by the Danube (and further north) they are supposed to be migratory, but only a few hundred kilometres further south they are resident year-round. What do they feed on in winter? I don't know.
Behind me were two guys on a quad bike, at first following the same dirt track, which was fine, but then they opted to go down to drive along the cubicles bank. Not stopping for anything, they were soon ahead of me, scaring away all small birds that may have been there.
On my way back, I passed a group of hunters who, after the hunt, erected folding tables and chairs on the very levee to have a few bites, quick drinks and swap the morning' stories.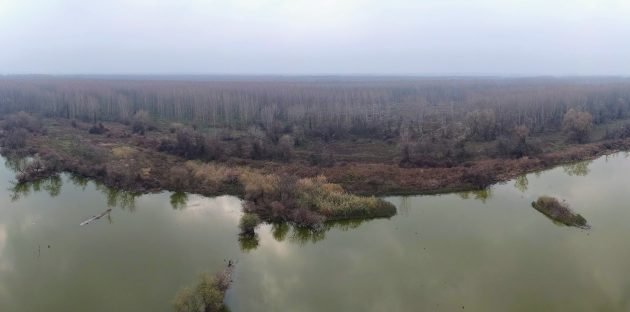 Beljarica in December, photo League for ornithological action / Wild Belgrade
If the name of the area, Beljarica, sounds familiar, it's because I have already written about it. It is part of the international ecological corridor and the "Confluence of the Sava and the Danube Rivers" Important Bird Area (IBA), already proposed for a nature reserve by the Government's Institute for the Protection of Nature of Serbia.
Annex II of the Bern Convention lists 45 of Beljarica's bird species, with a further 91 species in Annex III. The Convention on Migratory Species (the Bonn Convention) lists two of these species – the Ferruginous Duck and the White-tailed Eagle – in Annex I, with a further 64 species in the Annex II. Finally, 24 species in Annex I of the EU Bird Directive were recorded in this area.
Beljarica lies less than 2 km/1.2 mi upriver from Belgrade's district of Zemun
Yet, the primary job of Beljarica is not to support eagles and otters, but to control the floods. Beljarica is a vast overflow for Danube floods that extends for almost 6 km/3.5 miles along the left bank of the river and covers an area of 9 square km/3.5 mi2. These plains are covered in willow and poplar forests and are open to the river but enclosed at their inland limit by man-made levees. It is criss-crossed with lesser branches of the Danube and with normal levels of the river Beljarica is partly dry; when major floodwaves overflow the banks, excess water floods the entire reservation thus preventing direct impact of floodwawes on Zemun and Belgrade. Construction has always been prohibited and the undisturbed expanse of Beljarica has always served as a major spawning, nesting, resting and foraging area for a multitude of wildlife. Covering it in concrete would make the floodwave higher, faster and stronger.
Within its Belt and Road Initiative, China asked for this location for the new harbour. In late November 2019, Veljko Kovacevic, Serbian Assistant Minister for Water Transport, announced (source – news in Serbian):
"…the location upstream of Pupin's Bridge [Beljarica], with the construction of an industrial-technological park in [nearby] Borca, together with partners from China, has the greatest potential.

– In this sense, its construction is planned immediately after the design is completed. We expect that by the end of 2021 we will have the first works on the construction of the Port of Belgrade – Kovacevic said.

– The concept of port development in Serbia is such that Serbia invests in infrastructure development and gives concession to the concessionaire who builds a super structure and manages the port – Kovacevic said."
In other words, Serbia will take an expensive Chinese credit in order to hire a Chinese company and their labour (hence, the Chinese funding goes back to China) to build a harbour that will immediately be given to the Chinese concessionaire.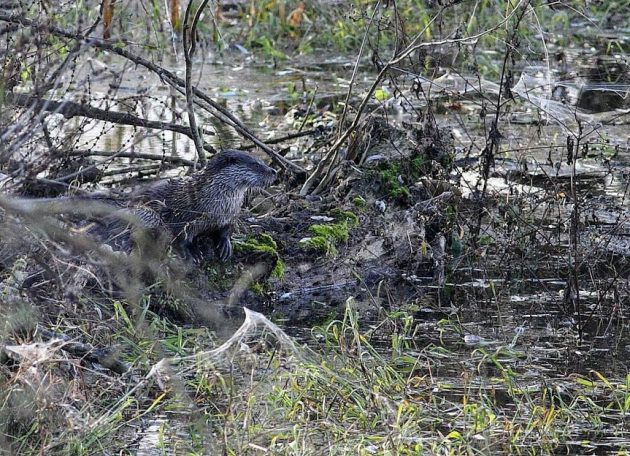 Photographed within Beljarica: an otter by Snezana Panjkovic
Fish will lose their spawning ground, otters and White-tailed Eagles will be no more. If one of the last natural extensions of the Danube into its floodplains were to be covered by concrete, it would transform the living river into a mere canal and the Danube would lose its rich web of life.
Local people would have to suffer pollution and oil spills coming from the harbour upriver from the city, as well as the lack of facilities to neutralize major floodwaves, directly endangering up to 80,000 people living along the right bank of the Danube and the left bank of the Sava. The latest government-sponsored posh housing development called Belgrade Waterfront could itself become Flooded Waterfront. Last but far from least, the taxpayers will have to repay the credit. All in the name of progress.
Hashtags: #Beljarica #spasimobeogradskuamazoniju