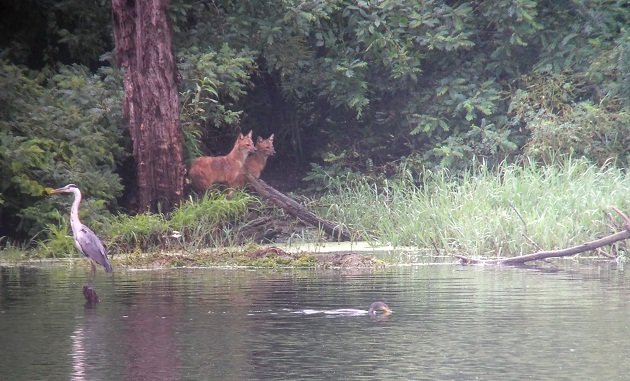 And then, two canids appeared in my scope field of view…
My plan was that the downpour should finally be over in the morning, so I could go birding. The rain had plans of its own and now, 36 hours later, it is still going strong. However, I am a stubborn person.
In a boring drizzle, I am driving along the dyke that separates the Danube backwaters from the arable fields (the only dyke in the area where driving is allowed). After the Common Starling, my second bird of the morning becomes the largest eagle of Europe, the White-tailed Eagle, this one with a fairly white tail, yet still dark beak, that I estimate to be in its 3rd calendar year.
Looking miserable with its feathers soaked, one yellow and blue European Bee-eater sits on a dead branch. The first Pygmy Cormorants of the morning are flying; an extended family of Black-winged Stilts explores the mudflat, a Wood Sandpiper sits on a floating log…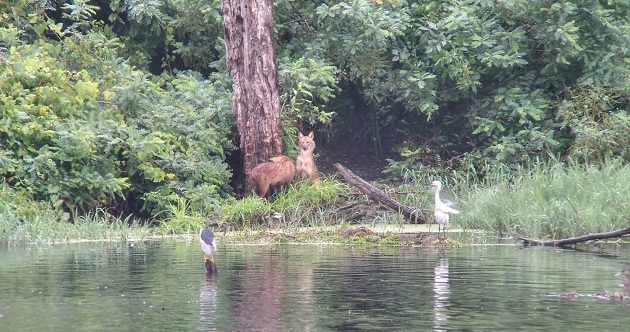 And then comes the rush – a large gathering of Black-headed Gulls moulting into their winter plumage, several Common Terns, Little and Great Crested Grebes proudly showing their offspring… One old White-tailed Eagle is perched on a low dry branch among numerous Great Cormorants, Great and Little Egrets, Grey, Squacco and Black-crowned Night-Herons…
I do not know which species to count first, when two canids appeared in my scope field of view: two Golden Jackals, also known as European Jackals (Canis aureus moreoticus) and, should I add, mammal lifers for me! All this happens less than a mile from the nearest houses.
They are sitting in the wet grass at the edge of the water, observing the bird movements around them. One raft of 20+ Mallards swims by the bank, right in front of jackals, careless like if they were just two sheep! I am thrilled: this is more than just birding, this is a full-scale safari!
Several Green Sandpipers, dozen Whiskered Terns and a few dozen Sand Martins (Bank Swallows) all make their appearance. The gamekeeper drives by, I wave my greetings but do not mention the jackals I am observing at the moment: this animal is not protected in Serbia and is allowed for killing year-round (one may say "hunting" instead, but I am having problems trying to spot the difference).
A good 15 to 20 minutes later, jackals are becoming restless, and first one and then the other disappear in the shade of the trees.
This was an incredible sighting and I apologise for the poor quality of the photos. These were hand-held digiscoped by Sony Xperia M4 Aqua through the rain and the Swarovski 25-60×65 STX. Only after I purchased this phone did I discover that the leading digiscoping producers do not offer an adapter for this phone + this scope. I am thinking of improvising something myself, but if anyone has a better idea, I am all ears.