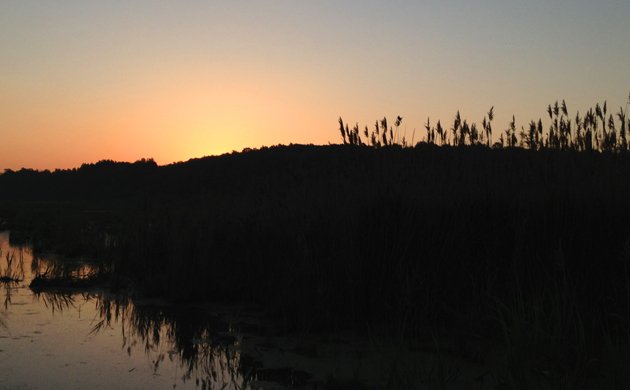 The alarm went off at 3:15 AM on Saturday morning. I climbed out of bed, stumbled down the hallway, and started the coffee-maker. Then I dressed, washed my face, brushed my face, and grabbed my gear. Back to the kitchen where I filled my travel mug near to overflowing with the precious nectar of life. Downstairs to the car and I was on my way.
Grand Central Parkway, Triboro Bridge, Harlem River Drive, George Washington Bridge, Route 4, Route 17, New York State Thruway, Exit 20, Route 212, Route 32, Old King's Highway, West Camp Road. Two hours later I pulled over at the Great Vly and, before I could get out of the car the rail was sounding off!
You won't see the King Rail in this video but you will hear it.
For the next hour I hung out at the side of the road next to the reed bed from which the rail was regularly calling. I only got three short looks at the bird, each of a second or less, as it moved around in the reeds. Though I would have liked better looks I was pleased to get any sighting of a King Rail at all, as I had never seen one before. The fact that the bird was found in my hometown in a place that I have birded quite a few times before made the sighting that much better.
I never knew rails could purr but if you listen carefully you can hear the King Rail purr softly a couple of times in this video. No one knows the purpose of the purr but I noticed that each time I heard the King Rail purr it was shortly after an extended bout of "clicking."
King Rails are a rarity in New York State in the northeastern United States in general and to finally see one made me a very happy birder. The only downside is that I didn't even have time to stop in and see my folks, not that they would have appreciated me showing up at their door at 6:30 AM. Instead I hightailed it for Queens, with a quick detour to Mine Road in Orange County in order to track down a Golden-winged Warbler for the year. I was home by 9:30 AM and was back out the door within a half-an-hour to take Desi to the zoo.