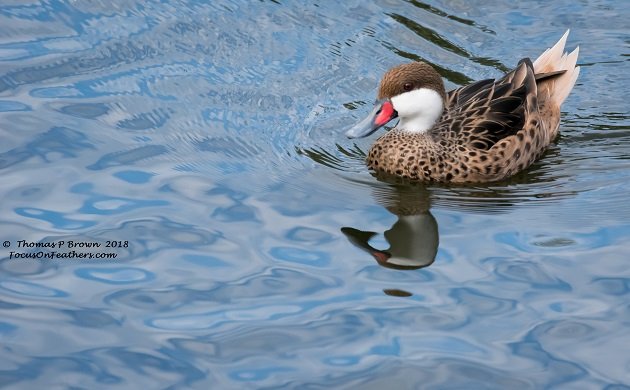 We have escaped the clutches of the Bahamas, and are finally back "home" in Tucson, Texas. The return home included a total of 5 ½ hours of flight delays, one missed flight, and we subsequently missed the entire town of Charlotte, North Carolina. We did however gain an extra night, at our expense in Miami, Florida, all of which was in the dark, so I could not even run out and put a couple of birds on a Florida State List. We also got an extra stop in Dallas, Texas (Hey wasn't I just here) but again no birds could be added, unless I count the House Sparrow flying around inside the terminal. All in all, twenty six airplane flights this year, traveled around the world, to 11 countries, and not one single delay, or interruption of service, until the Bahamas.
Despite their every effort to accumulate every bit of money that was in my wallet, and available on my credit card, this island group totaling more than 700 islands does have some nice birds. After running around by myself the first few days, I was finally able to spend part of a day with Carolyn Wardle, the renowned and preeminent bird guide for New Providence Island. I was joining in with a couple who booked a trip with her, from one of the many cruise ships that arrive on the island every day. We got a bit of a late start as the cruise ship does not unload its guests until about 9-9:30. Our first stop was the Lakeview Drive Ponds, Corey's primary birding location when he and his family visited the island a few years ago. You can read his account of the birding on New Providence Island, and the small connected island where most tourists stay, Paradise Island here.
After that we visited a small remote site of an abandoned resort that is going back to the jungle quickly, and a water front location for shorebirds and gulls. Next we traveled thru one of the neighborhoods looking for a specific pigeon, before stopping at what turned out to be one of my favorites, the Bahama National Trust "Retreat". The Retreat served as the headquarters for the Bahama National Trust (BNT) since the mid 1980's, before they moved into an office in the downtown Nassau area. This 11 acre site holds more imported and exotic palms than anywhere in the world, and has become a real gem for birders who get a chance to visit.
The next day Jeanne and the family rented a van and did a circumnavigation of the island, with a few bird stops along the way. Many of the sites I had hoped to visit were either closed, or still showing the incredible carnage that was inflicted on the island by Hurricane Matthew, almost two years ago.
By the time we had ended our visit on the island, I had racked up a total of 58 birds species, with 27 of them new birds on the Little Big Year list. Now, I have 8 days left, in order to find 9 new bird species, somewhere in the state of Arizona, to total an amazing 1300 birds for the year. Now, I am going to be hitting the road, in a week of Twitches, I really want that number!
The Little Big Year species – 1291
eBird Submissions – 429
Bahamas Species – 58
Now to the fun part, a few of the bird pictures!!
When I was doing some very quick, last minute research on the area, a photo of the beautiful Pied-imperial Pigeon popped up on one of the eBird.org pages. When I noticed that the photo was taken by none other than our own Corey Finger, well, I knew that the bar had been set. I could not visit this island with our finding that bird. His posting on the bird is here. Carolyn was able to get us into the right area, but was afraid that we were so late in the day, it was not likely that we would be able to find this rare bird. Just about the time we were going to give it up, I spotted a single Pied-imperial Pigeon, in the top of a tree. I quickly jumped out, and got some photos just to make sure it didn't fly away.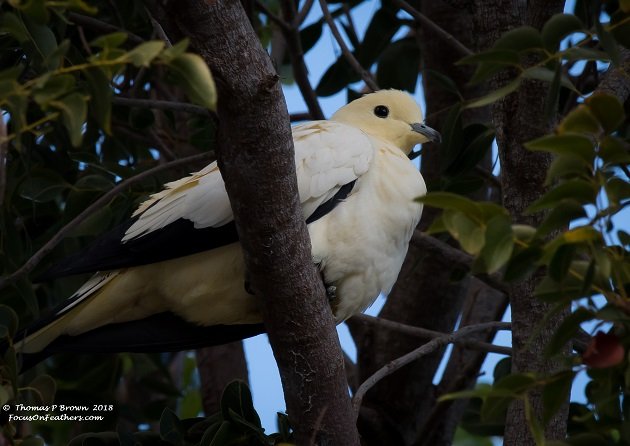 Right after those photos were taken, 8 more of these beautiful birds flew in and joined the first one, affording me a bit of a better photo.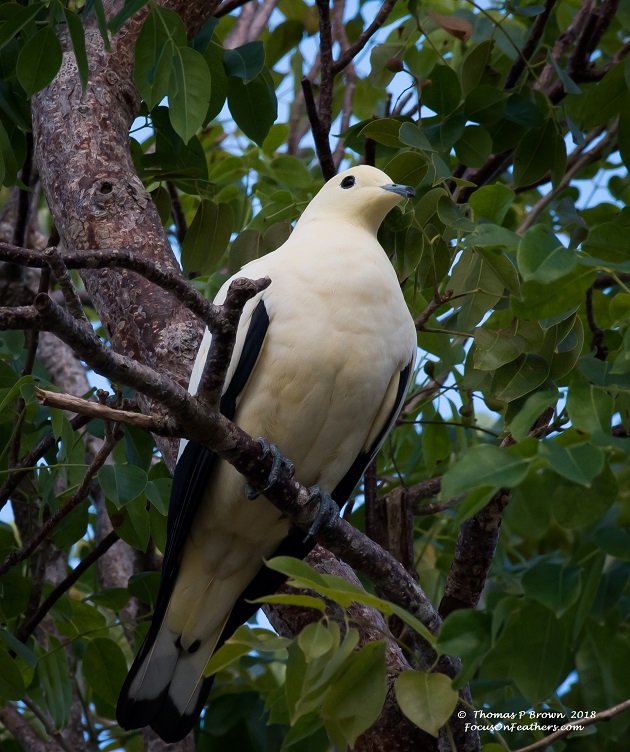 A popular bird for these islands, the White-cheeked Pintail is a full time resident at the Lakeview Drive Ponds.
A new, and very exciting Lifer for me, was the Ovenbird that I found digging thru the leaves at the Retreat.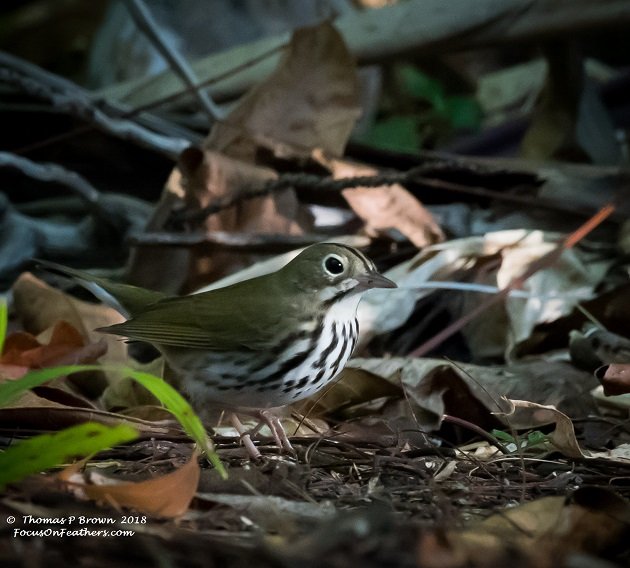 While we are in the Retreat area, I also found this Northern Parula,
as well as this Greater Antillean Bullfinch.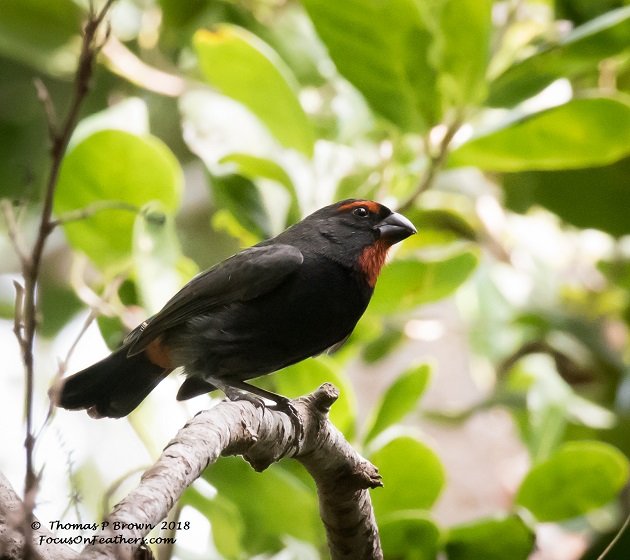 This is not one of my best images, but I was so happy to even get this picture of the Worm-eating Warbler, that I am posting it any way.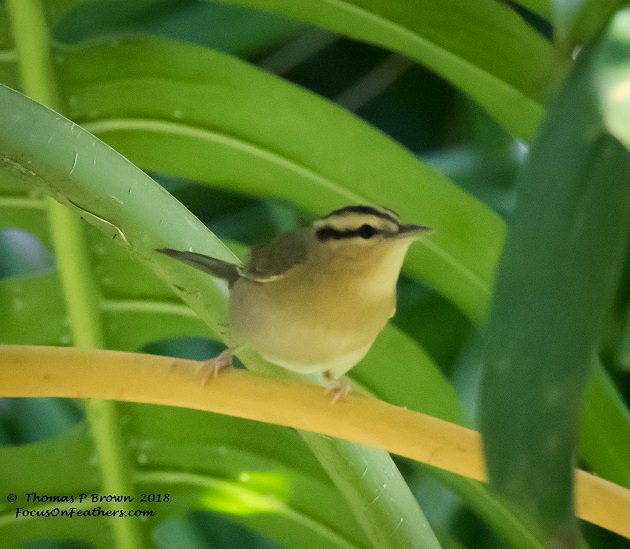 One of the more common birds when we were in Costa Rica, the Bananaquit popped up in a couple of the locations we birded while in the Bahamas.
Our visit to the abandoned resort had a bunch of nice birds, but the highlight was a male Western Spindalis.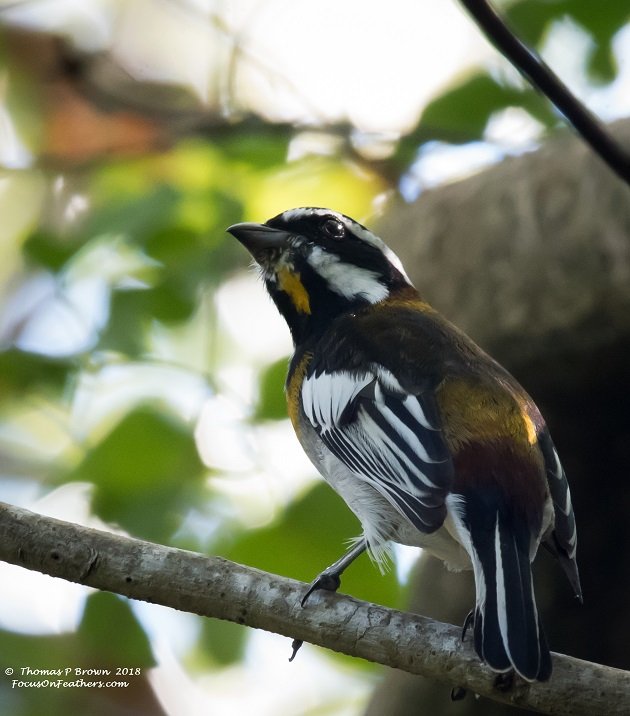 And our final bird that I am going to feature in this posting is the wonderfully colorful Cuban Grassquit.