Yes, it is that time again!  Now that I have added ten more birds to my Queens life list we must revisit the list and predict my next ten birds in Queens (and see how my last set of predictions turned out).   Queens, the finest borough in New York City, as I may have mentioned before, is where I have now seen a whopping 279 species!
What species will be the ten to get me to 289?  When last I wrote a post like this I was somewhat disappointed to discover that I only managed to correctly guess 30% of my additions correctly.  Did I do better this time?  Read on to find out!
Let's first take a look at the predictions from July of 2010 and October of 2010 side-by-side.  Birds with asteriks are birds from the first list that I saw by the time I made the second list.
Cory's Shearwater               Snowy Owl
Eurasian Wigeon                  Short-eared Owl
Yellow-breasted Chat*         Long-eared Owl
Marbled Godwit*                  Snow Bunting
Brown Pelican                      Lapland Longspur
Royal Tern*                          Common Eider
Eastern Bluebird*                 King Eider
Long-eared Owl                    Harlequin Duck
Turkey Vulture                     Eurasian Wigeon
Purple Martin                       Western Tanager
Now let's take a look at how I did on the second list of ten, with an explanation of why I did or did not see each of the birds listed.
Snowy Owl – This winter turned out to be horrible for birders hoping to see Bubo scandiacus but pretty good for the birds themselves.  There must have been plenty of food up north because they pretty much stayed up there.
Long-eared Owl – This is another owl species that was, like most winters, not seen in Queens (though tantalizing second-hand reports of one at Jamaica Bay Wildlife Refuge during the Brooklyn CBC reached me).
Short-eared Owl – Finally, a bird that I saw!  It was hunting around the edges of the West Pond of Jamaica Bay back at the beginning of March, a day that I saw both the individual in Queens and one in Brooklyn.
Snow Bunting – Yes! Two in a row!  My long overdue first Queens Snow Bunting and I survived seeing it at Jamaica Bay!
Lapland Longspur – They were not seen in Queens this winter.  One of these days I will spot one at Fort Tilden.
Common Eider – A bird I should have seen ages ago in Queens was the first one I added after publishing this list, way back in November.  It was such an unexceptional sighting that I apparently never even blogged it.
King Eider – Now this was a nice bird, seen on Christmas Eve of last year just before I flew off to California.
Harlequin Duck – There were several birds seen in Queens this winter that I either missed or could not get out to chase.  A big disappointment to me but hopefully I can track them down next winter.
Eurasian Wigeon – None seen in Queens and I am starting to wonder if I will ever see one in my borough.
Western Tanager – An obvious long-shot and one that I didn't see, though I did see one two counties over in January.
Four out of ten seems like a decent rate to me!  But what were the other six new birds?
Black-headed Gull – A surprise pick-up, seen on the same day as my Short-eared Owl.  I can thank Doug's sharp eyes for finding this bird as a fly-by at Fort Tilden.  Also, credit goes to tai haku for predicting this bird in the comments section of my last prediction post.
Redhead – I had no idea that I had not seen this bird in Queens or it would have been on my list.  I don't know how I overlooked this glaring hole in my Queens life list, now filled. And on the same day as the Black-headed Gull and the Short-eared Owl. Now that was a good day!
Ross's Goose – I recently blogged about this bird sighting, a bird that was well-earned at Jamaica Bay Wildlife Refuge as it was camouflaged by well over a thousand Snow Geese.
Turkey Vulture – Wow!  That is all I have to see about this bird which I spotted from my apartment.  Though it was not on my second list it was included on my first list of predictions.
Iceland Gull – Seen at Breezy Point in the middle of a huge flock of gulls on the same day as the Black-headed Gull, Short-eared Owl, and Redhead.  I don't think I will ever have a day with four new Queens birds again.  John deserves credit for predicting this one.
Razorbill – This was seen from the same pelagic boat as this Glaucous Gull.*  Though the boat departed from Nassau County we strayed into Queens for a good portion of the trip.  Am I ever glad I inquired about the coordinates!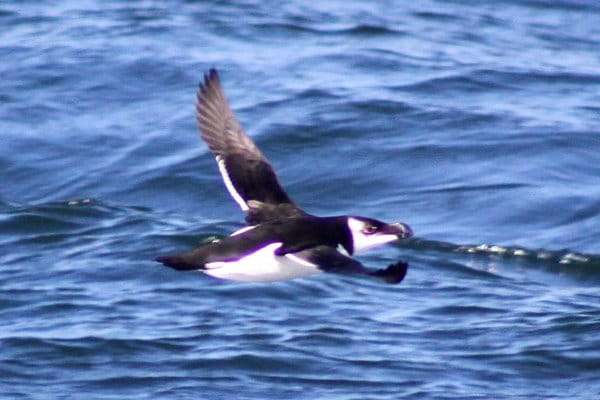 Razorbill in Queens
What will my next ten birds be?  Seeing as it took me four months to get ten new birds the first time and five full months the second time it seems likely that it will take at least six months to get my next ten new birds in Queens because as my list grows it gets more difficult.  That would take us until at least October, meaning I have to think about spring migration, summer birds, and fall migration.  This list will be all over the place then – here's hoping I see at least five of these and ten overall by the time the snow flies again!
Purple Martin – The last swallow left for me to see in Queens.
Eurasian Wigeon – Sooner or later one will show up and I will see it.
Cory's Shearwater – I will spend time seawatching.
Greater Shearwater – I will spend time seawatching.
Sooty Shearwater – I will spend time seawatching.
Buff-breasted Sandpiper – One of two regular shorebirds in New York that I don't have in Queens.
Whimbrel – The other.
Connecticut Warbler – I have missed this bird in Queens too many times.
Black Vulture – One vulture down, one to go!
Brown Pelican – With all of that seawatching one of these birds is bound to show up!
Wish me luck and may all of your lists, especially your county lists, grow ever longer.
…
*Glaucous Gull, by the way, was on my Queens list when I made my last set of predictions.  It was a very odd bird that several of us had seen back in May of 2010.  Further examination of some images by good gullers determined that the bird was actually a leucistic Herring Gull.  So, actually, I could have included the Glaucous Gull from the pelagic trip as a new bird in Queens but figured that might just get too confusing.
………