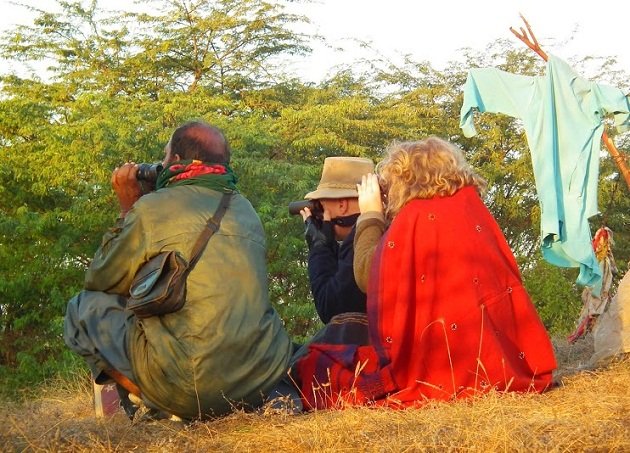 Grey Hypocolius is a Holy Grail of Middle Eastern birding. Not because it is rare – it isn't, just widely scattered and ill-numbered. Or because it is endangered – it isn't. Part of its attraction lies in it being a monotypic bird in the family Hypocoliidae – there are no other bird species in its genus and family. The other part of its attractiveness may be coming from the fact that it breeds in Iraq, Iran, Afghanistan, and Pakistan – countries seldom visited by foreign birders. That is why the village of Fulay – the only place in India where this bird is regularly seen – is as famous among birders as the Taj Mahal is among the uninitiated. And I am a birder.
I didn't have my coffee and am half asleep as a decent tarmac takes us through acacias. In the headlights circle in front of us, an Indian Nightjar takes flight, our first bird of the day and species 137 of this trip. Darkness of a January (pre)morning… actually, more of a late night – there is no trace of any light in the sky, finds me on the road from Nakhatrana to Fulay in the westernmost district of Kutch, in the state of Gujarat. The Tropic of Cancer goes somewhere over this area, but even so, January is – January, and the night is cold.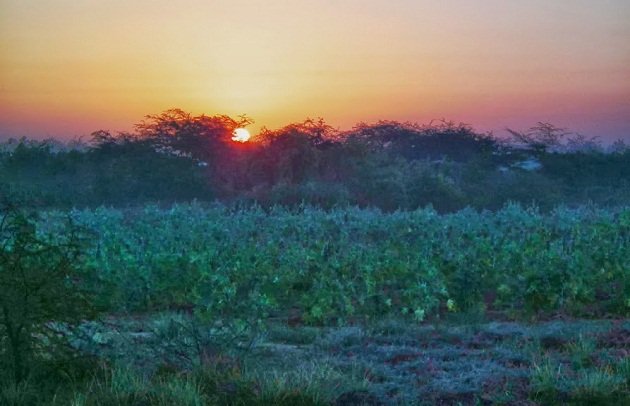 Somewhere among the bushes and the houses of the Fulay, the well wrapped up figure of our local guide, Muhammad Dadu, stands in the early morning shadows. He enters the SUV and takes us to the outskirts of the village, to park by the castor plant fields and continue on foot through the first dawn light. From the hedge comes the screeching of Grey Francolins, from Acacia nilotica crowns we hear White-eared Bulbuls and from above comes the trumpeting of the first Common Crane flocks leaving their roost.
We wait on the top of the hillock crossed by a barbed wire fence and topped by a scarecrow. The Sun is just rising. Should we expect the scarecrow to be a bad omen? No, birds are way too smart for that stupid trick. As a proof, two Dalmatian Pelicans are flying low above us, while a Bluethroat disappears into the nearby bush.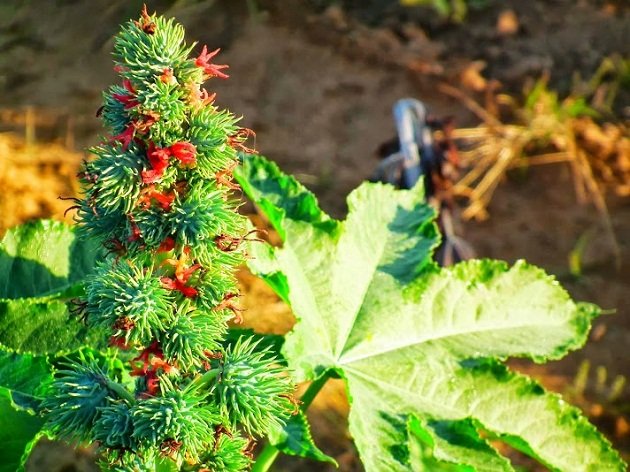 Castor oil plant
Sometime later, in an undulating flight, barely a meter or two above ground, a slim brownish-gray bird passes by and flies straight into the very same bush – a Grey Hypocolius female!
And here we are, sitting on the hillock and staring at the barely visible bird silhouette in the middle of the bush. Pity, that is just about all we can see. I am focusing my eyes to their very limits… the bird seems to have some sort of markings on her chest – I am noticing loudly, unaware of it – like a necklace of tiny blue pearls, each one circled in green? Yes, yes, confirms Muhammad with a smile on his face. But I have never seen any bird with anything like it! Where is the guidebook?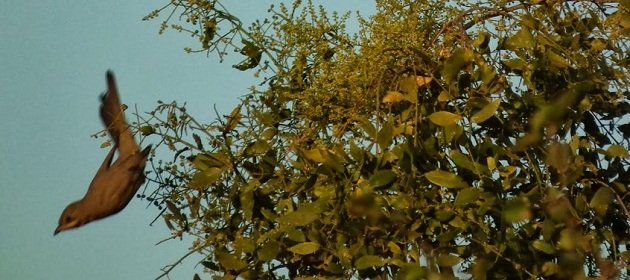 Grey Hypocolius
No one has is, we all left them in the car… wait, I have it! Where is my rucksack? Snooping through the pages of Inskipp's guide, I confirm my suspicion – they have plain grey chests. Oh, well, Muhammad is a very nice person, but his English is somewhat limited…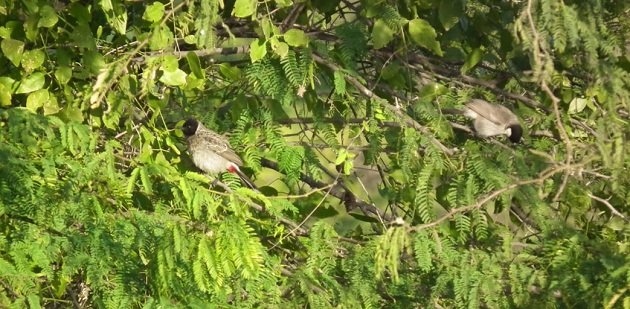 Red-vented Bulbuls
Soon, the bird leaves her bush. Muhammad, now with a help of a translator, explains that it comes there to feed on those tiny blue berries of Toothbrush trees (Salvadora persica), an indigenous perennial, desert-adapted halophyte bush, which provides fruit to frugivorous birds, cattle with fodder and tooth brushes to villagers (I've tried chewing the branches of it myself and they have the taste of… tree branches, but without the addition of fluoride or peroxide). Some time ago, Muhammad Dadu was involved in a project of establishing a nursery and planting thousands of these trees, which feed the birds – that feed him.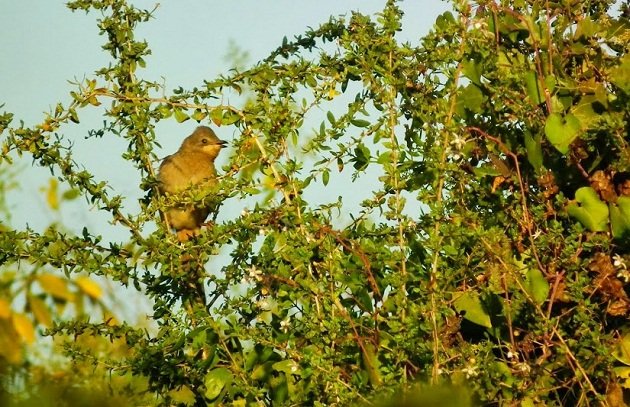 There is a Grey-breasted Prinia at the next tree, followed by two Red-vented Bulbuls and…. Hypocolius again, finally showing well!
Acknowledgements
For being invited to the Global Bird Watcher's Conference, I would like to thank the organizers: Government of Gujarat and the Gujarat Tourism Corporation. The conference was organized by excellent J.N. Rao Travel, and the post-conference bird tour by Arpit Deomurari whose Indian list these days stand somewhere at 900+. To ensure our target birds in Fulay, we hired reliable and recommendable Muhammad Dadu for the day.
Photos copyright © Dusanka Stokovic Simic
Find the earlier stages of the same tour here:
Bhadreshwar – the Crab Plover dip