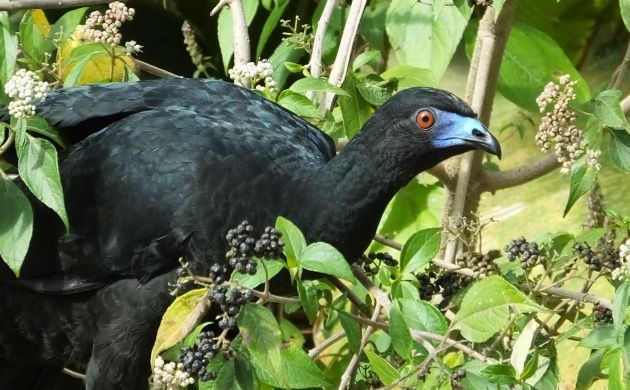 Thanksgiving was celebrated a couple of days ago across the USA. In other words, millions of people got together with family and friends for a cozy day of mashed potatoes, gravy, apple pie, naps, football, and some serious turkeyliciousness. That last little bit is also why we call it "Turkey Day"! In Costa Rica, although I did spend a memorable one years ago in the Osa Peninsula where flocks of parrots flew into the mangroves while we feasted on turkey, pie, and the works, we have no actual Wild Turkeys, nor an official Thanksgiving. BUT, we do have the ecological equivalent of turkeys and this peaceful country is an excellent place to become acquainted with them.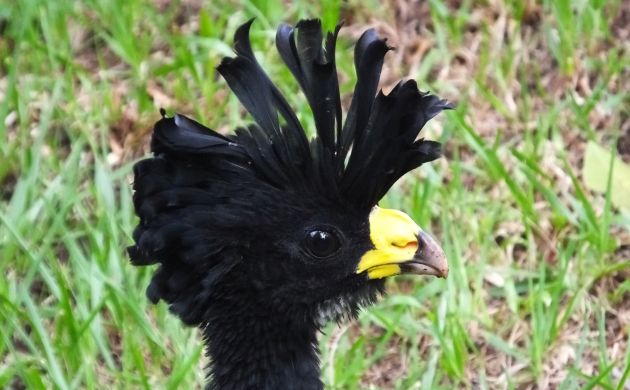 There will be no carving of the Great Curassow; only photos and admiration of its curly crest.
The turkeys I'm talking about up in here are three of the five members of the Cracidae family that occur in Costa Rica. The two that are excluded from turkey status are the Gray-headed and Plain Chachalacas because let's face it, to be a turkey, you gotta be big. As fun as it is to say "chachalaca!" these brown, long-tailed, noisy birds are small enough to hitch rides on backs of the real deal.
Speaking of the real deal, there is no better candidate for Costa Rica turkey status than the Great Curassow.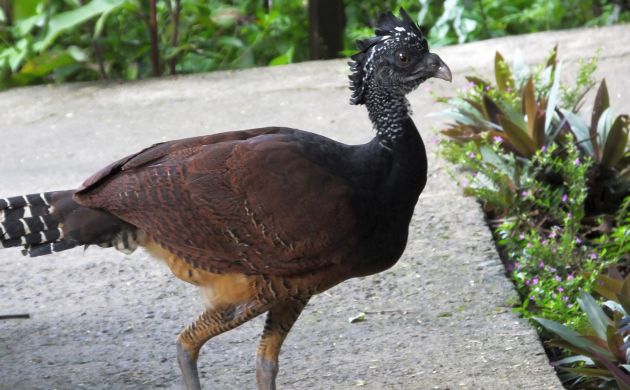 Ain't I great?
This spectacular, turkey-like bird roams the floor of tropical forests from eastern Mexico south to northwestern Ecuador. Well…at least it used to before people ate too many of them. Unlike the wild gobbler of the north, Great Curassows have a very low reproductive rate. This means that they probably can't withstand any sort of hunting pressure, and given the lack of Great Curassows in most accessible parts of their range, that is probably the case. In most countries, long, sweaty, expedition birding is required to see the only curassow species in Middle America. That changes in Costa Rica, where the vulnerable Great Curassow is easily seen at several protected sites. They even become tame and walk the gardens and grounds of La Selva, Esquinas Lodge, Laguna del Lagarto, and other sites. Oddly enough, this species seems to be rather rare in Carara and Braulio Carrillo National Parks (perhaps because trails are situated near busy roads plagued with noise pollution that affects the effectiveness of its very low-pitched song?).
The next Costa Rican "turkey" on our list is another bird with an evocative name, the Crested Guan.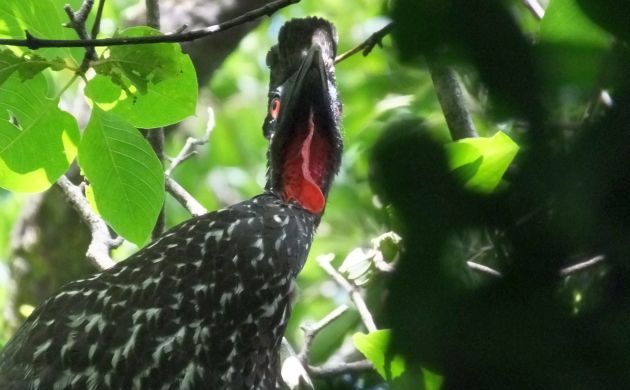 The crest might be smaller than the bright red dewlap.
Like most other members of its genus, this large arboreal bird clambers around the canopy, and makes yelping sounds. It also ranges widely from Mexico south to western Ecuador. Although this comical guan is a lot more common than the curassow, it is nevertheless quite susceptible to hunting and rare in most accessible, unprotected sites. In Costa Rica, it's pretty common and easy to see in and near just about any protected forest. Scan the morning canopy in many places and you will find one or two perched way up there.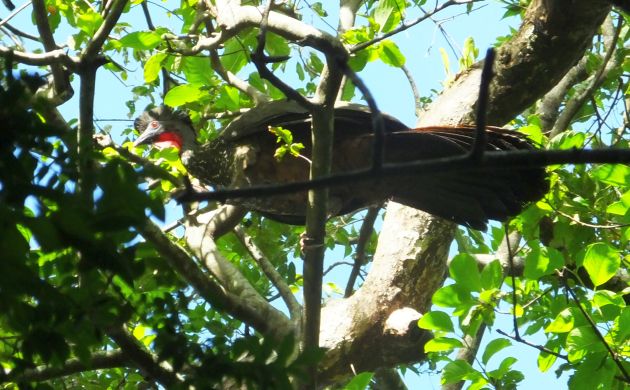 Although this big bird isn't on our menu, Ornate and Black-and-white Hawk-Eagles relish it.
Our final turkey is a much-wanted bird on many a birder's target list. This avian celebrity is the Black Guan, an endemic that only haunts the highland forests of Costa Rica and western Panama. Related to the more widespread Sickle-winged Guan of the Andes, this big, dark, turkey-bird likewise has a blue face and red eyes. Although the Black Guan is fairly common in many areas, it is considered Near Threatened by the IUCN because it has such a small range and is susceptible to hunting pressure.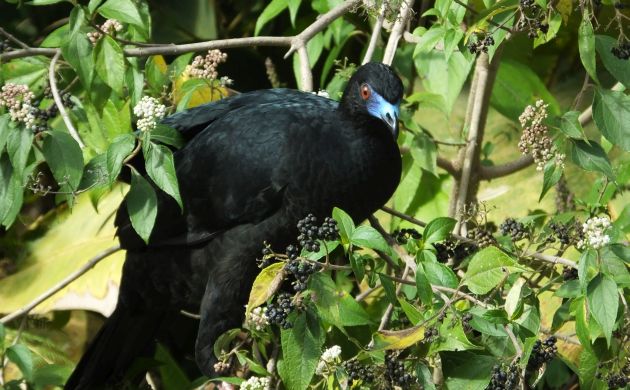 The Near Threatened Black Guan.
There are several sites to look for this species, some of the most accessible and reliable being the cloud forests around Monteverde and Poas National Park. They are often found in the same fruiting trees as the Resplendent Quetzal, and can even visit the feeders at Bosque de Paz. It also reveals its presence when it rattles its wings in flight.
Accessible, protected sites make it easy to check out neotropical "turkeys" in Costa Rica. Even better, a lot of other birds also show up in the same, quality birding places. Come on down and see if you can experience a neotropical turkey-trogon-cotinga fest!