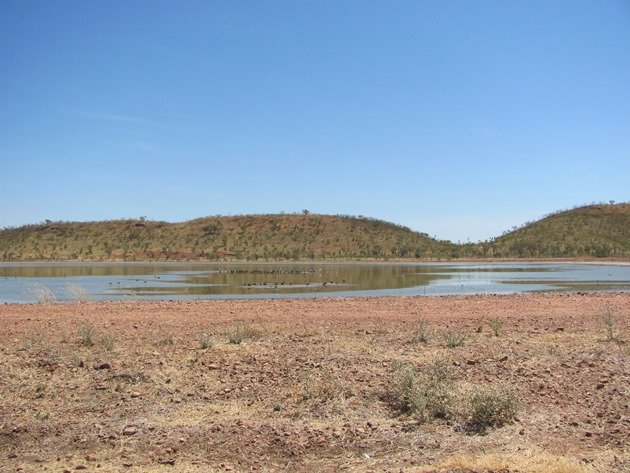 Halls Creek is situated inland on the Great Northern Highway, which is the only bitumen road around the north of Australia. It has a small population of approximately 1100 people and is a major hub for the local indigenous people and for the cattle industry. It is also a popular stopover place for tourists, especially during the cooler months from June to September. It is situated on the edge of the Great Sandy Desert and the Tanami Desert and is 1288 kilometres (800 miles) south-west of Darwin and 2873 kilometres (1785 miles) north-east of Perth. The Halls Creek shire covers approximately 142,908 square kilometres (55,177 square miles) of mostly desert and pastoral country, so it is a remote area! The closest towns are Fitzroy Crossing 291 kilometres (181 miles) to the south on the Great Northern Highway and Warmun 163 kilometres (101 miles) to the north on the Great Northern Highway and there are no fuel stops in between. It is also a good location to base yourself at if you are not keen to rough it in the bush out at Wolfe Creek Crater!
The land around Halls Creek has been occupied for thousands of years, but when the Europeans arrived late in the 1800's everything changed. The Europeans were looking for pastoral land and minerals and when a twenty ounce nugget of gold was discovered by a prospector called Charlie Hall on Christmas Day 1885 there was immediate interest in the area. More than 15,000 people travelled overland to get to the area just out of town known as Old Halls Creek in search of gold, but the "gold rush" only lasted for three months. The land was inhospitable to many people and they left, but the town struggled on as a trading centre for the cattle industry and there was by then a Police Station and it was also the end of the line for the telegraph line at the Post Office. Old Halls Creek as a town-site was abandoned by 1954 and everybody had moved to the new site of Halls Creek where an airfield had been built in 1948. People still head to Halls Creek in search of gold and it is possible to obtain a Miner's Right to do just that for $25.
Our reasons for always stopping in Halls Creek are of course to go birding! In the centre of Halls Creek is a turn-off called the Duncan Road, which heads out as a bitumen road initially and soon turns into a gravel road that winds back and forth between Western Australia and the Northern Territory. Four kilometres from the main town-site you go through a small range of hills and you will notice a track heading off to your left and a large fenced area. This is exactly where you want to be! The fence is the edge of the Halls Creek Poo Ponds, which is one of the best waste water facilities in the north of Australia for viewing fresh water birds. You can use your vehicle as a hide and view the huge variety of birds.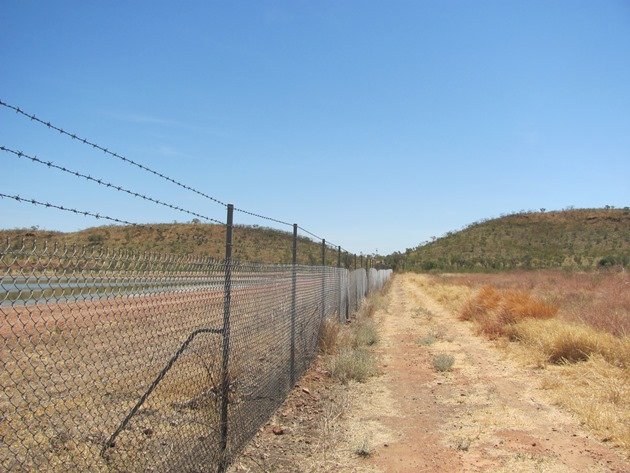 Track around the perimeter of the Halls Creek Poo Ponds
You can't quite drive all the way around, so it is best to stay in your vehicle to minimise disturbance and you get views at a close range in both directions. Not only are there birds to see in the ponds, but also in the nearby bush and you will have numerous birds flying in for water at any time of day. We have often observed Grey-fronted Honeyeaters and Yellow-tinted Honeyeaters in the area and Red-backed Fairywrens call out as you drive slowly by. Red-backed Kingfishers are often on the nearby power lines in the dry months and Red-winged Parrots, Cockatiels, Little Corellas and Rainbow Bee-eaters take advantage of the presence of fresh water in such a dry area. It is also an excellent area to observe Pictorella Mannkins and a good variety of other finches as they inhabit the local grassy area around the Poo Ponds. We always check for odd shapes in trees too, because you can be lucky and find a Tawny Frogmouth pretending to be a part of a branch!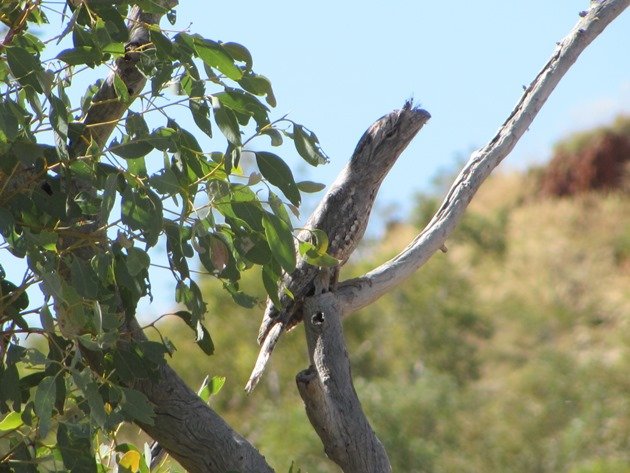 Tawny Frogmouth
On all of our visits to the ponds we have encountered a flock of between twenty and thirty Red-necked Avocets and they can easily feed in the shallow water. You may also encounter Black-fronted Dotterels, Red-kneed Dotterels, Sharp-tailed Sandpipers, Black-winged Stilt and Common Sandpipers depending on the time of year. White-necked Herons and White-faced Herons are often among the birds and occasionally Brolga drop inside the fence to get a drink.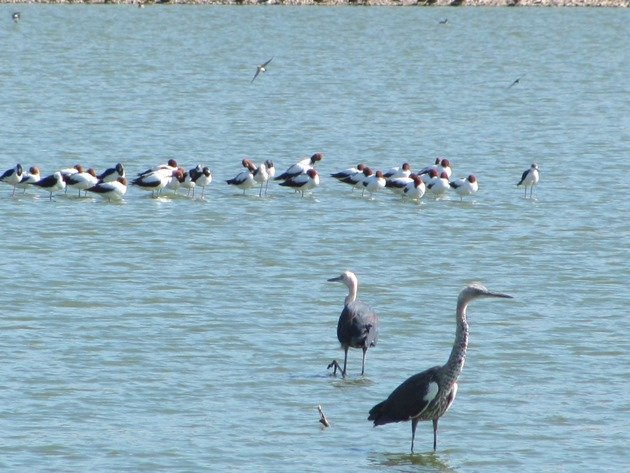 Red-necked Avocet and White-necked Herons
Often there are Australasian Grebes present and the varieties of ducks usually include Pink-eared Ducks, Grey Teal, Pacific Black Ducks, Wood Ducks and Hardheads.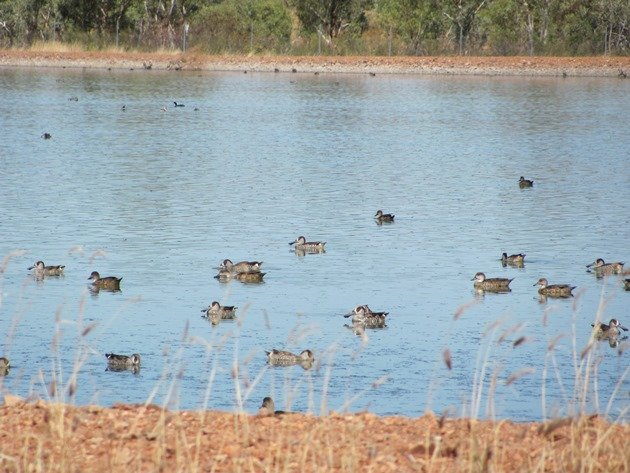 Pink-eared Ducks
On some visits there have been large numbers of Eurasian Coot roosting on the island that forms when the water level drops among the ducks.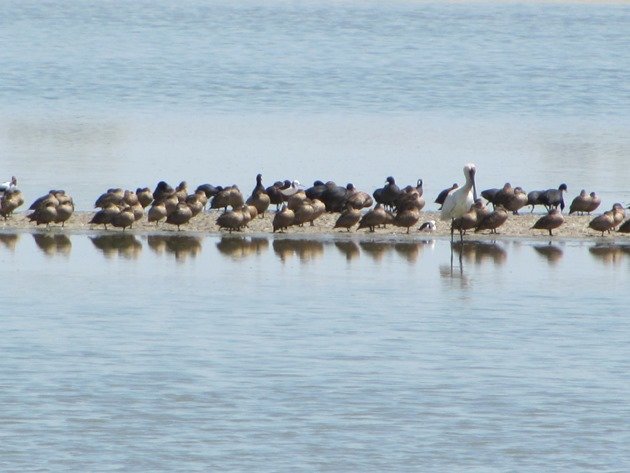 Royal Spoonbill, Eurasian Coot and Grey Teal
Often when the water level is low the birding is better and more islands form and more birds can roost around the ponds.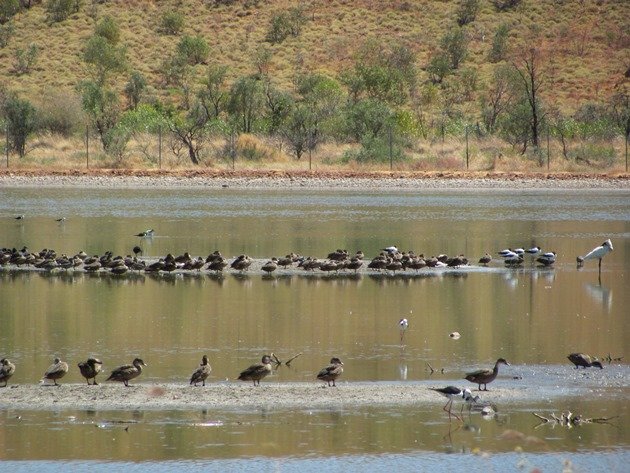 Island roosts in the ponds
One reason that we always visit the Halls Creek Poo Ponds when we are driving through the town is the fact that we always see Spinifex Pigeons there. It is a very reliable spot to find them and they can be easily spooked, so it is very hard to photograph them. On one overcast day we had a huge flock running ahead of us on the track and I could only take photographs through the car windscreen.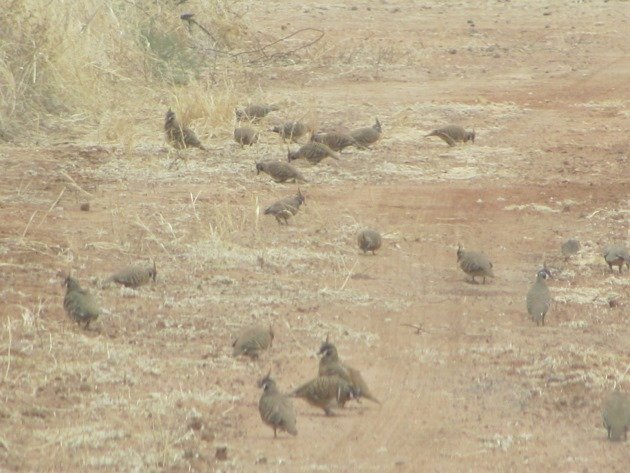 Spinifex Pigeons through the windscreen
Slowing right down the Spinifex Pigeons faced us off, but would not allow us to even open a car door or window without taking flight and entering the pond fence line.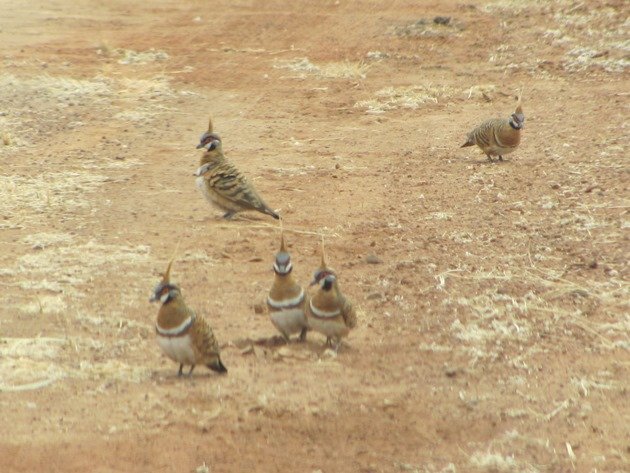 Spinifex Pigeons face-off!
We were much luckier on a subsequent visit when the Spinifex Pigeons were on the inside of the fence, but did not take flight as we slowly approached in our vehicle.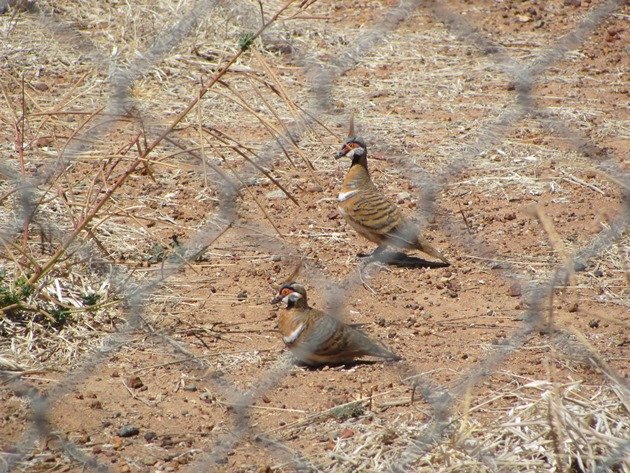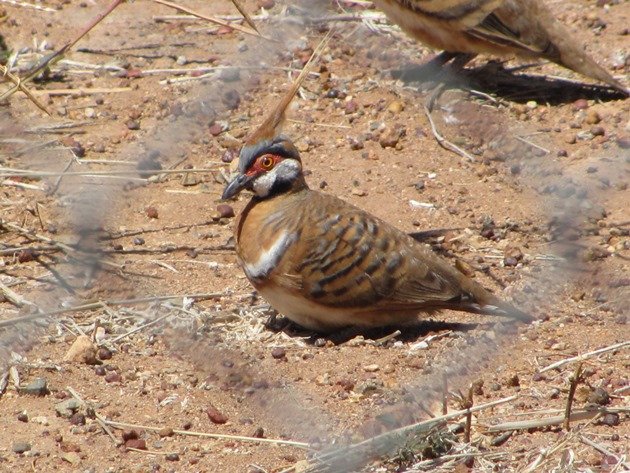 Spinifex Pigeons inside the fence line!
Obviously there is no guarantee of any particular bird species at any time at any location, but you really should take the time to visit these magnificent ponds if you happen to be in this remote part of Australia. There is no smell, so you don't need to keep your windows closed and the track is well maintained.