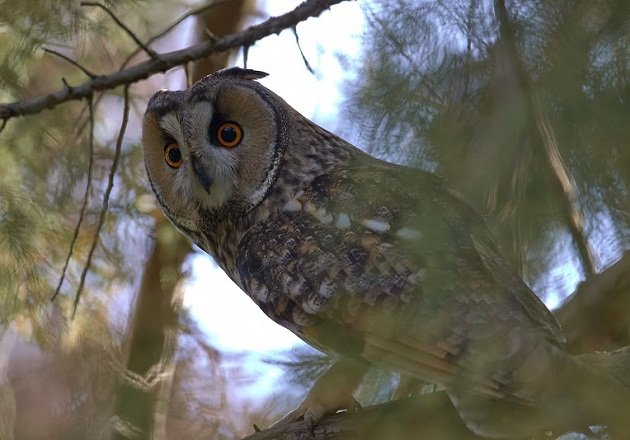 The first stop of the morning: young White–tailed Eagle, right next to the road and several dozen Rooks around. Birding that starts with the largest eagle of the continent certainly bears promises…
The next stop is the town park in Opovo, north of Belgrade, where local bird expert Ceda Vuckovic reported one, locally rare, Short-eared Owl. I observed this species in the Little Rann of Kutch in India and since then, have been burning with desire to see them back home. Stroll through the park, which turns out to be at least twice the size I expected it to be, tiny Goldcrests and numerous Long-eared Owls…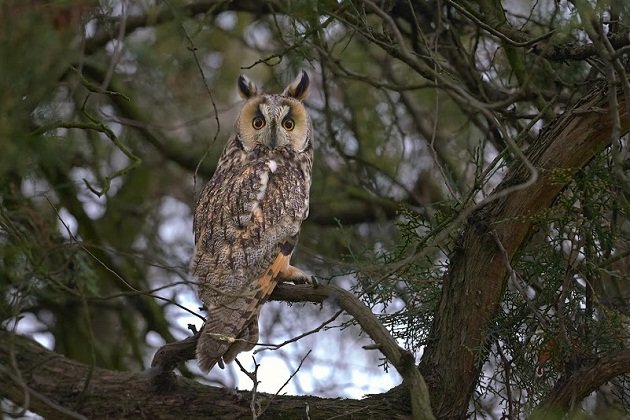 These owls spend winter roosting in parks where there is no pesticide spraying, supposedly because of larger population of rodents in towns and villages. The winter of 2014 is quite warm and the numbers are much lower, but the Opovo record, as counted by Vuckovic, is 250 owls. The world record holder is the town of Kikinda, further north, with 700 birds in their town square which has recently become an officially protected owl habitat – a small, urban nature reserve. And the citizens of Kikinda are justly proud of it.
Long-eared Owls are irresistibly cute. They are now moving from one tree to another. I observe them, but feel I still lack experience to tell with certainty the SEO from LEO in flight. Once perched, it is easy. Easy – if one sees the SEO, that is. On any other day, the Long-eared Owls would be a reward in itself, but today I have a feeling that I will have to accept the consolation prize, while the first prize slips through my fingers.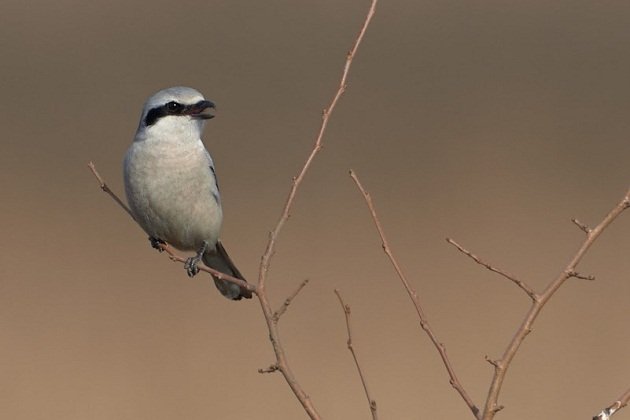 En route to the Sakule village, there are several Common Buzzards and one Great Grey Shrike – my first one this winter! The shrikes are common in standard winters, but this one is unusually warm and the birds have remained further north. Back in November, one group of British birders visited Serbia and, as one of them later wrote in his blog, their local guide promised them the GGS – "That one is guaranteed", the guide declared. 'He will think twice before guarantying the GGS next time' the British birder wrote.
Sakule is almost fully enclosed by its fishfarm and it is a tranquil home for numerous birds. First stop and – bingo – Northern Shoveler, the last of the common duck species that I haven't seen this winter. Next to it is a beautiful Northern Pintail drake, with fully developed elongated central tail feathers (I usually only encounter the eclipse birds). Numerous Mute Swans, Greylag Geese among them, together with Mallard, Gadwalls, Eurasian Wigeons, Eurasian Teals – practically the full hand of dabbling ducks at this lake. And among them are, a bit surprisingly, several diving Smews. At the far away mud bar, next to Black-headed Gulls are the first Northern Lapwings of the season.
Blip-blip! A text message from Ceda Vuckovic – he heard through the vine that I had visited his town that very morning. I complain about the Short-eared Owl dip and he invites me back – he will find one for me!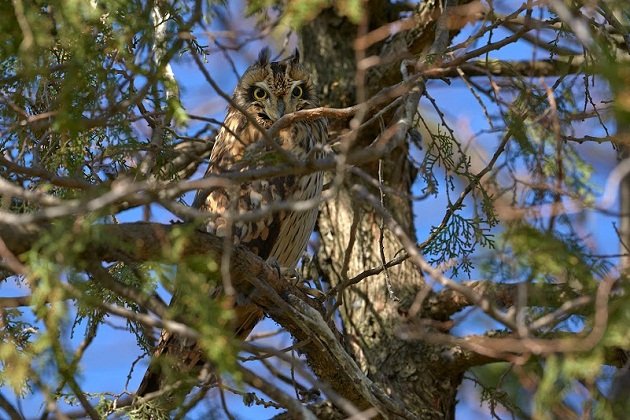 Back to Opovo and after the shortest of the short strolls, Ceda points his finger: "There it is!" I had been there that very morning, but failed to notice the bird, partially hidden in the foliage and a bit away from its Long-eared cousins. My first Western Palearctic Short-eared Owl observes me back and tolerates the looks and the lenses. Not far from it, several Long-eared Owls douse in winter sun.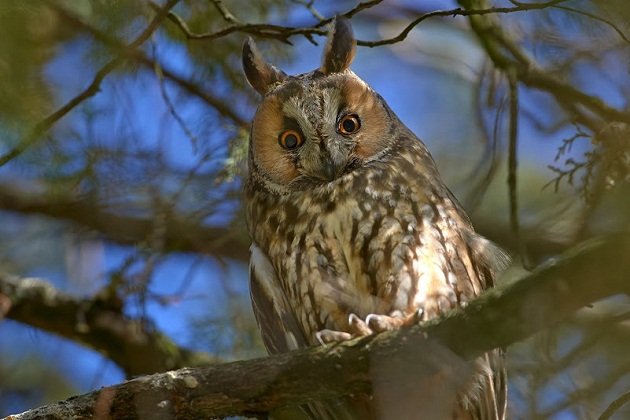 It is mid-February and the temperature has climbed to unusual 20°C (68°F)… Time for a cold beer.
Photos (c) Sasa Preradovic