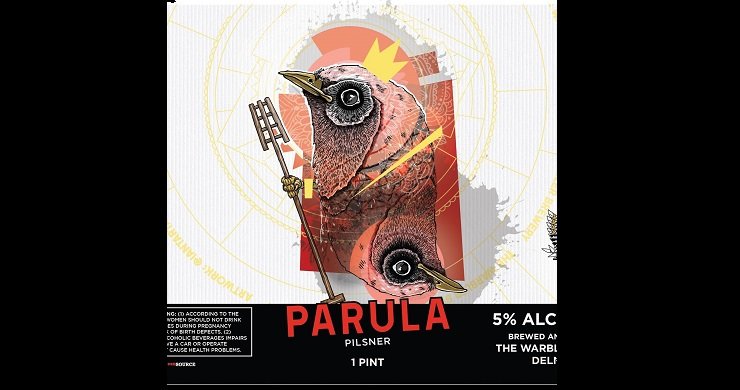 I picked out this week's Parula Pilsner from The Warbler Brewer of Delmar, New York solely because it's the very end of April, right around the time I generally see my first Northern Parula (Setophaga americana) of the year. With a sometimes unseasonably chilly and often rainy April in upstate New York, spring migration has been off to a slow start this year. But with May right around the corner, the floodgates seem about to burst. I haven't seen a parula yet this year, but it's bound to happen any day now.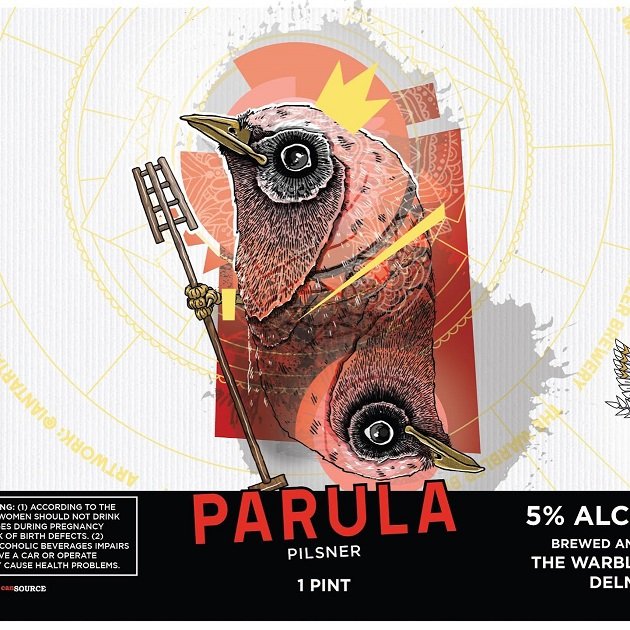 One of this pair of parulas has a crown but it's no Setophaga coronata.
It's always fun to go back and look at one's earliest birding records and sometimes all it takes is the appearance of a bird on a bottle of wine or can of beer to prompt some nostalgic recollections. So, as I cracked open a can of Parula Pilsner this week, I decided to have a look back at my own history with this species. I'd forgotten all about it, but as it happens, I saw my very first Northern Parula ten days ago this week, in Brooklyn's Prospect Park, on April 26th, 2011. At the time, I was just getting into birding and while I'd already been to Jamaica Bay a few times, spring migration was an entirely new phenomenon to me and I'd only seen one warbler species up to that point (Yellow Warblers at Jamaica Bay, in fact, exactly a week before my Prospect Park trip).
I do remember going to Prospect Park that day because I knew April 26th was the birthday of both John James Audubon and landscape architect Frederick Law Olmsted, so it seemed an appropriate occasion for birding in what is often considered Olmsted's masterpiece. But besides being armed with that bit of trivia, I had no idea what I was doing. Somehow, in addition to the parula, I added Palm Warbler, Prairie Warbler, and Yellow-rumped Warbler to my life list that day. But I think all of these were added by overhearing nearby birders I was too shy to approach point them out.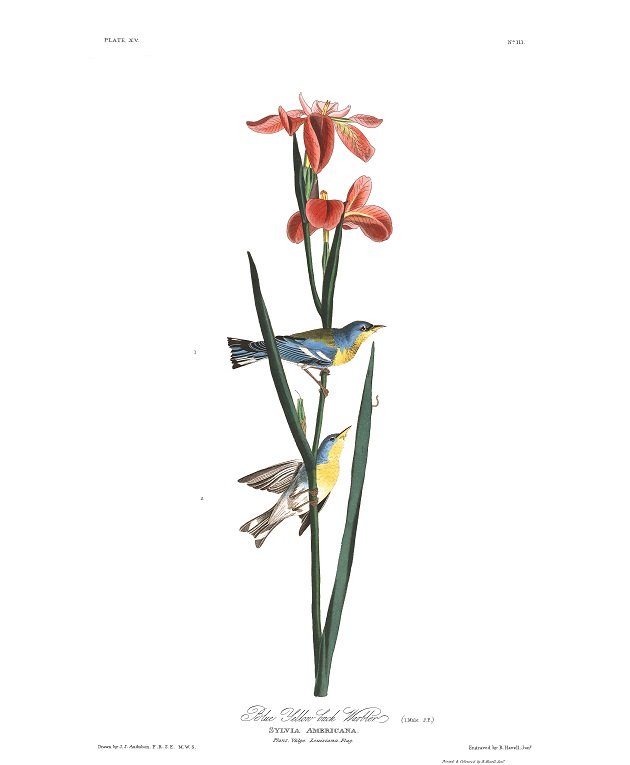 The Northern Parula has always been one of my favorite wood warblers. If you can't decide whether you like blue, yellow, or orange warblers best, why not pick one that combines all three? The "Blue Yellow back Warbler" as depicted by John James Audubon (1785-1851).
Well, in time I eventually got better at birding, and seven years after that Northern Parula in Brooklyn, I completed the global parula "two-pack" with a Tropical Parula (Setophaga pitiayumi) in Peru. How's that for numerically unimpressive completism? In fact, it was two years ago yesterday – on April 29th, 2019 – in a setting even more famed than Olmsted's Prospect Park: Machu Picchu. I guess I just have a knack for getting my life parulas in locations of the "places to see before you die" variety.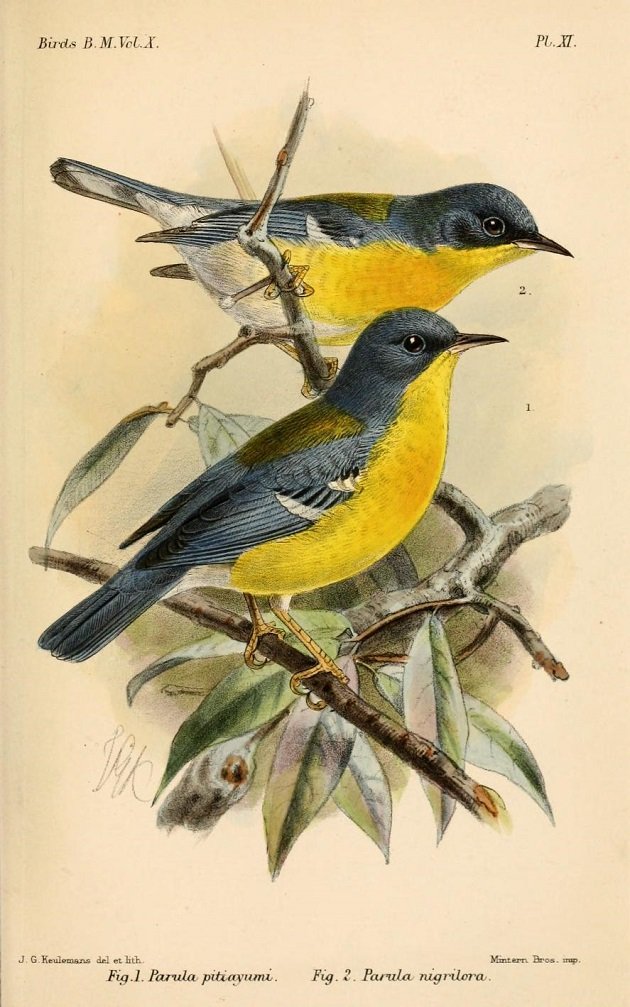 Tropical Parula depicted by Dutch bird illustrator Johannes Gerardus Keulemans (1842-1912) for Volume 10 of the Catalogue of the birds in the British Museum (1885).
As I mentioned in my first post about The Warbler Brewery, it's right down the road from my house and I'm looking forward to featuring more of their beers here at Birds and Booze. Their Parula Pilsner is a pale but warm goldenrod – not quite the rich yellow on the breast of a Northern or Tropical Parula, but a pretty color, nonetheless. The hoppy bouquet is light and floral, almost tea-like, with sweet, honeyed malt and grassy notes in the background. A modest beer with little to hide behind, Parula Pilsner is carefully composed, providing a comforting balance of toasty cereal flavors, a slightly citrusy crispness, and a restrained dose of hop bitterness in the dry finish.
Since the trippy can art by Boston artist Ian Tartasky is a bit too visually ambiguous for a solid call between Northern and Tropical Parula, we can just pretend it's whatever species we want. In any case, Parula Pilsner made a nice celebratory beer for both of my parula anniversaries this week.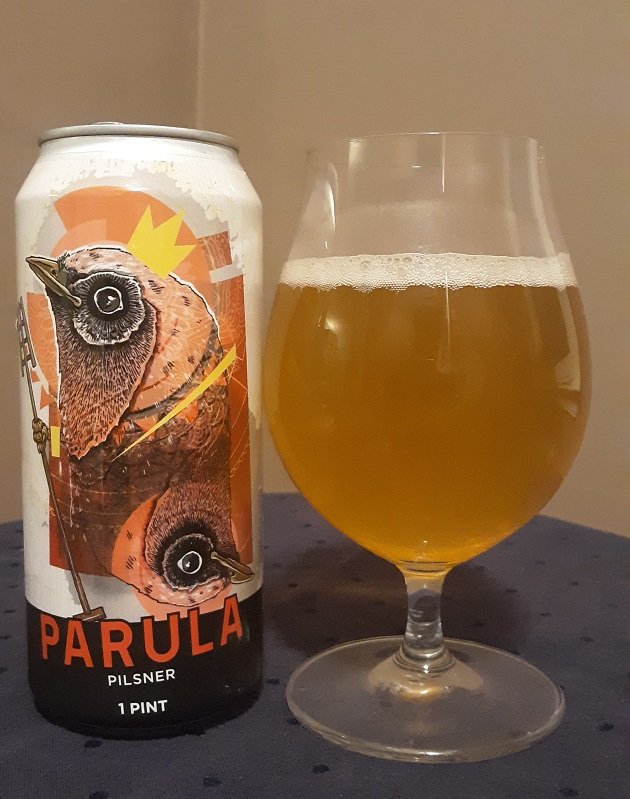 Good birding and happy drinking!
---
The Warbler Brewery – Parula Pilsner

Four out of five feathers (Excellent)