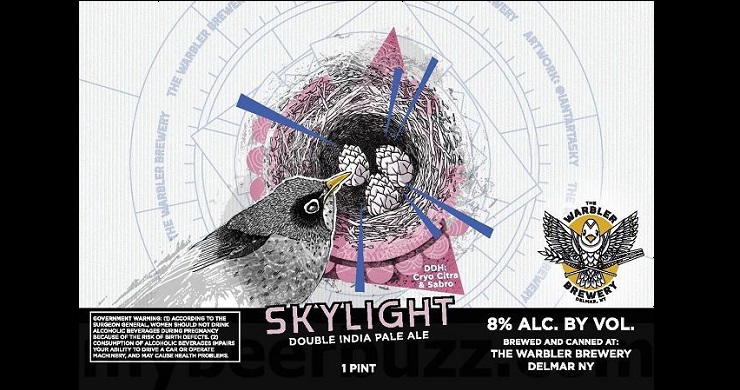 Times flies. So do birds. Well, most birds do. Penguins don't. I had a nice double IPA with a penguin on it to review last month in time for my local bird club's annual big day – a long, grueling event that always leaves me thirsty for a strong, refreshing beer when it's over. Well, I cracked the can open and this beer didn't taste very good. I checked the date at the bottom of the can (something I should've done before I left the store) and it was over a year old! Time sure does fly and it isn't very kind to some beers, especially IPAs intended to have lots of fresh, hoppy flavors.
I missed the last few weeks here at Birds and Booze for a number of reasons, but I found another double IPA to get myself back on track. And unlike that past-its-prime beer I opened as an unpleasant surprise last month, this one is about as fresh as it gets. Skylight is a double IPA from the local Warbler Brewery, just down the road from me outside of Albany, New York. The brewery rotates the hop varieties that go into Skylight and I scored a four-pack of the latest version just five days after it was released this week.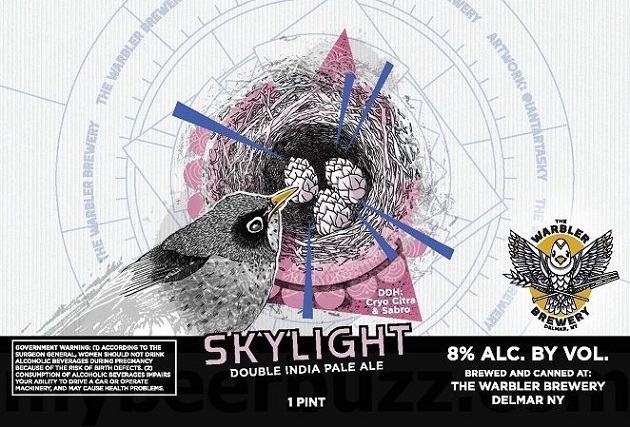 Freshness matters when it comes to double IPAs, especially when they're of the double dry-hopped kind like Skylight. With a beer this fresh, there's no worrying about flat, muted, and stale flavors – everything is supremely bright and fruity. Two hops go into this iteration of Skylight. One is a robust new hop named Sabro that was only developed in 2018 and which features a complex blend of fruit and herbal flavors. The other is a "cryo" version of the ever-popular Citra hop, which is cryogenically processed at extremely low temperatures to preserve and concentrate its namesake citrus and tropical fruit characteristics.
Despite its 8% strength, Skylight Double India Pale Ale is a wonderfully refreshing – if potent – summer beer in the hazy New England IPA style. Its bold, citrus and stone fruit aromas are redolent of childhood summertime favorites like orange Creamsicle and peaches and cream, with hints of lime zest, tangerine, and toasted coconut on top. Tropical flavors of lychees in syrup and mango abound, with each sip ending on a gentle but mouthwatering grapefruit note.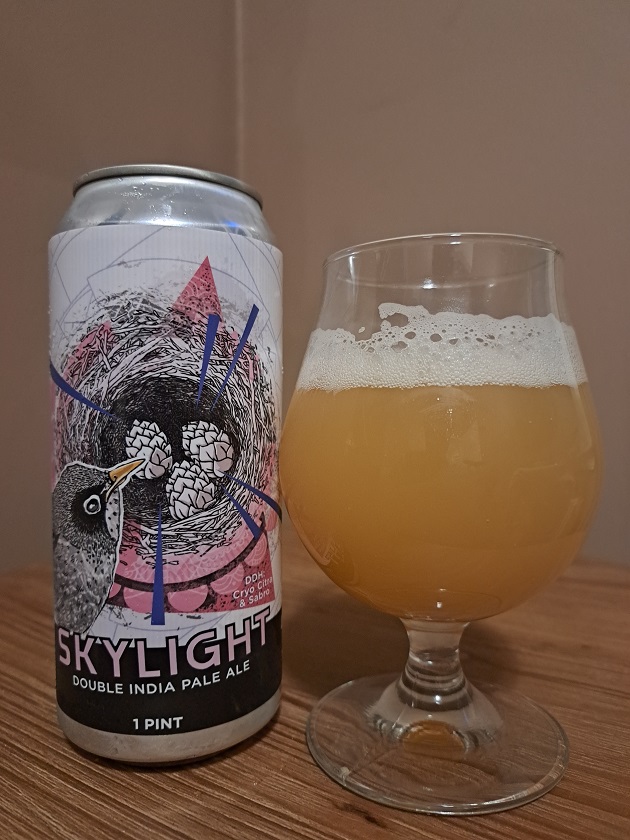 There's no doubt about Skylight being a great beer, but I'm far less sure of the identity of the songbird illustrated on the can of this release. But it does earn points for whimsy, depicting a warbler-ish bird with a pale eye-ring and dark mask peering into a nest with three little hop cones as "eggs".
Good birding and happy drinking!
---
The Warbler Brewery – Skylight Double India Pale Ale

Four out of five feathers (Excellent)