I've been to a lot of birding festivals—sometimes as a speaker, sometimes as a trip leader, and sometimes just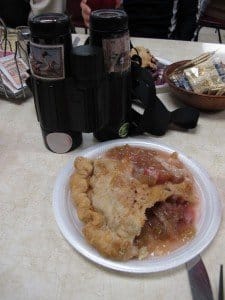 because I love going to birding festivals. Last weekend I was in North Dakota attending The Potholes & Prairie Birding Festival in Carrington, ND. If you've never been to the potholes region of the Great Plains, you need to get it on your birding bucket list now. And the P&PBF is an easy way to have friendly folks show you the wonders (feathered and otherwise) of the prairie.
There's nothing quite like birding from dawn until midday and then repairing temporarily to a café in the closest town—maybe Woodworth, Robinson, Pettibone, Dawson, Grace City, or Pingree for some comfort food and a break from the ever-constant wind.
Carrington, North Dakota is farm and ranch country. The folks who make their life there are as tough on the outside as they are kind-hearted on the inside. The wide-open spaces of the prairie and the land it takes to make farming or ranching pay means that folks can get kind of isolated—especially in winter. So, naturally, when you walk into a small-town café—a place full of locals all of whom know each other—and it's clear you're a stranger, you might feel a tad uncomfortable.
This is why I wear my binoculars. They ALWAYS help me to break the ice.
Now I've never been accused of being shy, so I'm often the first to speak to the café regulars. All it takes is one "Hi there, how's it going!" and I can count the seconds before a polite question is asked.
"So whatcha doing out here? Hunting? Taking pitchers?"
"Nope we're here bird watching!"
"BIRD watching? Here? Really?"
"Oh yeah. You all have a LOT of very interesting and hard-to-see birds here in North Dakota. We're here as part of that birding festival over in Carrington that happens every June!"
"Oh ya. I heard about dat. How's it goin?"
"Great! And as soon as we enjoy some hot soup, and a slice of rhubarb pie, we're headed back out!"
It's not like wearing my binocs into a North Dakota café is going to change the world. But it might make people think a little differently about birds. It might make them stop to help a stuck birding van along a farm road. Or it might even convince them to let bird watchers hike across their property looking for a Baird's Sparrow or a Sprague's Pipit.
My real goal is to talk to the local people, and to let them know how much we love coming to their part of the world—whether that's Woodworth, Nort Dakooootah, or Muddlety, West Virginia or Moose Jaw, Maine, or Salmon Shin, Alaska. They need to know that their local birds are special and worth protecting. They need to know that people will come from far away just to see them. Bird watchers are nice people and they spend money where the birds are!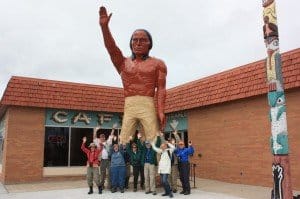 Bird watchers outside the Chieftain Motor Lodge in Carrington, ND.
So please wear your binocs the next time you walk into some local joint and let your optics help you start the conversation. Then treat yourself to a piece of pie. I recommend the rhubarb.
…