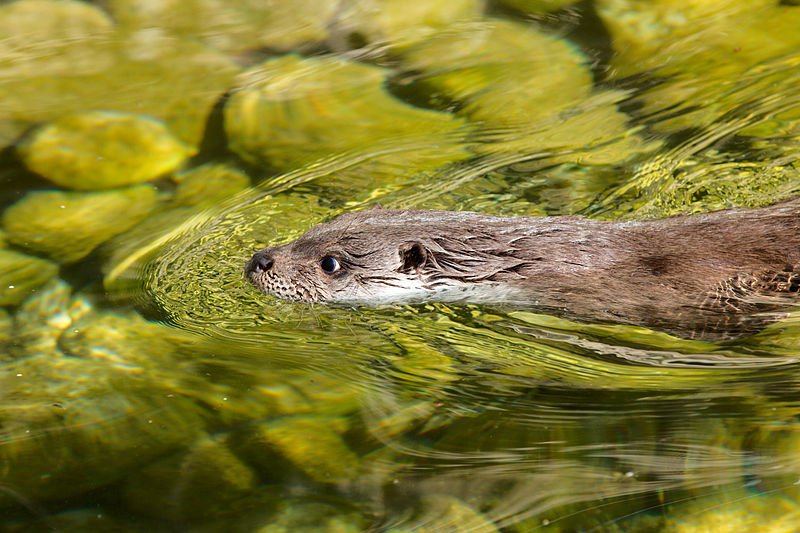 One Common Raven is disappearing towards its nest among the branches of the poplar plantation, only to reappear a few minutes later to give a good chase – aerial acrobatics included – to its first neighbour, the White-tailed Eagle which breeds in the vicinity.
I am parked at the bridge over the Reva Pond in the suburb of Belgrade, Serbia, mere 150 metres away from the nearest buildings behind me, but facing the fascinating undeveloped 1.2 kilometres / 0.7 miles towards the Danube River ahead of me.
A furtive peek to the smaller part of the pond at the right hand side, some fishes are twirling at the very surface, showing off their flanks for the moment, then their backs… some strange fishes.
Back to scope-scanning the larger part of the pond to my left: Mute Swan, Mallard, Little Grebe, Pygmy Cormorant, Gray Heron, I can hear that Raven again…
But I can't stand still, those strange fishes… I just have to check. The water is misty-golden and the fishes are all glossy in the early morning sun. They are spinning around rapidly, like those sea serpents at the ancient nautical maps marked with "Here Be Dragons". They have pointy tails, almost eel-like, I do not notice any tail flipper… whatever, they aren't birds.
Scope to the left, there are three Ferruginous Ducks now… but what are those fishes doing?
Now, one by one, there are rising their heads for a breath of air. Yes, air! Because they aren't fishes, but – Eurasian Otters!
My first live otters ever (the only previous one was a road-kill)! Are they playing or mating… who would know? The Natural History Museum curator, whom I asked later, was not certain either, allowing for both possibilities. Wow! Otters!!
The Reva Pond attracted more attention from local birders only a year ago. In that first year, about 95 bird species were recorded here, not to mention the Otter, listed as the Near Threatened species in the IUCN Red List.
The Reva is not protected. This first year of continual eBird surveying ends with this April. Interestingly, it was not a planned and structured survey – all it took was to point the birders towards this site and encourage them to report their sightings at eBird. In May I plan to discuss the possibilities of the legal protection with the city officials and your comments and views may strengthen that case.
Photo Matthias Kabel / Wikimedia Commons