Despite what you may have heard, birders are incredibly easy to shop for. No, you may not be able to giftwrap that elusive Ivory-billed Woodpecker sighting the bird watcher in your life has been craving, but you can shower that lucky individual with the trappings of the trade. A lot of gear goes into good birding, not all of which is as specialized or pricey as high-end optics. Books, for example, are always in style. You probably shouldn't surprise a birder with a field guide for his or her home region (a rather personal choice) but outstanding birding narratives and resource books are published every year. In 2007, we reviewed a bunch of great ones, any of which would bring a smile to a birder's face.

Books and optics are the obvious ideas yet far from the only ones. We asked readers what they would give to the birders in their lives and received a deluge of caring, creative ideas (with my comments in italics):
Kathryn Richter:
I gave my child a bird lover's notebook (perhaps one like The Birder's Journal) and a set of colored pencils. Since we have a large bird variety on our acreage, it was a great time for both of us to learn about identifying birds and their food choices and habitat. We both had the gift of appreciating birds and spending time together for less than $20!
Larry Jordan:
To me, the most incredible aspect of birdwatching is actually bird listening. Don't get me wrong, there is nothing more exciting than watching the first bluebird fledge from the nest in the springtime, but the sound of the Western Meadowlark or the Ash-throated Flycatcher is simply mesmerizing to me.
There is so much to birding yet it is easy for even the newest advocate to feel the wonder of nature all around them by simply closing their eyes and listening to the birds around them. I can't even tell you how many times I have been on a walk and actually looking for birds, binoculars in hand, seeing nothing until, following a beautiful birdsong, I spotted the Flycatcher in the tree or the Meadowlark on the wire or the bluebird on the fence post. The Stokes Field Guide to Bird Songs would be my gift to my bird loving friends. It is an audio field guide to birds and the most extensive I have found.
Nina of Nature Remains.:
I've added Bird Song Ear Training Guide: Who Cooks for Poor Sam Peabody? Learn to Recognize the Songs of Birds from the Midwest and Northeast States by John Feith to my personal wish list for Christmas. Being a beginning birder, it seems the perfect way to spend the shortened days indoors, and encourages me to believe that by spring, I'll be ready, and better able to bird in the field! I can even practice in the car–a great way to keep up on my passion, while taking care of the demands of everyday life.
Will Raup of The Nightjar:
The best gift to give a birder are Gift Certificates to Stewart's Shops. Although they are limited in where they operate, no birder in upstate New York should ever pass up the opportunity to stop at a Stewart's. Think about it, they are often the only place open on 'birders' hours' with most shops opening at 5am. They are also very often the ONLY place to stop in many rural areas. Here you can get coffee, a hot sandwich and any other supplies you might need for the rest of the day. They also offer hard roll deli sandwiches for lunch, plus anything else you can think of (even gas at some). Plus, they offer a place to get warm and most have restrooms. In the summer, nothing ends a day of birding better than a Stewart's milkshake. Heck you can even try your hand at the lotto, but I would save your luck for birding!
Plus there are advantages to stopping at a Stewart's as good birds can sometimes be found. Once at a Stewart's in Vermont, the small ornamental crab-apple in front held some 50 or more Bohemian Waxwings! While doing a Century Run (100 species in 24 hours), a stop at Stewart's in Altamont, New York yielded several birds on a day list! So you never know what may happen with a stop at a Stewart's. These places work almost like magic on any birding trip, no matter how bad the morning has gone, a stop at Stewart's refreshes the mind, body and soul and prepares you for searching for birds later in the day. Sometimes all you need is a stop at Stewart's to change a bad birding day into a great birding day! So get the birder on your holiday list gift certificates to Stewart's Shops (or someplace like it in your area) because no birding trip is complete without a stop at one!
Carrie Laben of Outside:
A dedicated birder's binoculars often go through all sorts of weather, get bumped, get stuffed in a bag with lunch, get exposed to salt spray and sand… terrible things for a delicate, high-strung lens! So, an ideal stocking stuffer for a birder is a binocular-cleaning kit. You can purchase complete kits or put together your own grab-bag of a bottle of compressed air, lens cleaning solution, lens tissues, and a soft brush.
If you want to get spendier, and your birder friend has very old binoculars (or is of the ancient and honorable tribe of klutzes) you can also arrange for the binoculars to be thoroughly cleaned and recalibrated. Asking around wherever binoculars are sold will probably point you in the direction of someone offering this service. Nothing benefits a discerning birder more than a little help getting more discerning.
Clare Kines of The House & other Arctic Musings:
What is the ideal gift idea for the birder on your list. Now a days there are so many products to chose from, optics, cameras, Birdpods, a plethora of books and guides, DVD's, CDs, ad infinitum. Perhaps we can really see the ideal gift if we step away from the wealth, step away from stores, and look at the core of birding.
The ideal gift for the birder or budding birder on your list? How about the gift of time? Make a commitment to your recipient to spend some time birding with them, where and where they would like. If you need something tangible, make it in the form of a "gift certificate" … This certificates guarantees the bearer a full day of birding with xxx
Perhaps the gift is for a budding birder, a day spent under your tutelage can launch them on a lifetimes of adventures, or perhaps they are the birder and you are not; spending the time with them while they explore their passion is one of the best ways you can validate for them that what they love to do is important and worthy of the attention of people who care for them. Perhaps it is your passion as well; a day spent afield with someone who loves the same thing as you can be magical. Perhaps this is a gift that is best obtained away from the stores. It is not free, there are very few things more precious to us these days than our time. It may just be the gift that means the most to someone who means the most to you.
Christine Guarino:
The birders in my life don't need much in the way of birding equipment, but they do need help in the style department, for sure. So what I would buy for them is, of course, 10,000 Birds T-shirts! These pleasing Ts are the perfect accessory for a fine day of birding, and no birder should be without. In fact, I may buy a different color for every day of the week. And, just for a stocking stuffer that may prevent car accidents, I'd also throw in a bumper sticker that says, "I Brake for Birds." Just for safety's sake. (I like the way Christine thinks…)
Mark Chenoweth of Whooper Happenings:
I would give someone a digiscope, assuming they are a potential or avid birder, especially someone starting out. The scope would bring wildlife much closer and allow a detailed look for ID and observation. I haven't invested in one yet, but when I do, it will also have to be able to accommodate my SLR… to allow keeping what we observe for later study! (Obviously, Mark is a very generous man.)
Nicole:
I think a great gift for the birder on my list would be a pair of nice cozy handknit wool socks, because they would need something warm and comfortable for winter birding. (Quality socks are among my favorite gifts!)
Michele Kines:
The absolute hands down favorite gift I've given my husband is the BirdPod. He has used it in the field to help him identify calls and at home to learn the songs. I learned about it here on your website, and we couldn't recommend it highly enough. (Sweet!)
Rob Fergus of The Birdchaser:
For any serious birder who doesn't have it yet, its hard to beat a year's subscription to the Birds of North America online (and on sale now). Simply the best natural history summaries out there—and increasingly with photos, video, sound recordings…
Nick Lund of The Birdist:
Everyone knows how annoying it is to lug around scopes and tripods, so I've designed a pair of Scopeglasses, which fit comfortably onto the face. The Scopeglasses are comfortable, cool and – as you can see from the pictures – allow a birder to carry scopes into places they wouldn't normally be able to.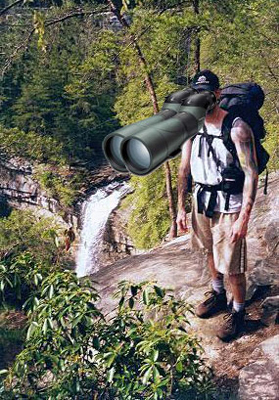 (This last suggestion might not be entirely serious…)
Many thanks to our extremely thoughtful contributors, whose ideas will undoubtedly bring smiles to grateful faces for years to come!