This year, for the second year in a row, Sector C of the Saratoga Christmas Bird Count was mine. Last year, Will, Tom, Bruce and I managed to track down 39 species but none of them were spectacular (though our four Red-winged Blackbirds set a new count high). This year, only Will joined me in the central section of the count area, and we had visions of winter finches, Northern Shrikes, and a goal of breaking our species count from last year.
Long story short: we didn't beat last year's total and we didn't find a shrike. We did, however, track down 37 species, not bad for a count with a composite list over the last 23 years of 112 species and a total this year of 66 species. More importantly though, our contribution of time and energy helped continue the Christmas Bird Count tradition and the data we gathered from our small area, when combined with everyone else's, helps monitor population fluctuations of the avians we so love to watch.
So, you might be asking, what were the highlights? Well, watching a flock of 47 Wild Turkeys in a fallow farm field was fascinating. And seeing Common Redpolls at feeders and in fields was fun. The huge numbers of Dark-eyed Juncos and American Tree Sparrows on the sides of roads was neat too.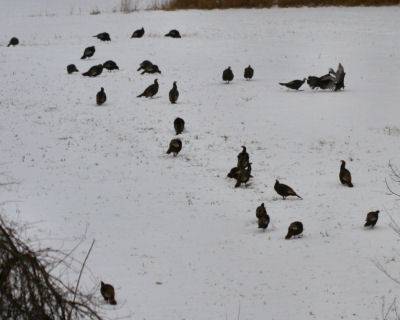 some of the 47 Wild Turkeys we spotted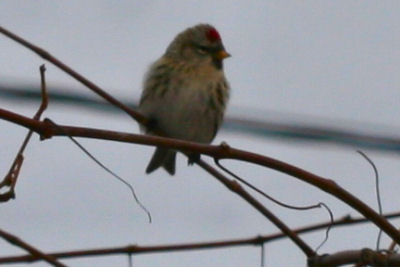 Common Redpoll: one of 41 we spotted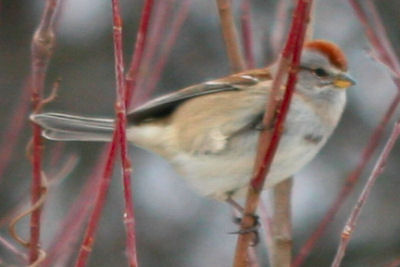 We saw way too many American Tree Sparrows!
But the top highlight came just as we were wrapping up for the day. We were mopping up the parts of our sector that we had missed when we realized we hadn't hit Edie Road yet. Now Edie Road is very close to the Wilton Mall and is basically a suburban area near some high-volume roads. We didn't expect to see too much at all so when Will said "Pine Grosbeak" from the passenger seat I knew he was kidding. When I didn't slow down he said "Pine Grosbeak" a bit more urgently. I slowed a bit and asked if he was kidding. He replied in the negative so I checked my rear-view mirror, slammed the brakes, and gunned it into reverse. There, on the side of the road, feeding on crabapples, was a flock of eleven Pine Grosbeaks!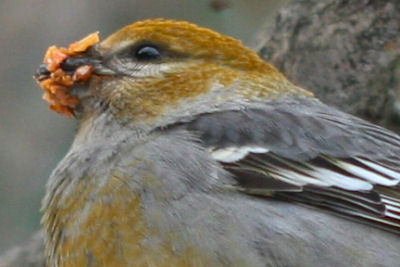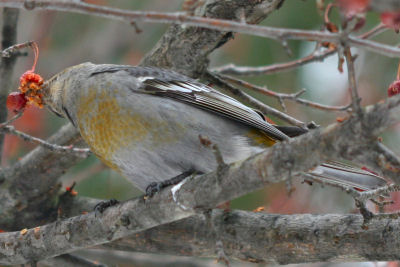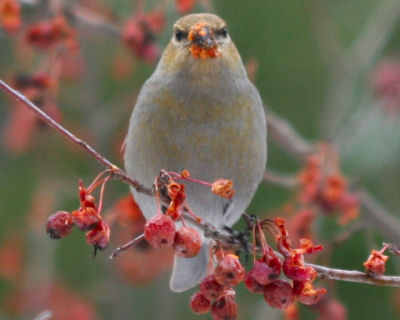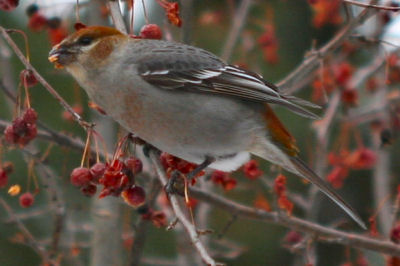 the first three are all females but the bottom shot is a juvenile male
At the compilation dinner (delicious chili and cornbread) we discovered they were the only Pine Grosbeaks for the count. It's a darn good thing Will was paying attention! And, if you are really interested, here is our list of species (including the number of each) for the day, in the order in which we saw them:
Mourning Dove 72, Mallard 171, American Crow 147, Black-capped Chickadee 82, American Goldfinch 41 47, European Starling 198, Canada Goose 848, American Black Duck 64, Northern Cardinal 21, Downy Woodpecker 14, Dark-eyed Junco 238, Common Redpoll 41, Hairy Woodpecker 7, Red-bellied Woodpecker 2, Carolina Wren 1, White-throated Sparrow 10, American Tree Sparrow 151, Blue Jay 94, White-breasted Nuthatch 23, Tufted Titmouse 47, Rock Pigeon 330, House Sparrow 56, House Finch 36, Northern Flicker 1, Cedar Waxwing 12, Eastern Bluebird 25, Horned Lark 106, Red-tailed Hawk 11, Wild Turkey 47, Ring-billed Gull 1, Song Sparrow 4, Sharp-shinned Hawk 2, Pileated Woodpecker 1, Snow Bunting 36, Northern Harrier 1, Pine Grosbeak 11, Northern Mockingbird 1.