The day after the exciting day's pelagic birdwatching (that I related last week) I was back in the Hauraki Gulf. This time Nicole and I were visiting the island of Tiritiri Matangi, an island that fills a similar birdwatching niche for the city of Auckland that Kapiti does for Wellington. I say similar because there are differences. Tiritiri is an open reserve, unlike Kapiti, and is much easier to visit, with almost daily ferries leaving from Auckland's CBD. Like Kapiti the island is an offshore refuge for many species extinct on the mainland, with a lot of the work being done by the voluntary Supporters of Tiritiri Matangi.
Although you can catch the ferry from Auckland (about an hour), we caught it further up the coast a mere 15 minutes from the island (we were spending Christmas in the city of Whangarei, about 3 hours north of Auckland). The boat ride out didn't give us many seabirds (and certainly nothing like the offshore stuff of the day before) but it was a pleasant (and fast) ride out in the sun.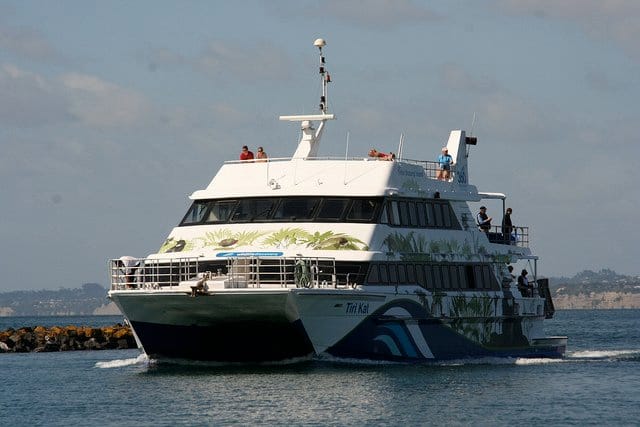 The ferry to Tiritiri
On arriving on the island there is a brief talk about the rules and safety related matters, and then you're free to explore. Most of the tourists, of which there are quite a few, opt to go on the tours provided by the Supporters, so by walking away quickly from the slowly coalescing groups we were able to lose the crowds quickly. You start hearing and catching glimpses of birds as soon as you land, particularly the fast moving Tui. One bird I apparently heard at the landing (although it didn't register to me) was the Fernbird, New Zealand's only Old World warbler (or more accurately megalurid warbler). I did hear what I think was one later, but I didn't manage to see one, but they are fairly common on the island. We did quickly encounter Brown Quail, an Australian introduction which is common on the island, and the always confiding North Island Robin.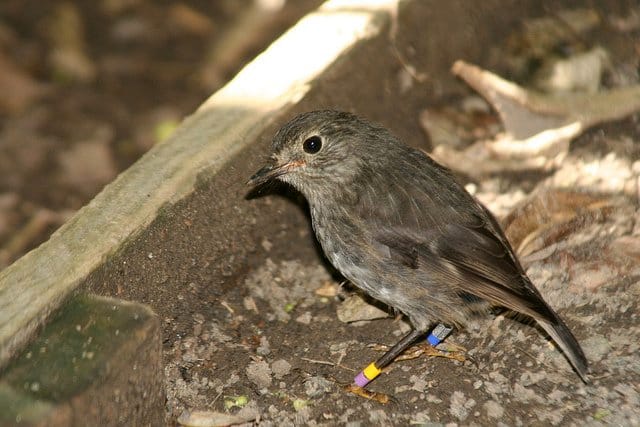 North Island Robin (Petroica longipes)
Tiritiri is also a great place to see Saddlebacks, and it wasn't long before we saw some of these too. I usuaully see Saddlebacks when I go to Kapiti, and often when I go to Karori, but they are everywhere on Tiritiri. On my first visit to the island a few years ago I even found one hunting for sandhoppers and other assorted treats in the washed up seaweed on the beach.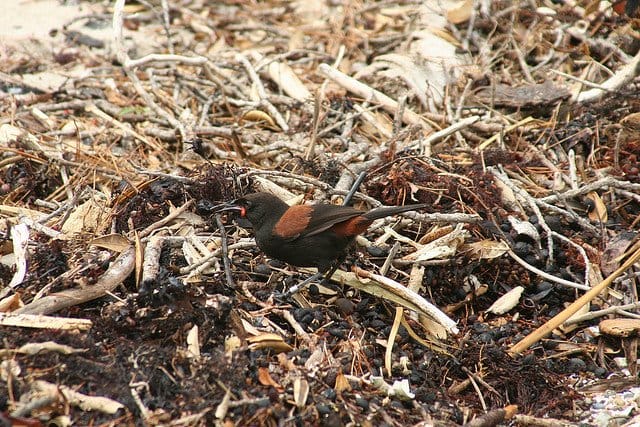 Saddleback (Philesturnus carunculatus) on the beach.
One species I really hoped to find on the trip was the Kokako. I'd seen one before, once, on Kapiti, but it was a long way away, in a dark forest high in the canopy. Tiritiri has a much lower canopy, as most of the woodland here has been replanted recently by the Supporters. As we climbed the hill I strained to hear one calling, and after a few false alarms we came a cross a cabbage tree with a very odd call coming from deep inside the leaves. It took a few minutes to find the guy, but eventually I could see a pair of legs and a tail that was unmistakably Kokako. We must of spooked him because he flew to a nearby tree where we managed to get great looks at it. An absolute treat!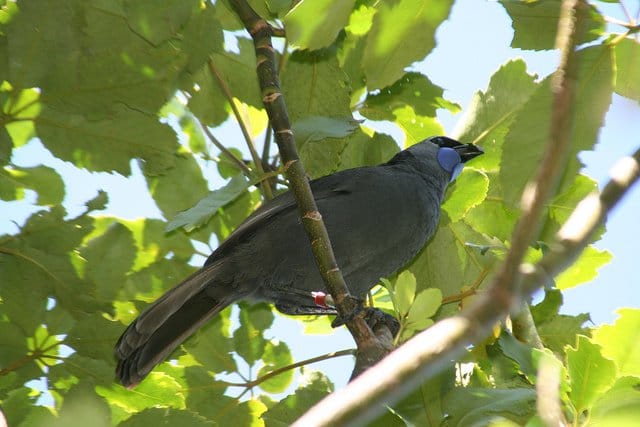 Kokako (Callaeas cinerea)
The island holds plenty of other New Zealand endemics, including Stitchbirds, Red-crowned Parakeets, Variable Oystercatchers, Bellbirds and most recently (although we did not see them) Riflemen. There are also a number of Takahe, one of which, named Greg, has learnt that humans equal food, and will hang around the day visitors in the hope of a snack.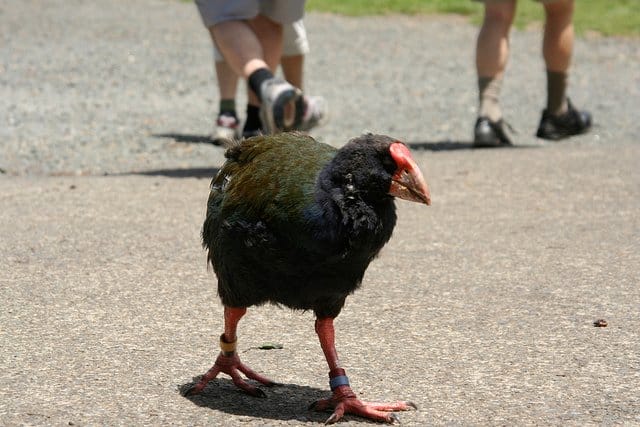 Greg the Naughty Takahe (Porphyrio hochstetteri)