My breakfast bird walk earlier in the week was so enjoyable that I decided to take my show on the road for another one this morning. Today, I visited Tibbetts Brook Park in Yonkers, a large public space with a string of large ponds. Water makes summer birding more interesting, but I was still on the hunt for warblers. Combing the woods revealed the lovely first-year male American Redstart pictured below, along with Baltimore Oriole, Tufted Titmouse, Black-capped Chickadee, White-breasted Nuthatch, Northern Flicker, Red-bellied Woodpecker, Barn Swallow, Song Sparrow, and the usual grackles, doves, pigeons, robins, catbirds, cardinals, and crows.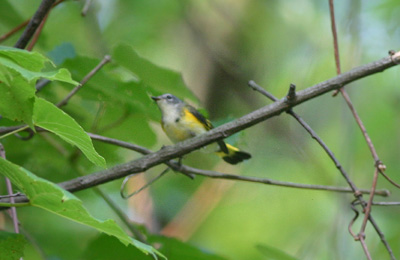 American Redstart (immature male)
The lakes were reasonably active, considering that the heat wasn't too bad so early in the day. As expected, most of the waterfowl were Mute Swan, Canada Goose (with one barnyard bird), Mallard, and American Black Duck, but mixed in the flocks were some young mergansers and a juvenile Wood Duck. Least and Solitary Sandpiper worked the mud flats and a lone Spotted Sandpiper foraged at the rocky mouth of a stream. I was also pleased to see Belted Kingfisher and Eastern Kingbird down by the water with the striking Green Heron in the photo. Its eyes weren't as eerie in person.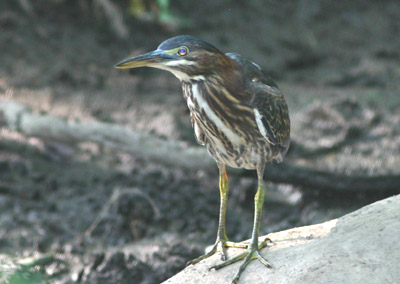 Green Heron