One of the perks of visiting Florida in January is that it's a chance to see some birds that are absent in Minnesota like the Tree Swallow. Though this flashy bird is relatively common, they demand your attention when they are in their large communal roosts. Much like a murmuration of starlings, these large flocks of birds can put on quite a show as they find a place to sleep or roost during migration or winter. The flock body takes on a mind of its own.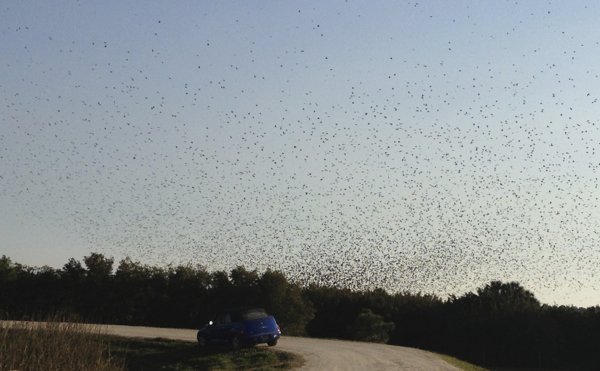 I watched this roost at Viera Wetlands while visiting the Space Coast Birding and Wildlife Festival in Florida in January. Even the most jaded of listers had to take a moment to stop and take notice.  I've seen Tree Swallows wheel and spin as they come in to feed on berries in Cape May, NJ during migration. A similar behavior happens as they settle in for the night. It makes more sense to be one of thousands when sleeping at night, you're less likely to be the one eaten by a passing predator. But there seems to be indecision among the flock. Who wants to be the first to decided where and when to land and then everyone else in the flock has to not only agree, but find a place to land. It's its own beautiful chaos.
Here's a video I took of the flock trying to come in to give you an idea of the spectacle:
Even a common bird can overwhelm you.