Whenever I see Tree Swallows (Tachycineta bicolor) I know that Spring is upon us. I have witnessed small groups of these gorgeous aerial acrobats twice, from an excellent vantage point, engage in what seems to be a courtship or pair bonding display.
Here you see, what appears to be an adult male clinging to a snag, being approached by a yearling female sporting the mostly brown plumage with a hint of greenish-blue.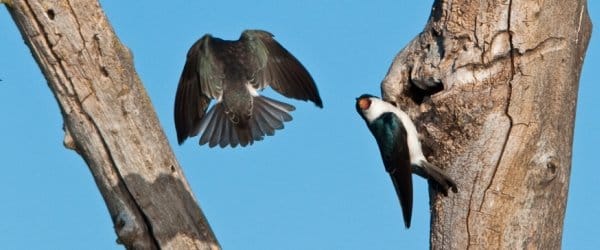 This activity seems to be centered around the small hole in the snag which the male has been checking out, but is obviously too small for a nesting cavity.
The male assumes a rather vertical posture and the female comes toward him, both with mouths open
This is another encounter where it is difficult to determine the sex of these two birds but I believe the bird on the right is a female
They may make several passes at each other with their mouths open like this
And then actually connect with a mock feeding display
Of course this all takes place in the blink of an eye so I never really saw this mouth to mouth connection until I viewed these photos from the Sacramento National Wildlife Refuge blind I took a few weeks ago.
I concluded that this must be pair bonding behavior, after all, Spring is in the air!  Does anyone know for sure?
Here is another photo of this beautiful species.
Watching the Tree Swallow, or most any swallow, makes me wish I could fly myself, how about you?