Back in 2007 when I was doing my New York State big year I dipped on a Tufted Duck way up in the northeasternmost part of the state when Jory, Will, and I couldn't find the bird on Lake Champlain.  Perhaps the same Tufted Duck was on Lake Champlain again last winter but with a newborn son I was in no position to chase it.  Of course, I did see Tufted Ducks on the Baltic Sea in October of 2007 when I visited Germany, but that sighting was the one and only time I have ever seen Aythya fuligula, which, it must be noted, is a pretty fun-to-say scientific name.  I was horribly distressed, then, when I heard about a Tufted Duck sighting in Cold Spring Harbor, about a half-hour from my home in Queens.  Why was I distressed?  Because when I heard about the duck I was 3,000 miles away in sunny southern California!  I had to hope the duck would stick around until I could get back and find a way to get to the bird so I could not only enjoy seeing it and adding it to my burgeoning New York State list but also enjoy needling Mike by being one more bird up on him in our never-ending ABA-area list competition, in which I am currently crushing him after being tied mere months ago.
Long story short: Danny and Alan picked me up yesterday morning, we drove to Cold Spring Harbor and spotted the bird and got extremely unsatisfactory looks, though the bird's black back, white flanks, and tuft, the important filed marks, were all visible.  We then checked out Saint John's Pond and didn't see much so we took one more look at Cold Spring Harbor where we were pleased to find the Tufted Duck was much closer and we got better looks despite the snow, which had really started to come down hard.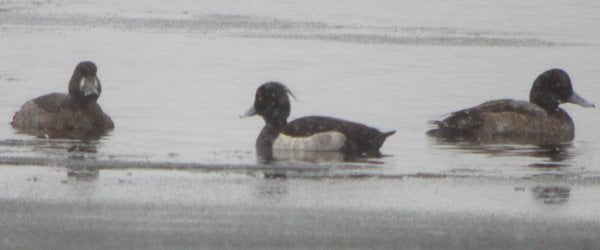 male Tufted Duck with female Greater Scaup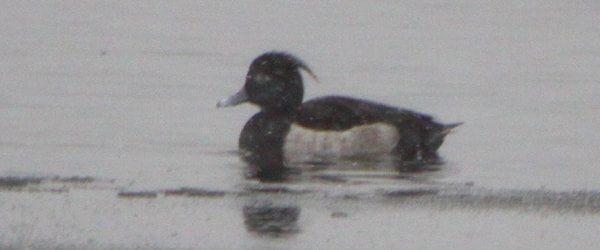 Tufted Duck Aythya fuligula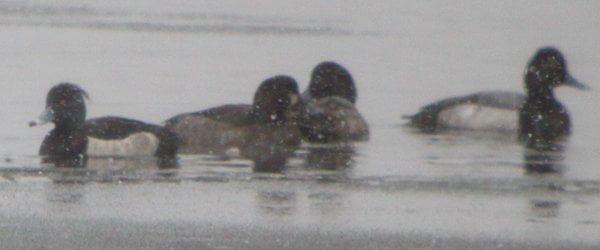 male Tufted Duck at left, with two female Greater Scaup, center, and a male Greater Scaup at right
It was a quick and relatively easy twitch, and on the way home Alan ably and adroitly avoided the amateurs who were sliding all over the place in their cars because they couldn't handle a little bit of snow on the roads.  Thanks to Danny and Alan for the ride and company, to Gary Strauss, who first found the bird and got the word out quickly, and to everyone who has been reporting the bird's presence on the local listservs.  Tufted Duck!  Whoo-hoo!
…