One thing I've learned from my birding colleagues is that it is customary at year end to ruminate on one's previous 52 weeks of avian observation. Since I've already shared some of our top nature moments of 2007, I'll eschew last year's reminiscence of places visited and structure this retrospective more in the vein of 2006's wistful Looking Back, Looking Ahead.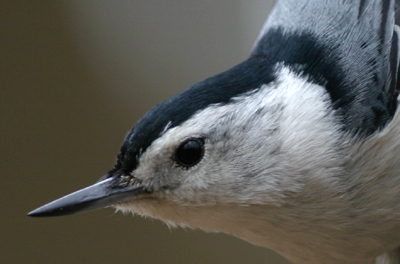 Number of species seen in 2007: 263, assuming I counted right
New life birds: 34 (Last life bird: Stilt Sandpiper, Jamaica Bay WR, 8/26)
Total life birds: 481
Total ABA-area birds: 380?
Total state birds: who knows?!?
The tally of 34 life birds for the year is low in comparison to last year's whopping 83 and 2006's respectable 56. And yet, even this number was difficult to attain. Most of my new New York birds were found along Long Island's southern shore though I did pick off a few elusive songbirds and Adirondack delights during spring migration. My big gains came during trips to Texas and California. With every year of active birding, the challenge of spotting new species in one's home territory grows more… well, challenging. However, there is certainly hope for me considering that Corey's 2007 New York year list blew away my own year list, even though I counted birds from the Atlantic to the Pacific. The trick is getting him to help me find some of those really rare ones…
What might be my first life bird of 2007? Frankly, I haven't a clue. There aren't many regularly appearing winter birds missing from my list unless I luck into a Saw-whet Owl somewhere so I may have to wait until spring to see new species. In early March, I'll be visiting Houston, a part of Texas I haven't visited since I started watching birds. With hope (and perhaps a friendly local birder, hint hint) I might strike gold there. Southern California is another possibility, especially if I can explore some inland areas. If all else fails, I'm determined to find woodcock, snipe, and rails this spring. One way or another, I will be adding to my life list in 2008!
Of course, birding would be grim sport indeed if its only pleasure lay in ticking new species. Much of the fun in keeping a year list begins on New Year's Day, when the odometer rolls back to zero and we start actively seeking House Sparrows, at least for a day or two. For me, the year list serves as a meditation that connects me, even while I fantasize about my next big excursion, to my native habitat. That thoughtful traveler T.R. of From the Faraway, Nearby shares a profound quote from turn-of-the-century naturalist John Burroughs, also born in New York state. In part, it says, "The lure of the distant and difficult is deceptive. The great opportunity is where you are. Do not despise your own place and hour. Every place is under the stars, every place is of the world."
Remember that. In 2008, the great opportunity is where you are. Good luck finding it!