A year list can be a sorry thing indeed until a person actually devotes a few hours to populating it. My first week of 2008 was essentially devoted to family, work, and untangling the chaos that results when someone hacks your website, consequently causing that site to be taken down. Thankfully, a trip to the beach can cure what ails, even if we're talking the south shore of Long Island in January!
Patrick of the Hawk Owl's Nest and I met at the Jones Beach Coast Guard Station to kick off a midday winter bird roundup. The Atlantic coast is an excellent environment for January birding, particularly a locale as productive as Jones Beach. Unfortunately, the appearance of truly exceptional birds seems to fluctuate in reverse proportion to the mildness of weather conditions. As this weekend was relatively temperate, the still waters of the bay were untroubled by loons or oldsquaw. But wait, there at the edge of our visual range one Long-tailed Duck turned up along with Mallards, American Black Duck, Brant, Canada Geese, and Ring-billed, Herring, and Great Black-backed Gulls. I was pleased to spy numerous Red-breasted Mergansers which, in concert with the flocks of Common Mergansers behind my office and the single Hooded Merganser drake I spotted sails-up on the way to Jones Beach, closed out my U.S. sawbills in record time. Last but not least was a lone Greater Scaup.
The stormy side of the barrier island offered more esoteric fare. We noticed a rather beefy Peregrine Falcon eyeing us as we drove past, along with plentiful Northern Harriers and Red-tailed Hawks. These raptors are surely enticed not only by common critters such as House Sparrow, House Finch, American Goldfinch, Northern Mockingbird, Northern Cardinal, and Red-winged Blackbird, but also seasonal fare like Snow Bunting, flocks of which flitted past throughout the day. I've learned to expect buntings at the beach this time of year along with Horned Larks, of which we saw several, and sometimes Lapland Longspur, like the one that tink-ed as it flew overhead (Lapland Longspurs do say "tink" in flight, don't they?) Past the dunes, we could see thousands of scoters, the great bulk of which were Black, either in flight or adrift on the cold ocean.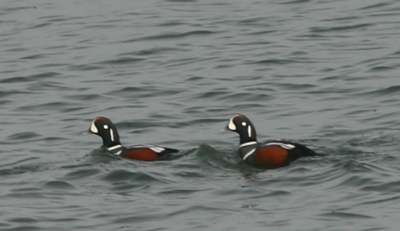 Harlequin Ducks
Having picked up most of our target species at Jones Beach, we hastened to our next destination. Oak Beach, a quiet strip about ten miles to the east, currently harbors a very confused, intermittently accommodating Townsend's Solitaire. This thrush shouldn't be here and for all intents and purposes wasn't for as long as Patrick and I looked for it. To be fair, we didn't spend much time keeping a vigil; the prospect of Harlequin Ducks holding court at Point Lookout was too exciting to resist. As my smudgy photo suggests, these brilliant seaducks were right where we heard they'd be, much closer to shore than we usually get in New York. The fact that two of the harlequins were males in dazzling plumage was almost as welcome as the fact that we didn't pitch into the icy waves trying to get a look over the seawall!
I learned last year from Corey just how productive Point Lookout can be for birding and was pleased to share this knowledge with Patrick. First we found the large flocks of Sanderlings grazing where the tide touches shore. Next came Ruddy Turnstones, not ruddy at all in winter, working the same jetty I found them at previously. Unfortunately, no Purple Sandpipers appeared with them. Still, past the jetties we saw many Common Loons and a single Red-throated one, many merganser, and a healthy number of Horned Grebe. I was concerned we'd miss the grebes as it took so long to spot one, but while they played out as anticipated, another reliable winter bird – Bonaparte's Gull – went completely unseen. In fact, none of the fancy gulls spotted out there turned up for us, a shame since Patrick would have been able to ID them! Our consolation prize was the charming sight of a seal's face bobbing out of the water like a bewhiskered buoy, not something I see every day.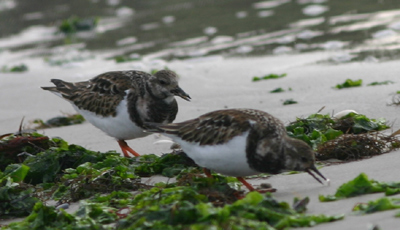 Not particularly Ruddy Turnstones