Costa Rica is well known for national parks and other protected areas than offer access to tropical ecosystems dripping with biodiversity. Lots of birds, a lot of really cool birds!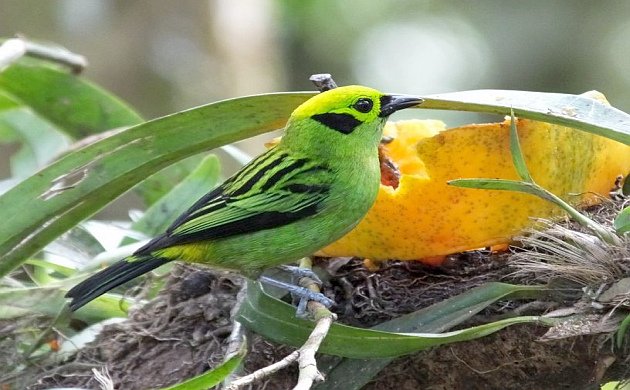 The Emerald Tanager is one of those cool ones.
However, as with many other places throughout the globe, this small country also has its fair share of urban wildlife. These are the plants and animals that strive to persist in the realm of Homo sapiens. In Costa Rica's Central Valley, the former denizens of moist tropical forest and brushy wetlands have had to adapt to a mosaic of agriculture, gardens, and wooded remnants mostly restricted to riparian zones. Some local populations of birds and animals couldn't adapt to the radical ecosystem-wide changes and just died out but a fair percentage did survive and continue to persist where green space lingers.
I was reminded of this during recent guiding in urban zones near Alajuela, one of the main cities in the heavily urbanized Central Valley. Yes, we were at the edge of the big stretch of concrete and asphalt and thus surrounded by green space but this was still habitat heavily affected by people. The raising of the bins took place along roads through semi-shaded coffee farms and on the grounds of Villa San Ignacio, a hotel with big old wonderful trees and regenerating forest. Our birding was particularly productive for the Central Valley but still gives an idea of what can be found in and near urban areas of Costa Rica. These were some of the highlights and observations from recent guiding:
Toucans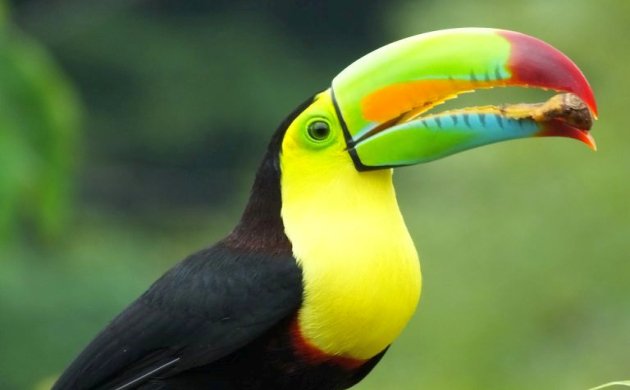 Although the Corvid-like birds with the over-sized beaks are more common in rainforest, small populations of Keel-billed Toucans and even the regionally endemic Fiery-billed Aracari occur in parts of the Central Valley. Remnant mature figs and other native trees keep them going, it was close to surreal to see both of these fancy birds within sight of a large urban area.
Parrots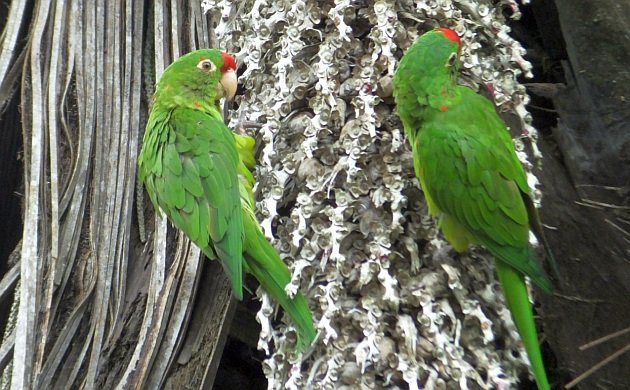 Some members of the Psittacidae become adapted to living with people, others don't. In Costa Rica, the Crimson-fronted Parakeet can nest in buildings and forages in a variety of fruiting trees. As is typical of urban birding in Costa Rica, we had small flocks of this species fly over and good looks at the White-crowned Parrot, the other most common parrot in the valley.
Gray Hawk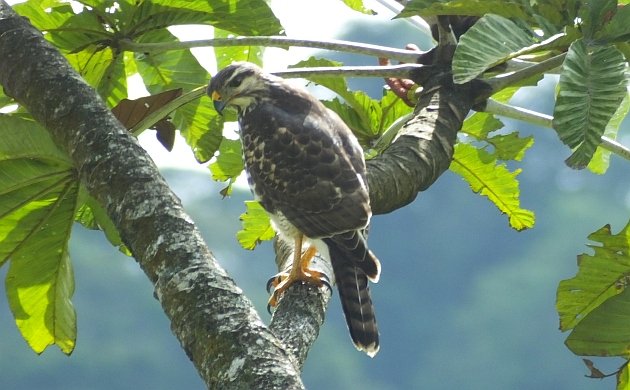 As befits their high place on the food chain, there aren't nearly as many raptors as there are wrens and Blue-gray Tanagers. But, they still occur, the most common species being Black Vulture, Turkey Vulture, Gray Hawk, Short-tailed Hawk, and Yellow-headed and Crested Caracaras. We enjoyed watching a juvenile Gray Hawk scream for its parents as Brown Jays voiced their screeching opinions.
Ferruginous Pygmy-Owl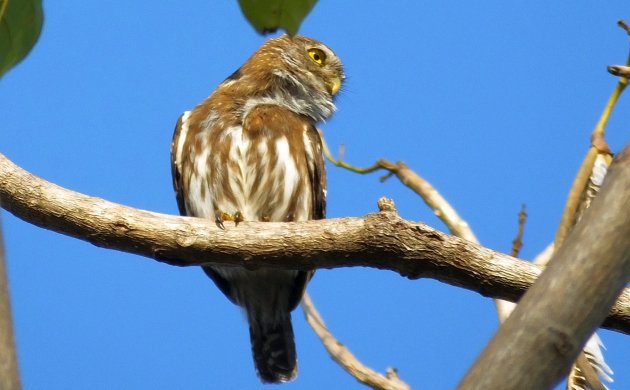 An owl by day? Yes and pretty common too! This small predator occurs in gardens and other habitats, we heard three and saw two.
Hummingbirds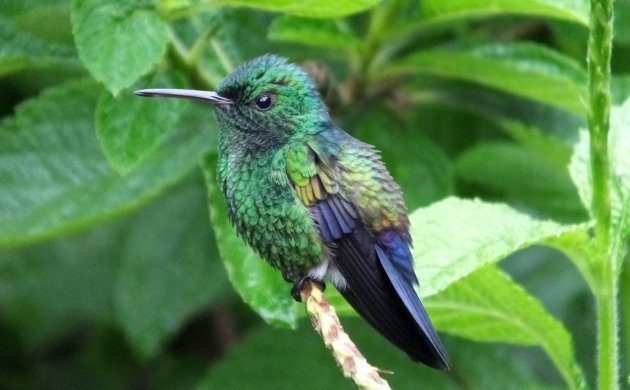 Have flowers in Costa Rica? You also have hummingbirds. Rufous-tailed is the norm, they live for gardens. In the coffee, Blue-vented Hummingbird (a recent name change from Steely-vented) is also regular, we saw a few. But other species also zip through gardens and other green space, at Villa San Ignacio, we had great looks at a prize Plain-capped Starthroat.
Lesson's Motmot
This is one heck of a sweet urban bird. I see them at the house, I see them in almost any garden, and we likewise had good looks at and near the hotel.
Hoffmann's Woodpecker
Our Red-bellied, Great-spotted, or Golden-fronted, this is the woodpecker that lives with people in the Central Valley of Costa Rica. Lineateds also occur but the smart looking Hoffmann's is the one usually seen (one just rattled off a call as I write this).
Becards, flycatchers, and Long-tailed Manakins
Rose-throated Becard is regular and a variety of hefty flycatchers are typical urban birds in Costa Rica. We saw these while driving along and at most stops. Those would be avian neighbors like Tropical Kingbird, Great Kiskadee, Boat-billed Flycatcher,
Social Flycatcher, and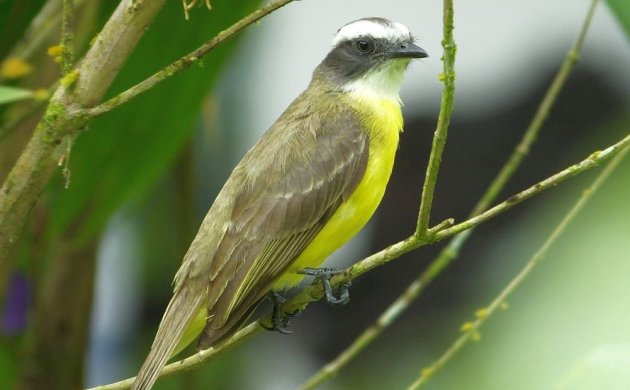 Streaked Flycatcher.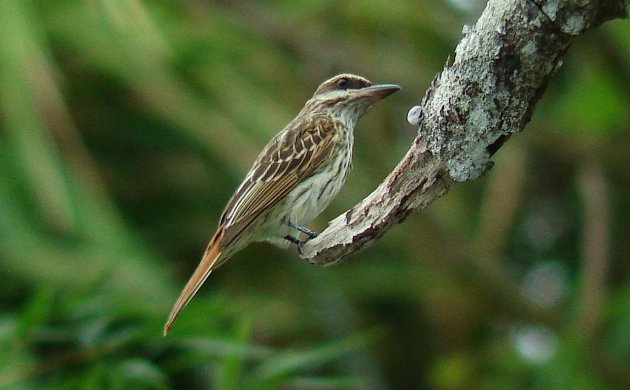 The fancy Long-tailed Manakin is also more common than most people realize. A species of dry and moist forest, it holds on in some parts of the Central Valley. We had close, long looks at a female that perched on a vine and nervously flicked her wings.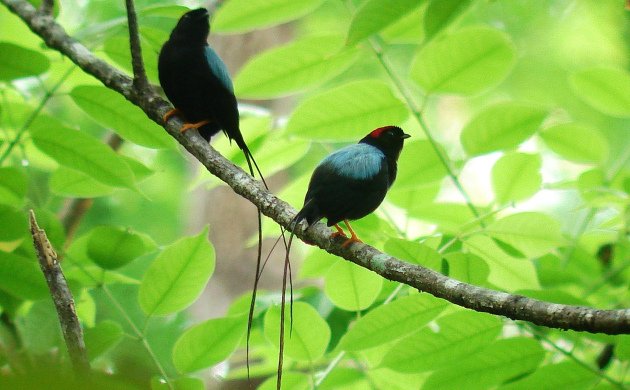 The males are pretty nice too.
Vireos, jays, and swallows
During the wet season, Yellow-green Vireos fill green space with song and Lesser Greenlets also occur (they look as plain as that sounds).  Big Brown Jays roam here and there and the main Hirundine is the Blue-and-white Swallow.
Wrens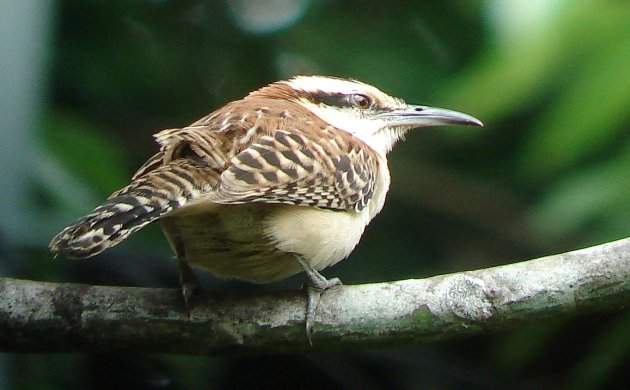 In the greener parts of the Central Valley, five wrens occur. We had House and Rufous-naped around buildings, Rufous-breasted and Rufous-and-white in woodlots, and Cabanis's Wrens calling from dense second growth.
Euphonias, sparrows, warblers, and tanagers
As is typical for urban birding in the Central Valley, we had views of Yellow-throated Euphonia, Rufous-capped Warbler, Rufous-collared Sparrows, and Blue-gray Tanager. Less common but still expected were looks at White-eared Ground-Sparrow and Red-crowned Ant-Tanager. The uncommon, skulking  endemic Cabanis's Ground-Sparrow was also recorded but only by call.
Blackbirds
Some members of this family always do well with people and Costa Rica is no exception. Great-tailed Grackles are a given, we also had Bronzed Cowbird, Melodious Blackbird, and a few Montezuma Oropendolas.
Last but not least, one can always expect lots of Costa Rica's national bird, the Clay-colored Thrush. It's also worth mentioning that a number of wintering species are also on the birding table at other times of the year and other less common species are also possible. I wonder what else will turn up in these remnant green spaces, especially by the homestead? I'll be watching.