One of the highlights of any birding trip to Florida's Space Coast is watching waders and waterfowl at Ritch Grissom Memorial Wetlands at Viera, better known as the Viera Wetlands. These wetlands, part of the Great Florida Birding Trail, are a model of sustainable land use. Considered an integral component of Brevard County's water reuse system, the artifical wetland system polishes reclaimed water for irrigation or overflow into the adjacent canal while creating a biologically diverse ecosystem accessible to the public. Birders love Viera Wetlands not just for the birds, but also the thoughtful touches like an auto loop connecting cells of various depths with observation decks overlooking the large lake.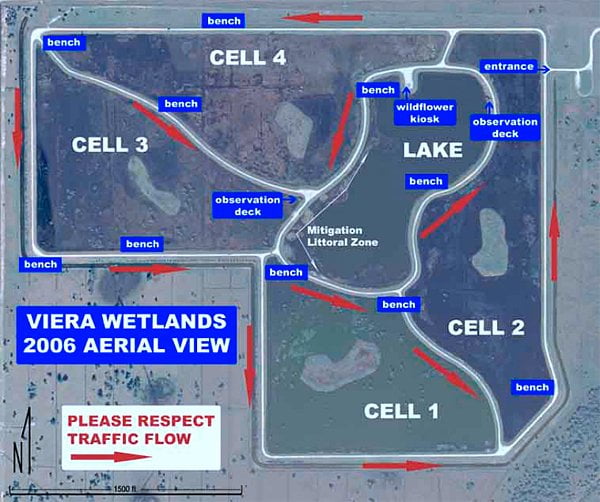 And how about those birds? The checklist reads like a who's-who of Florida avian celebrities, including highly coveted vagrants like 2010's Masked Duck. My mission was to find out what was so special about Viera Wetlands. Luckily, the success of this venture was assured the moment I realized that my guides were none other than Jeff Gordon of the ABA and Mike Freiberg of Nikon. Having Jan Pierson of FieldGuides along didn't hurt either! Let the action begin…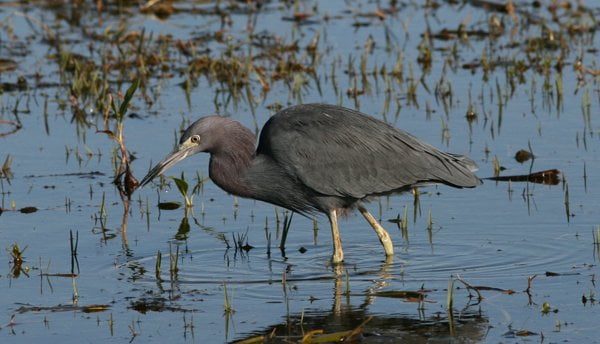 Little Blue Heron
Emphasizing waterfowl may seem unfair when crackers like Crested Caracara, Sandhill Crane, Wood Stork, and Limpkin make the scene but ducks, rallids, and long-legged waders really do steal the show in such a habitat. Crowds of coots and moorhens made up a substantial percentage of the birds in the ponds. The most common ducks were Athaya species, particularly Lesser Scaup and Ring-necked Ducks. Displaying Hooded Mergansers demanded attention, though as a northeasterner I was more thrilled to spy the subtle charms of the Mottled Duck, a member of the maddening mallard complex.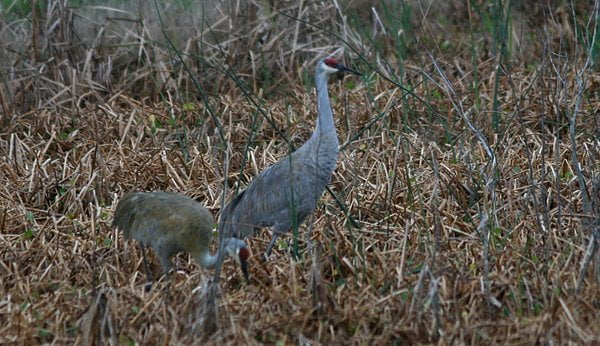 Sandhill Cranes
The birds of Viera Wetlands tend to be the ones you'd expect. All of the usual Florida herons and egrets turn up, as do scads of Anhinga, Double-crested Cormorant, and both White and Glossy Ibis. My favorite bird was not one I expected but rather hoped for. After all, how often can you count on a bittern? Thanks to a combination of perceptiveness, persistence, and teamwork bolstered by expensive optics, we all enjoyed fabulous looks at a distant American Bittern prowling in the reeds. Apparently, Viera Wetlands has become somewhat reliable for bitterns, for which it deserves great praise and repute.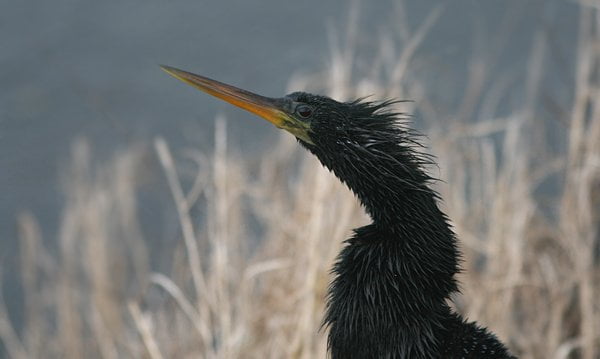 Anhinga
Steadily rising rainfall drained the momentum from our survey of the sewage cells. Nonetheless, we racked up most of the available avifauna. One of our best sightings, occurring at the end of the facility tour, was none other than Julie Zickefoose, who in turn has an awesome Snail Kite sighting that most of our group missed. You really can't predict what you'll see at Viera Wetlands!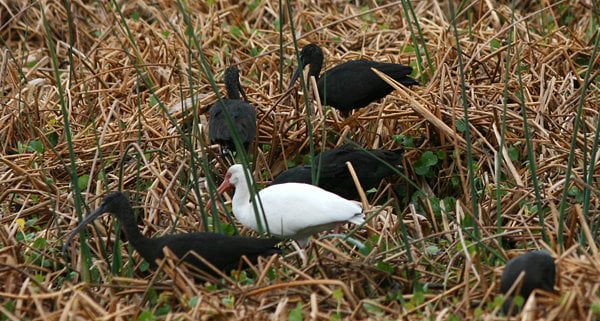 Which of these things is not like the others?
If you want to tour Viera Wetlands in the company of the kind of talented guides I visited with, you can't go wrong attending the annual Space Coast Birding & Wildlife Festival.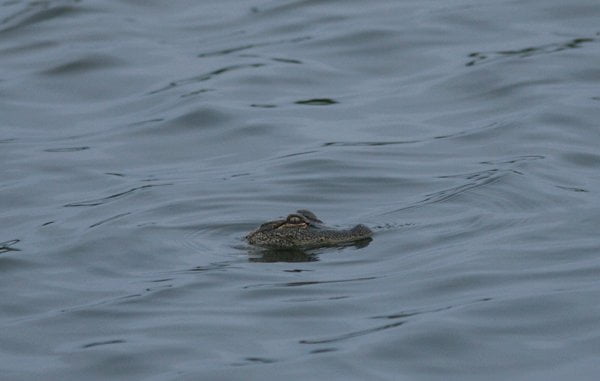 What a cutie! (A baby gator was the highlight of my trip as far as my daughter is concerned.)