The early teen years are prime time for kids to adopt environmentalism as a cause. The human sense of fairness and empathy is strongly in place by age eight or so, while puberty sparks the sense that authority figures don't always know best and that heady idealism that old fogies tend to see as self-righteousness. So YA and middle-grade novels with environmental themes have, it seems to me, a natural constituency.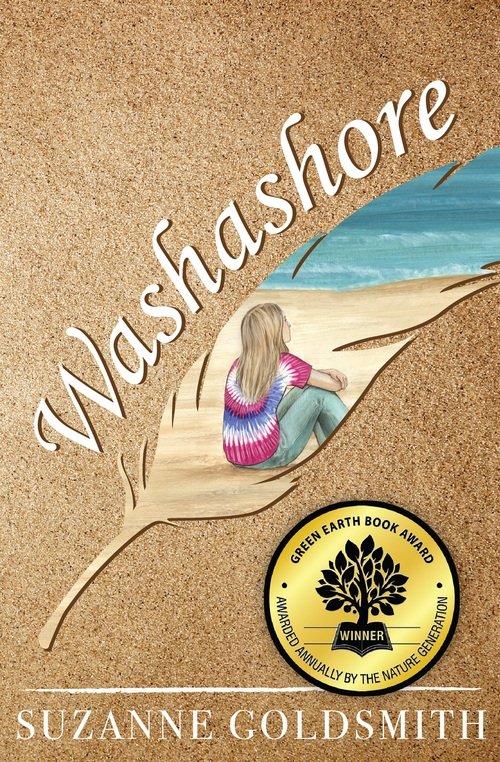 Washashore, by Suzanne Goldsmith, is likely to appeal to that young and earnest group. With its fourteen-year-old protagonist, light romance, and straightforward plot and language, it's perfect for the middle grade or young YA reader who isn't yet totally caught up in grim dystopias and sexy vampires, or even for an advanced elementary-school student.
Set in the 1970s, the story follows our heroine Clem as she moves to Martha's Vineyard due to what she doesn't yet realize is her parents' disintegrating marriage. Seen as an outsider by her peers and often left to her own devices as her mother tries to shore up her career and finances, Clem wanders the wintry island alone. As a viewpoint character, she has a naive but all-encompassing eye for natural beauty that I expect a lot of birders will find reminiscent of their own childhoods. She's just discovering the work of Rachel Carson and finds a sympathetic ear in a young teacher who is dating the island's resident bird rescuer. And when she finds a dead, banded Osprey on the beach, Clem is drawn into the struggle to re-establish the birds on Martha's Vineyard in the face of continuing pressure from development and habitat loss – and into the life of Daniel, a similarly lonely fourteen-year-old boy who is the bird rescuer's apprentice.
I very much like that the book revolves around Osprey. Given the time frame in which it takes place, the characters' concerns about the birds are genuine and urgent, but a reader today can see that the efforts to save this species did pay off and were worthwhile, even though (spoilers) the individual bird the characters try to help does end up getting displaced.
Clem's strained but ultimately loving relationships with her mother and best friend Coco are also handled well. Both of these characters could have ended up being cliche Bad Women as a foil for Clem – her mother as the practical harpy who drives away fun-loving Dad with demands that he contribute financially instead of screwing around with poetry, and Coco as the worldly, shallow girl who likes parties and clothes and older boys more than nature. And although there is a scene that sort of ground my teeth, in which Coco's behavior lures both girls into after-school-special-style Stranger Danger, in the end both of these characters come through for Clem in a big way and are shown to be caring people who are doing the best they can.
The main weakness – and I really think this is the fault of the genre more than the author – is Daniel, the kid Osprey expert and eventual love interest who drives most of the major plot events. He's got quirks instead of character development, and the nicest thing he really does for Clem is pay a bit of attention to her, yet she puts herself in real danger for him and guilt trips herself when she fails to put his feelings first – even when she's supposed to be spending time with her long-distance best friend. Having been a lonely fourteen-year-old girl myself lo these many years ago, this isn't necessarily unrealistic, but it's presented rather uncritically. I'd have been just as happy if their growing relationship was presented as a friendship, maybe with a hint of promise for the future – but I can't say if fourteen-year-old me would agree. I think fourteen-year-old me would have enjoyed this book very much as it is.