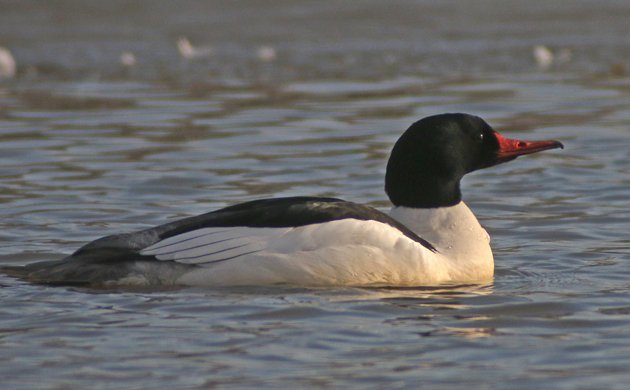 Baisley Pond Park in southern Queens is a spot that few birders venture to despite it being a magnet for wintering waterfowl. It is inconvenient by mass transit, requiring a bus ride at the end of a ride on the subway, and the nearest highways, the Belt and the Van Wyck, tend to clog up with traffic. But I visit whenever I can because the park's namesake pond is mostly surrounded by vegetation, which gives birds cover; it is underbirded, which means that there is a chance to find something good that would be otherwise overlooked; and it can be covered relatively quickly, which means that it is a choice location to tack on after visiting another spot or when I don't have much time.
My visit on Saturday morning was meant to be a quick stop to scan the ducks, geese, and gulls to see if anything interesting was around. I checked the south end first, where coots and wigeon tend to keep a small area ice-free in cold temperatures, and was pleased to see that they had been joined by a few Ruddy Ducks and the Pied-billed Grebe which has spent the whole winter on Baisley Pond, though usually at the north end. The Ruddy Ducks looked miserable but the grebe and the coots seemed to be doing fine.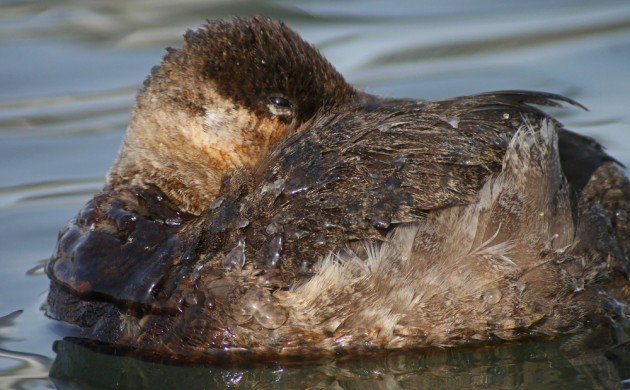 Such a cold Ruddy Duck. I kind of felt bad for him.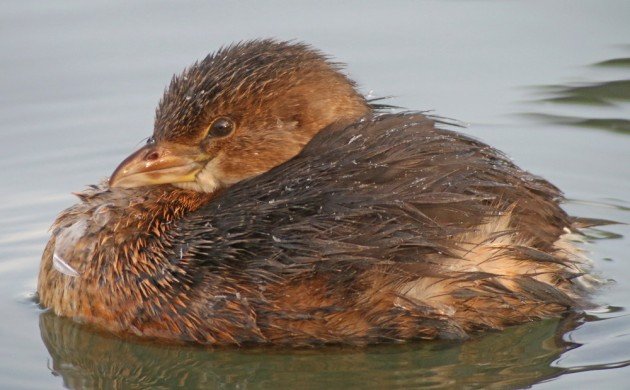 Though this Pied-billed Grebe is less adapted for cold weather than the Ruddy Ducks it was more active and seemed to be doing alright.
Even more exciting than close range waterfowl was the Iceland Gull I picked out from among the gulls that roost on the ice. It was my first ever at Baisley Pond Park and a bird that I had long expected to find there amid the hordes of Ring-billed Gulls and Herring Gulls.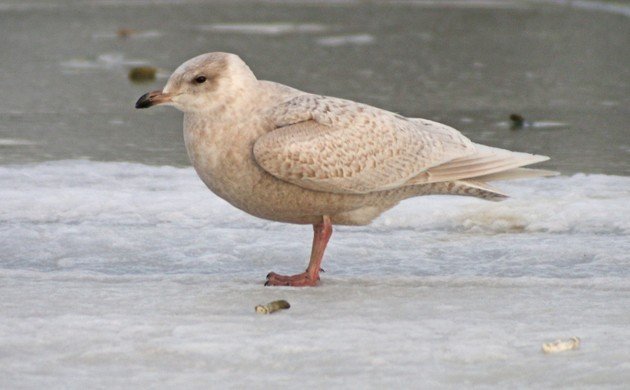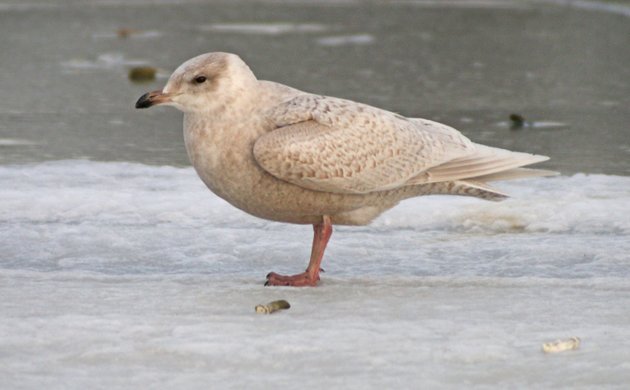 Iceland Gulls look good even when surrounded by goose poop.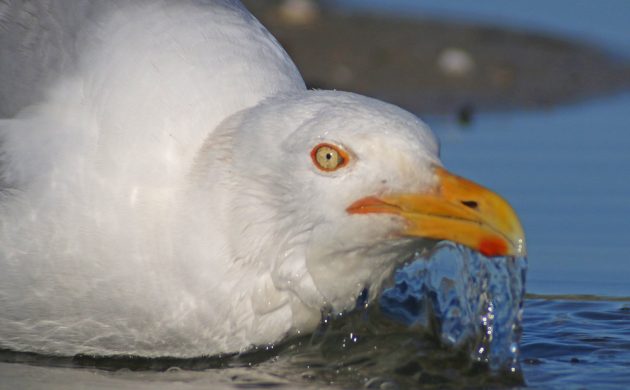 Herring Gulls love to give birders the ol' stink eye.
Once I had gone through the birds at the south end and grown tired of digiscoping the same few birds I made my way to the north end of the pond where a far more extensive area of open water was populated by far more ducks. There were also several hundred Canada Geese to pick through and whole bunch more gulls. I must admit though, that the two drake Common Mergansers I spotted stole the show for quite some time, as they are another species I had never seen at Baisley Pond Park before and must have been driven from further north because they were frozen out of their selected wintering spot.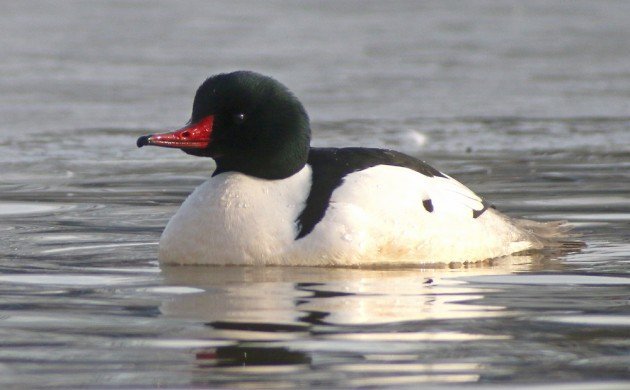 Common Mergansers are classy birds.
And, of course, I couldn't ignore the flocks of wintering Redheads and Ring-necked Ducks and another diving duck that was hiding among them. Because, really, who can?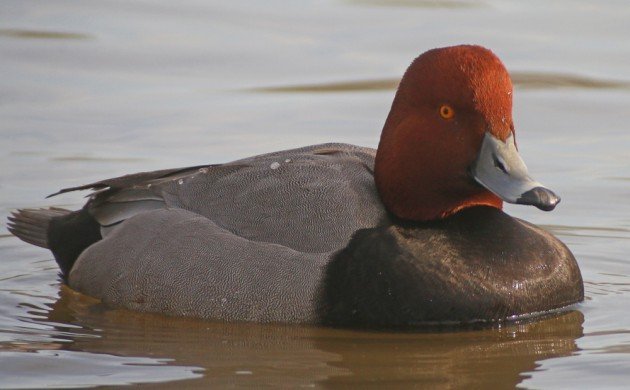 I will never get tired of seeing and digiscoping Redhead at short range.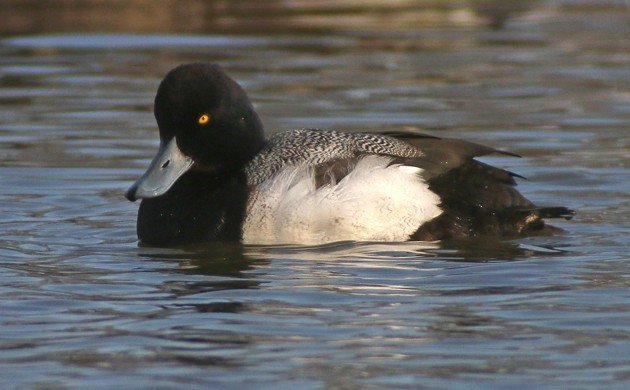 This Greater Scaup, like the Common Mergansers, is an unusual visitor to Baisley Pond Park and was likely present because wherever it had been prior to Baisley Pond Park froze over entirely.
Ring-necked Ducks have great eyes.
Digging through the geese and gulls was not as awarding as scoping the ducks had been. Though I tried to turn a couple small Canada Geese into Cackling Geese I just couldn't string them into the rarer species. The goose below wasn't much of a consolation prize.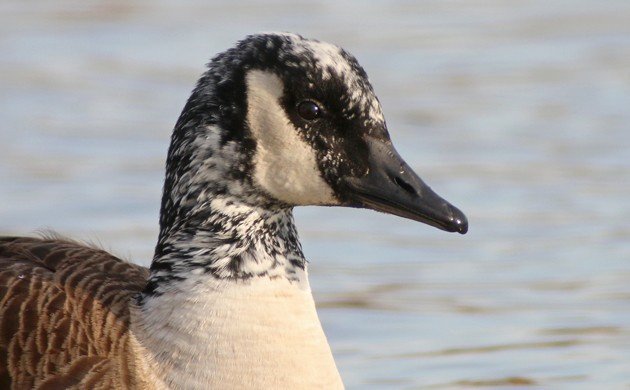 Digging through hundreds of Canada Geese looking for a rarity should result in more of an award than a bird with odd plumage.
With the deep freeze having returned to New York City after relatively mild temperatures Sunday I look forward to seeing what else might show up at Baisley Pond Park. Here's hoping for a Glaucous Gull and a Greater White-fronted Goose!