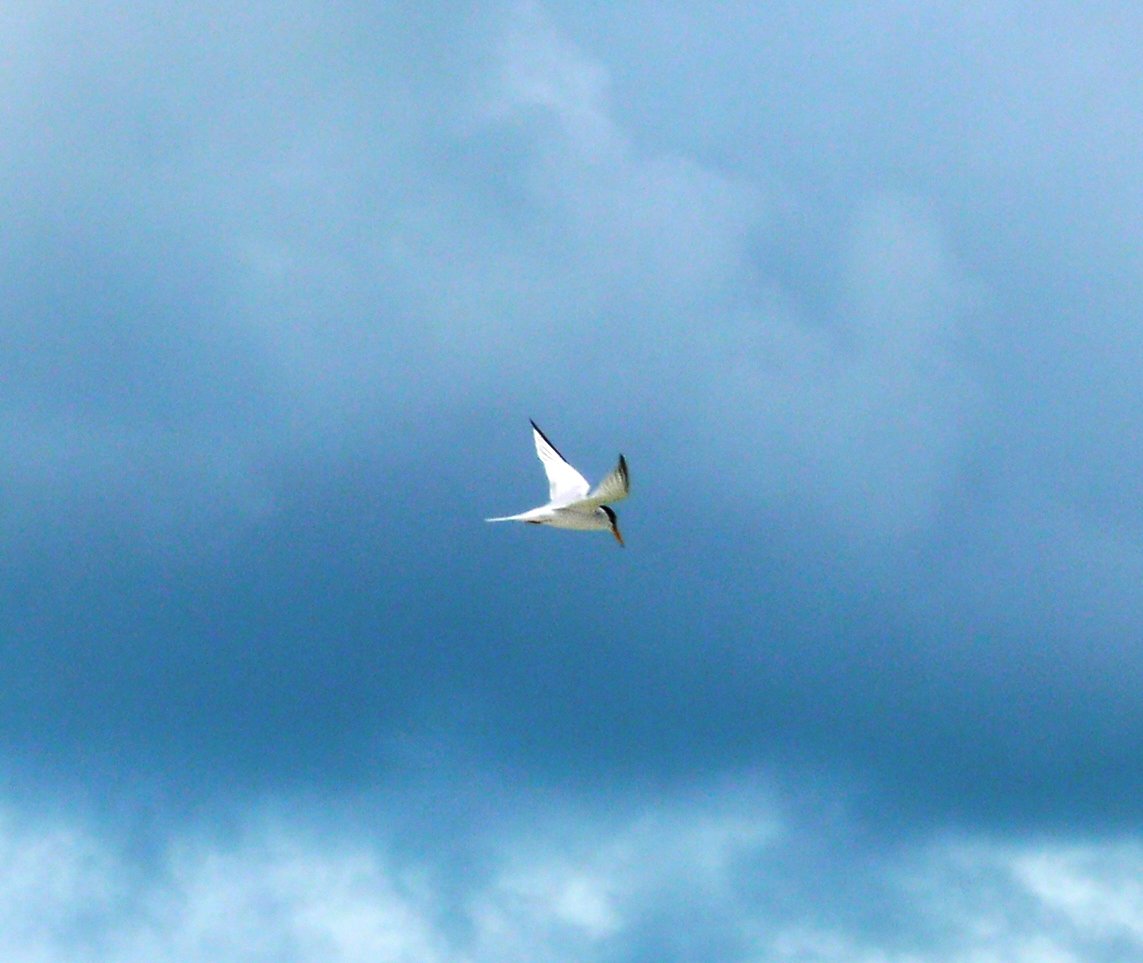 Erika Zambello is a self-proclaimed 'new birder,' still equally excited by Robins, Blue Jays, Mergansers, and Flamingos alike. She has lived in Maine, California, France, New York, and currently makes her home in Virginia Beach Always bringing her camera along, Erika is building her life-list by trying to check off at least one new species each week in her field guide. She previously wrote on 10,000 Birds about birding in the Washington DC cherry blossoms. Her blog can be found at http://newbirder.tumblr.com/.
Normally when someone says "wedding," they don't also think "birds." But when Brian told me that his sister's wedding would by held at the beginning of May in Fort Myers, Florida, my second thought (the first being "Eeeeeeeeeeee let's gooooo!!!") was about all the southern birds I could cross off my list! Taking a day off of work, I boarded the plane from Washington that Friday morning complete with my Sibley guide and my camera slung over my shoulder. To be 100% honest, I make sure to wear my camera whenever possible because I have the unfortunate habit of leaving my electronics on all modes of public transportation.
The weekend had a promising start. Arriving at the Fort Myer's airport early, I sat in the grass outside the terminal waiting for none other than the bride and groom-to-be to pick me up on the way to the hotel. Scanning the palm trees – and trying to contain my excitement that there were palm trees – I immediately laid eyes on a large, iridescent black bird. Its body shown black, green, and blue in the sunlight, and its tail curiously fanned out at the end. Hopping almost right next to me, I later identified it as the Boat-tailed Grackle! Though they are common in Florida, this was the first I had ever seen. Adding a bird to the life-list and I had only been in Florida for thirty minutes!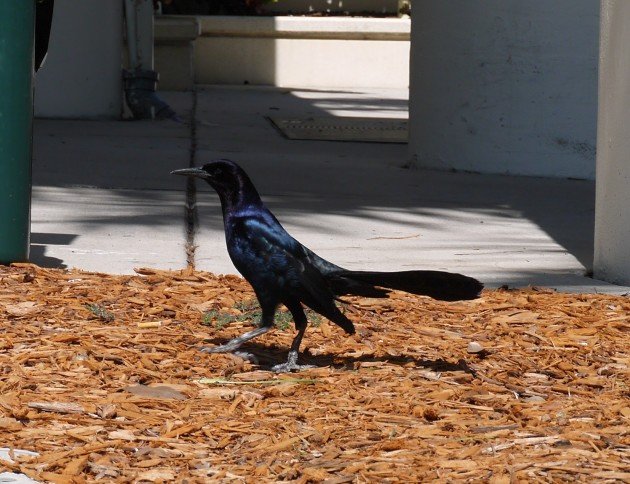 Boat-tailed Grackle
From the airport we drove to Fort Myers Beach, a tremendously long and thick sandy expanse lined with hotels and restaurants. Their wedding, which was beautiful, was held right on the beach. Given that their "I do's" were not until 6:30 p.m. on Saturday, I had almost two entire days to explore (and sleep on the beach and swim in the pool and play with Brian's nieces and nephews).
The beach was covered in seabirds. The usual gulls of course, and the scuttling sandpipers and plovers I still cannot quite tell apart. Brown Pelicans swooped overhead and I spotted two Ospreys nesting on top of a light pole across the street. What fascinated me, however, was another species I had never seen before, the Least Tern.
Normally, identifying terns intimidates me. The Common, Forster, Caspian, Royal, and Sandwich Tern all seem very similar to my eyes, and I live in fear of misidentification (okay, it's not high on my list of fears, but I still try to avoid it at all costs). The Least Tern however, is easy for two simple reasons – they are tiny and have bright yellow beaks! The little guys are about nine inches long, and look almost delicate as they're sailing on the ocean winds. There were dozens along the beach, all following the same pattern. Head down, they would beat their wings until they suddenly plunged to the surf, only a foot or two from the edge of the water, trying to catch what I assume were minnows out of the shallow water. Successful or unsuccessful, they would continue their skydiving down the beach, and from my stationary spot on my towel I would wait for the next one. It was amazing watching them swoop so deftly and then barely skim the surface.
I ran into a much larger bird, the Great Egret, on a walk down the beach. Oblivious to its human surroundings, the egret was carefully picking its way down the grass between the hotels and the sand. Unafraid of my presence, it merely walked past me as I stood stock still, snapping a few photos. Down the beach it continued to make its way past other people and even dogs, though I hope for its sake it eventually took wing – it was a very long line of hotels.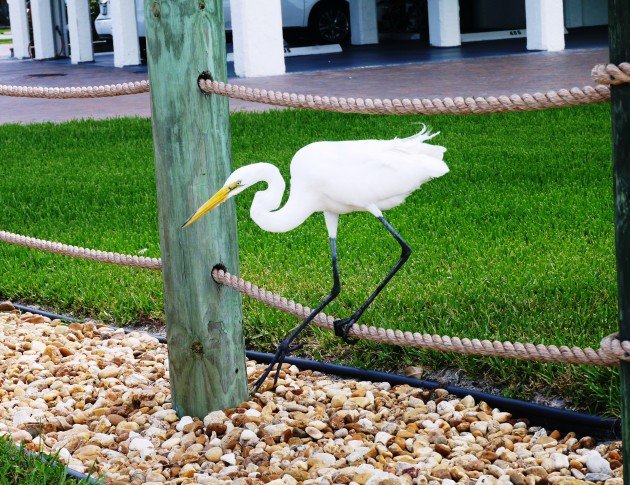 Great Egret
Sunday we had to head to Tampa to take a flight home, Brian back to the Richmond area for work and me to Washington. It was painful to leave the beach, but our drive home was happily full of still new birds for me. Soaring overhead, Brian pointed out the distinct forked tail of the Swallow-tailed Kite. Florida is covered in water, and as we passed innumerable lakes and ponds I picked up my first Little Blue Heron along the edge of the road, and then another, and then another! If we had been able to stop on the highway without killing ourselves or missing our flights I would have identified even more, as there were dozens of species along the edge of the waters or paddling along.
Though the House Sparrows and European Starlings of DC have a special place in my amateur birding heart, I may have completely fallen in love with Florida in the 54 hours I spent along its coast. Four new birds, and that was only scratching the surface! Here's hoping more friends decide to get married in excellent bird-spotting locations!