The national bird of Nicaragua is the Turquoise-browed Motmot.  Nicaraguans, however,  call it
Guardabarranco, which translates to "ravine-guard."  Whatever its common name Eumomota superciliosa is an inspired choice as a national bird as it is found across most of Nicaragua, even in the capital, Managua, and it is beautiful and interesting, with its multiple hues and racquet-tipped tail.  The Guardabarranco is described by Salvador Cardenal, one-half of a leading Nicaraguan musical duo named after the national bird, as "like a trogon, a beautiful bird of the rain forest. You can't put it in a cage or it will die."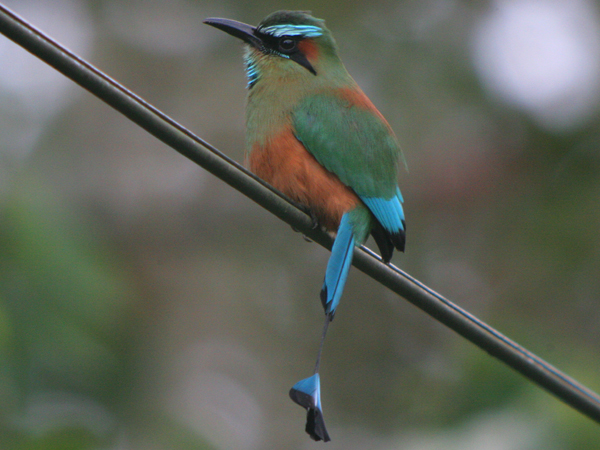 As the national bird the Turquoise-browed Motmot is even on Nicaraguan currency, with its visage appearing on the 200-córdoba note.  Now that is cash that a birder would not want to spend!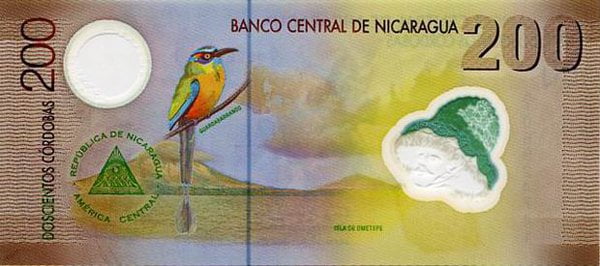 Nicaragua is not the only country to have the Turquoise-browed Motmot as its national bird.  El Salvador also so honors Eumomota superciliosa but there the bird goes by the moniker Torogoz.
As far as national birds go a country can do far worse than a motmot, especially one as aesthetically pleasing as the Guardabarranco.
…
Want to see all of the national bird posts on 10,000 Birds?  Click on our National Birds page!
………