For a birder, having a great local patch is a real luxury. We all have those days when we want to get out and go birding, but can never quite decide where we want to go. A local patch removes the mystery, makes the planning easier. And if that local patch is productive (and why else would it be your local patch if it's not?), alls the better.
Before I moved to Greensboro, NC, from Chapel Hill, I had an amazing patch. Mason Farm is one of the best places for birding in the region, and arguably in the state. All four seasons had something to enjoy, from impressive neotropical migration shows in the fall and spring, to scrub filled with sparrows in the winter, to nesting Prothonotary Warblers and Yellow-breasted Chats in the summer. Just about every species of bird that had ever been found in the Triangle of North Carolina had been seen at some time or another at Mason Farm. The bugs and snakes and salamanders were pretty great too. And it was no more than 10 minutes from my door. Most days I couldn't think of any better place to spend a couple morning hours.
I've come to realize that I was pretty well spoiled.
This fall has seen me visiting a handful of spots in my new home in an attempt to find something approximating Mason Farm to make my new local patch. It's made me appreciate what I had.
Mason Farm had a mowed two-mile loop trail that passed through brushy fields and deciduous forests so you got variety in a short time frame. The trail ran alongside forests that allowed you to look into the treetops at an angle without having to look straight up and straining your neck (it's also easier to ID birds at an angle than directly below them). It was not paved, so it was blessedly free of runners, walkers, and bicyclists. Dogs were not allowed. I don't have anything against dogs per se, but there are always those people who run theirs off leash such that you are rudely pulled out of a treetop bird ID by a Labrador's nose in your crotch (thrice in the last couple weeks, by the way). Over my many years and many visits, I'd racked up well over 130 species there, 28 of which were warblers.
Greensboro does not want for public parks and reservoirs, but none of them have that special something that I had before. But being fall, the birding has not been a complete bust. Warblers, thushes and vireos have been slowly piling into North Carolina over the last week. Magnolia, Chestnut-sided, Blue-winged, Tennessee, and many American Redstarts have fallen before my binoculars, nearly all of them new county birds for my burgeoning list (it looks like 100 ought to be a simple thing once the real birds of winter begin to arrive).  Most notable, was a Yellow-breasted Chat in a most un-chatty location in a densely forest park in suburban Greensboro called Hamilton Lakes. It always amazes me how quiet and sneaky this typically boisterous species gets in the fall. It's as if they have an alter-ego.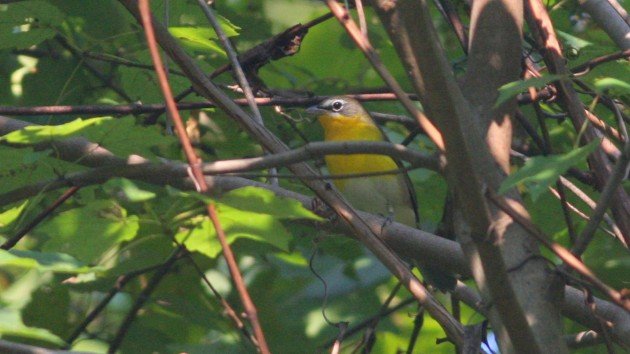 While I'm still not completely satisfied until I find my new birding home, but the looking is pretty fun.
I've shared my patch wish list and won't list. What do you look for in a great local patch?