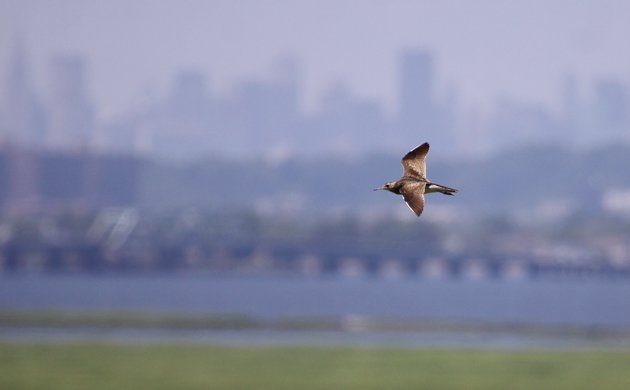 It has been far too long since I did a prediction post like this one. In fact, the last one was back on 15 May 2012 when my Queens list stood at 289 and I guessed what my next eleven birds would be that would get me to 300. Now my Queens list stands at a whopping 302, which means I have actually added thirteen species since my last predictions. Let's take a look at how I've done over the last four times I played this game. (Note that starred birds are birds that have since been seen and are not indicative of how well I predicted each time.)
3 July 2010                                  31 October 2010           11 April 2011                              15 May 2012
Cory's Shearwater*              Snowy Owl*                 Purple Martin*                    Cory's Shearwater*
Eurasian Wigeon*               Short-eared Owl*         Eurasian Wigeon*            Greater Shearwater
Yellow-breasted Chat*        Long-eared Owl*          Cory's Shearwater*          White Ibis
Marbled Godwit*                 Snow Bunting*            Greater Shearwater            Rough-legged Hawk*
Brown Pelican                     Lapland Longspur       Sooty Shearwater                  Whimbrel
Royal Tern*                  Common Eider*       Buff-breasted Sandpiper    White-winged Crossbill*
Eastern Bluebird*               King Eider*                     Whimbrel                         Long-eared Owl*
Long-eared Owl*                  Harlequin Duck*         Connecticut Warbler*      Alder Flycatcher
Turkey Vulture*                 Eurasian Wigeon*        Black Vulture                      Western Kingbird*
Purple Martin *                    Western Tanager        Brown Pelican               Wilson's Storm-Petrel*
                                                                                                                       Brown Pelican
This time, I managed an impressive six out of the eleven (55%) though, as I mentioned, I actually have seen thirteen birds since the last prediction. If I only counted the first eleven of the thirteen I would have had four out of eleven, which is 36%, more in line with my previous prediction accuracy. But what were the thirteen that I actually got? Here they are in chronological order with a bit of the story behind each one.
This Virginia's Warbler was my most unexpected new bird in Queens.
Purple Martin – 26 May 2012 – I saw my first Purple Martin in Queens while I wasn't even birding. We had a family picnic at Fort Tilden less than two weeks after my last set of predictions and a single Purple Martin was flying low over the fields with Barn Swallows and Tree Swallows. Since then I have had a second Purple Martin at Jamaica Bay's East Pond.
Ruff – 02 Jul 2012 – One finally showed up in Queens. In fact, quite a few have shown up in Queens over the last two summers.
Wilson's Storm-Petrel – 15 Jul 2012 – A small flock was off the jetty at Breezy Point and Seth Ausubel and I spotted them. It's absurd that I went so long without a storm-petrel in Queens.
Evening Grosbeak – 3 Nov 2012 – The amazing winter finch irruption of last winter paid off handsomely, as did giving up birding to volunteer for Superstorm Sandy recovery efforts.
White-winged Crossbill – 6 Nov 2012 – Three short days after adding one winter finch to my Queens list I added another. This was a pair of relatively uncooperative birds at St. John's the Divine Cemetery.
Virginia's Warbler – 11 Nov 2012 – A completely off-the-radar bird that Eric Miller found at Alley Pond Park and that I worked very hard for to see for myself. Extra sweet because it is a wood-warbler and it was a lifer!
Painted Bunting – 26 Nov 2012 – Another Eric Miller find at Alley Pond Park. The only downside is that it was a female.
Le Conte's Sparrow – 15 Dec 2012 – This was a self-found life bird at Edgemere Landfill that, frustratingly, did not show up for the Queens Christmas Bird Count the next day.
Long-eared Owl – 25 Mar 2013 – This was another twitch which I managed to get on a drizzly morning before work where it roosted in a pine stand in Forest Park. The last of the regularly expected owls in Queens.
Upland Sandpiper – 23 Jun 2013 – Found by Isaac Grant at the Edgemere Landfill in the midst of Isaac's New York City big year. I was lucky to see it as I had just gotten home from California that morning. My shorebird list in Queens is now at thirty-eight species! (It is pictured at the top of this post.)
Western Kingbird – 27 Sep 2013 – Another find at the Edgemere Landfill. This bird surprised the heck out of Seth Ausubel and I and we barely got enough on it to identify it. Number 300 in Queens!
Cory's Shearwater – 06 Oct 2013 – Going on a whale-watching trip with my family really paid off. Isaac was happy about this bird too as it counted for his New York City big year.
Rough-legged Hawk – 20 Oct 2013 – Am I ever glad I got pictures of this bird at Edgemere Landfill because if I hadn't I probably would have talked myself out of it.
Le Conte's Sparrow is the bird I was most proud about finding in Queens.
What about the birds that I predicted this last time around but did not get? What was up with them? Each of them has their own story.
Great Shearwater – There just hasn't been one in Queens despite lots of seawatching. In fact, amazingly enough, one has never been reported in eBird for Queens.
White Ibis – Since two juveniles were spotted in 2011 there haven't been any to see. Sooner or later one will show up at Jamaica Bay and I just have to find it or chase it!
Whimbrel – This is undoubtedly the easiest bird I have left for Queens. Multiples come through every single year. Somehow, I am just never in the right place at the right time.
Alder Flycatcher – This is actually a very hard bird to get in Queens, both because it comes through in spring migration in very small numbers and late in migration when birders are generally burnt out from the wood-warbler frenzy of early-to-mid-May.
Brown Pelican – There was only one reported since my last prediction and that was a single observer sight record way off the coast. They are a tough bird to see in Queens.
And then there are birds that I have predicted in the past but have still not seen. What's up with them?
Lapland Longspur – Because it is tough to find sizable flocks of Horned Larks or Snow Buntings away from JFK Airport, which I don't have access to, it is tough to find a longspur in Queens. There are lots of records from the 1970s at Jamaica Bay but only one since then in eBird, a single bird at Breezy Point in 2007.
Western Tanager – This bird was a long shot when I predicted it and it remains a long shot today.
Sooty Shearwater – There are a total of three records in eBird of this species in Queens, from 2006, 2009, and 2012. I will get one eventually.
Buff-breasted Sandpiper – Other than Whimbrel, probably the second-most likely bird to be added to my list. I just have to be on the East Pond of Jamaica Bay when water levels are very low and hope to see one.
Black Vulture – There are a total of six records of this bird in Queens in eBird, all in the last ten years. Sooner or later I will see one though considering that even seeing Turkey Vultures in Queens is noteworthy it will be tough.
Choosing my next ten Queens birds should be rather simple. I will mostly pick birds from the above lists of unseen birds. But how long will it take to get to 312? I imagine I should be done by November of 2015. That gives me nearly two years, or slightly less than a bird every two months. Here are my predictions for my next ten. What do you think I should add to the list?
Whimbrel – Undoubtedly this is the easiest bird left for me to find in Queens.
Buff-breasted Sandpiper – If it takes two years for me to get ten more, which I think it will, then I have two summers to find one.
Sooty Shearwater – This will take some more dedicated seawatching.
Great Shearwater – Ditto.
Alder Flycatcher – I have to remember to be looking in late May when these birds will most likely be moving through and hope for a westerly component to the winds on good migration nights.
Black Vulture – Enough have been seen in Queens that I should get lucky eventually. The burgeoning population of Turkey Vultures in eastern Long Island gives me hope.
White Ibis – They wander after they fledge. I just have to hope they wander to Queens and that I find them!
Northern Goshawk – Probably the most likely raptor left for me to find in Queens.
Eastern Screech-Owl – There are many just outside of Queens in Nassau County. Sometimes they are found in Queens, though sightings are few and far between. I should spend a couple of evenings in northeastern Queens playing tape and see if any respond.
Sedge Wren – This is a bird that rarely shows up on the coast in fall migration. Since I put in many hours on the coast in autumn I should be able to track one down eventually.
Wish me luck!
…