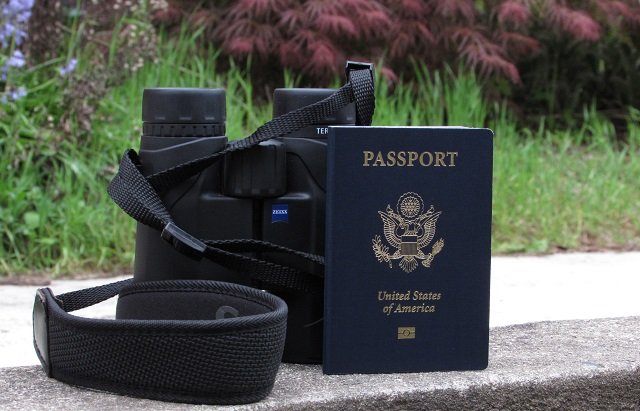 I had no intention of making a questionnaire or analysing the results. I was just curious what the US birders dream about, so I posted a question in the ABA's FB group: a) what are the most popular foreign destinations and b) where would you go with unlimited funds?
The number of answers (89) and respondents (about 71, if I counted them correctly) surprised me, as well as some answers. Or the lack of some expected answers. But first, not thinking of proper research, I made no difference between questions, nor were the mentioned destinations really visited or only dreamed about.
Most respondents mentioned more than one destination. In the end, there were more than 40 destinations listed, most of them countries, and some of them smaller regions within large countries (e.g. Galapagos or the Okavango Delta). In such cases, I added one vote to the country they belong to (e.g. Ecuador or Botswana, respectively). Also, the island of New Guinea appeared as a whole, or as its parts, the eastern independent country of Papua New Guinea (PNG) and the western West Papua province of Indonesia. When the votes for "all three" destinations were added together, the result was a surprisingly high position in the list.
Several times, the answer was "Africa", which, being a continent and not a country, I excluded from the statistics, but will further comment below. Also, destinations mentioned only once (by a single respondent) were excluded from the statistics, because I saw them more like a statistical error than a popular destination. Some of those "statistical errors" came as surprises to me, e.g. Cuba, Bolivia, Uganda, Sri Lanka, Thailand (this is also a clear message to their tourism boards to invest more into promoting avitourism).
Before I present the statistics, I should repeat that I had no intention of doing research, that 71 birders is a rather small number, but I still found some answers statistically important and worth sharing.
Here are the results:
3 per cent of respondents (in no particular order): Trinidad and Tobago, Chile, Tanzania, Madagascar
4%: Mexico, West Papua (Indonesia), New Zealand, South Africa, Kenya
6%: Antarctica, Argentina, Indonesia (including the votes for West Papua), India
8%: Brazil, Panama
10%: Australia, Papua New Guinea
15%: Colombia, New Guinea (irrespective of the part/country)
17%: Ecuador, Peru
21%: Costa Rica
The high position of Costa Rica comes as no surprise and yet, with more than one fifth of the total votes, I was a bit surprised how strong its 1st place is. Interestingly, the respondents felt no need to further elaborate why, presuming that everyone knows why they should bird Costa Rica.
While Peru was seen as the best country for "birds and ancient sites", Ecuador was seen as "much safer" and best for its size and easiness of getting around. Colombia was praised for its "amazing people, topography and biodiversity". New Guinea's high position came as a surprise to me (having in mind its poor infrastructure and arduous hikes), but clearly birds of paradise are seen as a reward enough. Australia is understandable: good infrastructure, moderate prices and easiness of finding birds, combined with 350 endemics.
Although it has a few more birds than Costa Rica (including reliable Harpy Eagles) and some great lodges, in ecotourism terms, Panama seem to be Costa Rica's "little brother" (there's a hidden message to its tourism board). Yet, the fact that tiny Panama is as popular as huge Brazil, with twice as many bird species, speaks volume for Brazil's stage of ecotourism development. A lot more needs to be done to protect and sustainably utilise that biodiversity, although with the Brazil's current president, it seems highly unlikely.
For the rest of them, Antarctica clearly is a result of excellent marketing, because it is a destination for listers with already long lists only: stunning vistas but molesting seas, and only a few dozen birds combined with an enormous price tag to get there.
Not surprisingly, ten of these 19 countries are in the Americas, but what does surprise me, there are just 4 in Africa and just 1 in Asia (2 if you count Indonesia). Kenya and Tanzania combined offer the longest tour list of Africa, South Africa with its good infrastructure and easiness of finding birds comes close second, while Madagascar is there because of its 100 endemics. With 400 endemics, Indonesia tops the list of the world's most wanted lister's destination, but the only destination in Asia proper is India.
If I included the "Africa" answers in the stats, the result would have been a bit better for African birds and birding, but I see a problem in that answer. Africa is a huge continent with varied landscapes and rich biodiversity. Still, even within such a small number of people there were several that couldn't pick a single country from it. They would like to experience it, but have no sufficient knowledge of its birding possibilities to choose one, or a few, instead of a continent as a whole. In general, birders do not know what Africa offers. And this comes as a strong message to bird tour operators that those tours and that continent requires a different approach and much stronger promotion.
If I were answering those same questions, my answers would probably be Ecuador, Uganda and Thailand. What would be your choices?
Cover photo by Jason A. Crotty