Wow, the fall foliage is full on where I happen to live. If your environment is anywhere near as enticing, you should have plenty to do this weekend! On that topic, what will you be doing this weekend? Will you be watching birds? Share your plans in the comments below.
The family and I are way behind on our apple picking so we'll aim to rectify that oversight this weekend at a local orchard. Birds have been everywhere in these parts so I expect to eye a lot of them. Corey will be upstate on Saturday looking at relatives' feeders. On Sunday, he'll probably work his local patches in Queens. Charlie will be suspended between anxiety and anticipation whilst waiting to see if he gets sent anywhere this weekend; the upside is that he could go practically anywhere and see anything!
Whatever your plans this weekend, make time to enjoy SkyWatch Friday. Also be sure to come back Monday to share your best bird of the weekend!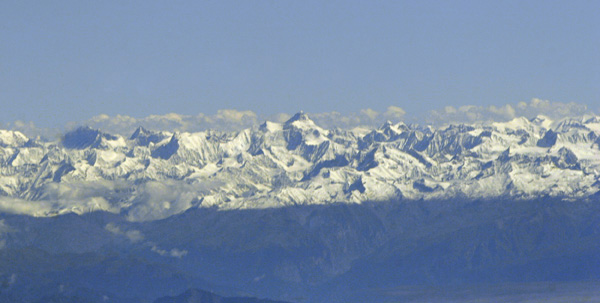 Charlie took this distant shot of the Himalayas from the air; Mt. Everest is center