In the middle of October, nearly every migrant in on the move. Raptors and songbirds and butterflies and who knows what else are all winging their way closer to the equator. If you're not on the move yourself, you could do worse that to lift your head to see the streams of birds sailing south (or north!) You may even feel a bit of yourself moving with them.  Whatever you expect to do this weekend, will you be watching birds? Comment below on the excitement you have planned!
Charlie and I will both be returning from southern California with many reports to follow. Corey will no doubt be doing what he does best: combing the wild reaches of New York City for interesting avifauna.
Regardless of how you plan to enjoy a lovely weekend, be sure to celebrate Sky Watch Friday…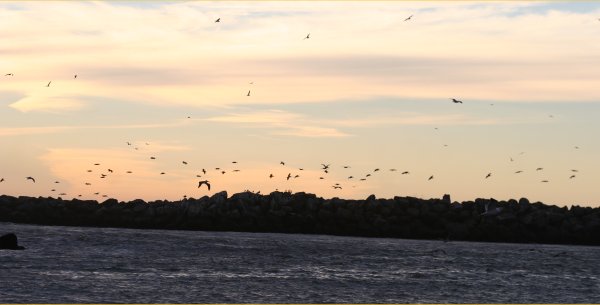 Enjoy lovely sunsets like this one Corey took on his way to Santa Cruz Island to see Island Scrub-Jays!