This week has been dominated by one bird over this side of the pond, early Monday morning, not the sort of time you want news of a 3rd for Britain slipping out over the information services but that's exactly what transpired after Hartlepool ringer Chris Brown trapped a White-throated Robin in his mist nets.
A 1st-summer female initially misidentified as a Red-flanked Bluetail, a mistake swiftly corrected, it became the first 'twitchable' individual of this species ever and the first one for 21 years, providing an opportunity for almost every British birder to get a British tick.
After ringing, the bird was released in bushes adjacent to a small bowling green on the headland at Hartlepool and performed off an on from Monday to Thursday delighting several hundred birders with views.  It even survived a full blown bowls match on Monday afternoon with two dozen pensioners kitted out in whites just a few metres away.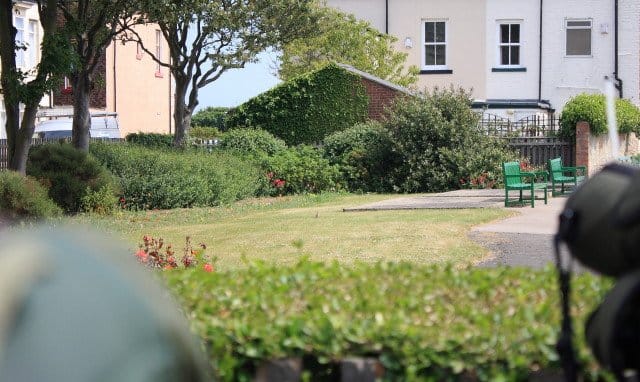 A Twitcher's Eye View of Britain's Third White-throated Robin (A Tilmouth)
The nearby 'Doctor's Garden' well known for hosting several good birds over the years became it's bolt hole when it needed a rest. Surrounded by 3.5m brick walls this particular garden posed a challenge to those arriving whilst the bird was ensconced within.
Not for the first time at this site birders innovated and used a variety of methods to view over the wall, including standing on the roof of a number of strategically placed vehicles and deploying up to nine ladders and a well ordered queuing system (it is Britain after all) to allow people to view.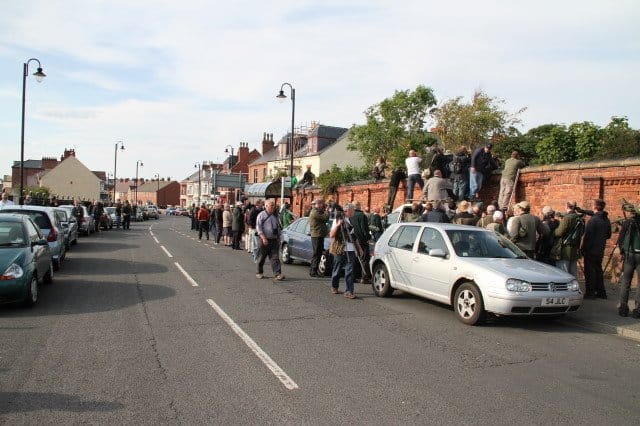 The Surgery 'Siege' courtesy Cain Scrimgour
Despite the apparently chaotic scenes the Robin stayed for four days and appeared to take it all in it's stride feeding and sunbathing happily for the crowds.
Such huge interest inevitably caught the attention of the media and the standard of journalism employed ranged from rubbish to utter garbage; littered with inaccuracies and errors, spurred on by comments from one or two fame-seekers. Sadly the mainstream media here in Britain continue to view birders as a bit 'odd' and whilst several good birder journalists like Michael McCarthy at The Independant have made inroads into changing that, the standard of reporting at events like this seems to regress to overused cliches and scant regard for accuracy.
June is often a quiet month for good birds with most having reached their destination and going about the business of breeding. Over the last couple of years I've added another interest to occupy some of the time and gone off looking for butterflies, dragonflies and just lately having been lent a moth trap I've been doing just that, trapping moths.
10,000 birds might seem a challenge but moth identification is a whole new way of messing up your head. I won't take up much space as the main men may disapprove and suggest I go off and setup 50,000 moths if I want to talk about Nighthawk food at any length. Not sure if moth trapping and identification is big in the US but I'd be interested to hear if anyone is doing any. I have found it's a great way to get the kids to connect a little with some 'nature' and I've now recorded over a hundred species in my modest garden.  Getting up in the morning becomes a little easier when you can look forward to  find beauties like these below in the trap.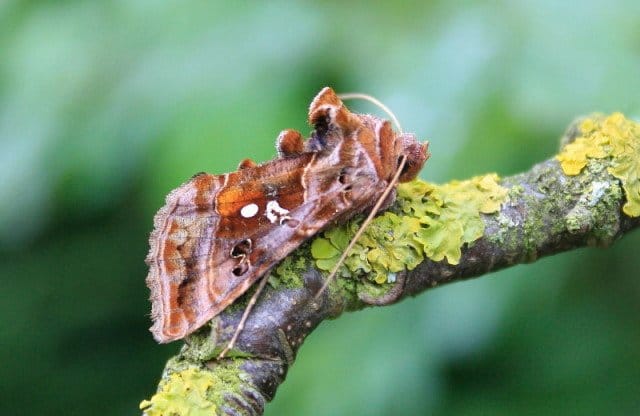 Beautiful Golden Y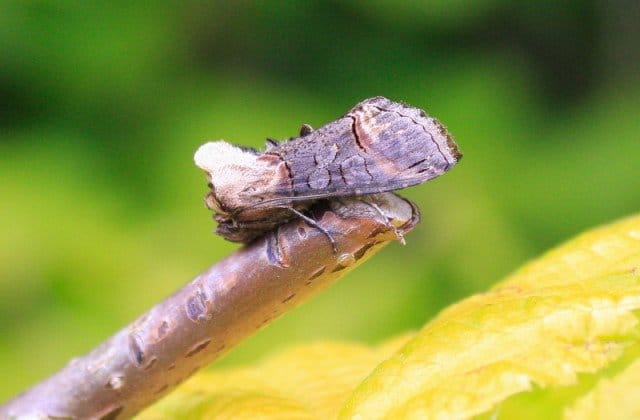 Dark Spectacle