The best way to learn about birds is to go birding.  The second best way to learn about birds is, well, it's a toss-up between talking with other birders about birds or reading about birds.  Then again, a well-written book or article is kind of like a one-sided conversation, and a blog, when it is firing on all cylinders, can be a great way to kind of combine reading and (typed) conversation.  Ditto for email listservs and online discussion forums.  But this blog post isn't meant to be a list of ways birders read about birds; it is meant to get to the bottom of birders' obsession with birding books.
Of course, a good reason for our literary obsession is that one of our essential tools is a book.  I refer, of course, to the field guide, the book that binds us together.  The field guide gives names to the birds we see and therefore gives us a language in common.  What we call our field guides has in fact become part of our language-in-common.  "Let me see your Sibley," "Hand me that Peterson," or "Howell and Webb is so great" are all statements that might make a non-birder scratch their head but a dedicated birder knows exactly what is being referred to.  But our obsession doesn't stop with field guides.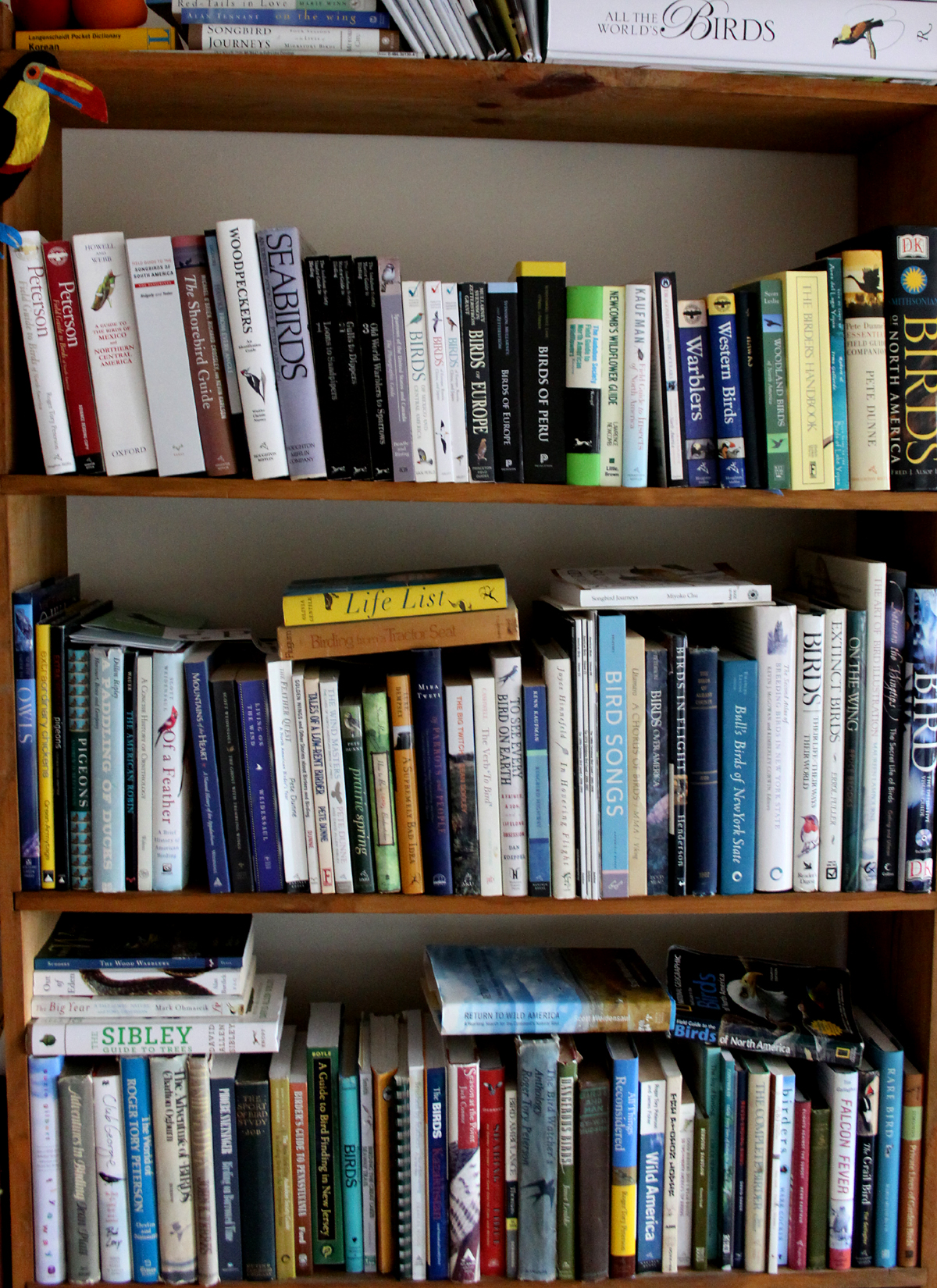 In fact, field guides are only the tip of a very large iceberg.  Above is a photo of the section of bookshelf in my living room that holds books about birds (click it to go to an enlargeable version).  It includes neither the several books that are scattered around the house because I have been looking at them of late nor several others that are out on loan.  There are birding narratives, reference books, books full of birding stories, books that make noises, books that are glorified checklists, picture books, and single-species accounts.  There are, to be honest, probably too many books.  But I have read them (or at least large portions of them) all!
But, again, why?  Why do I have so many books?  Part of the obsession might have to do with the nature of some of those who are drawn to birding.  You know, listers.  People who like to know what they have seen in detail.  It only follows that people who are a bit compulsive about their list might also be a bit compulsive about their reading.  And then there are the birders who want to be experts.  You know, all of us.  As much as one can learn from watching birds and talking to other birders there is a whole heck of a lot more information in books and breaking out a little-known nugget of information about a bird while watching it with other birders can do wonders for your reputation as a birder.  So, yeah, lots of books…
Where do we get our books?  Well, since I have been a blogger here at 10,000 Birds I have had the delightful experience of having books to review come to me on occasion, which is, of course, awesome.  It also doesn't happen nearly often enough and it certainly isn't indicative of how the average birder gets books.  We buy them of course, but there are different methods used.  One can search online and find most bird books but this almost seems unfair, like counting a caged bird on a life list.  I greatly prefer tracking bird books down in their natural habitat, in book stores.  Ideally, I like finding them in the old growth habitat that is a used book store.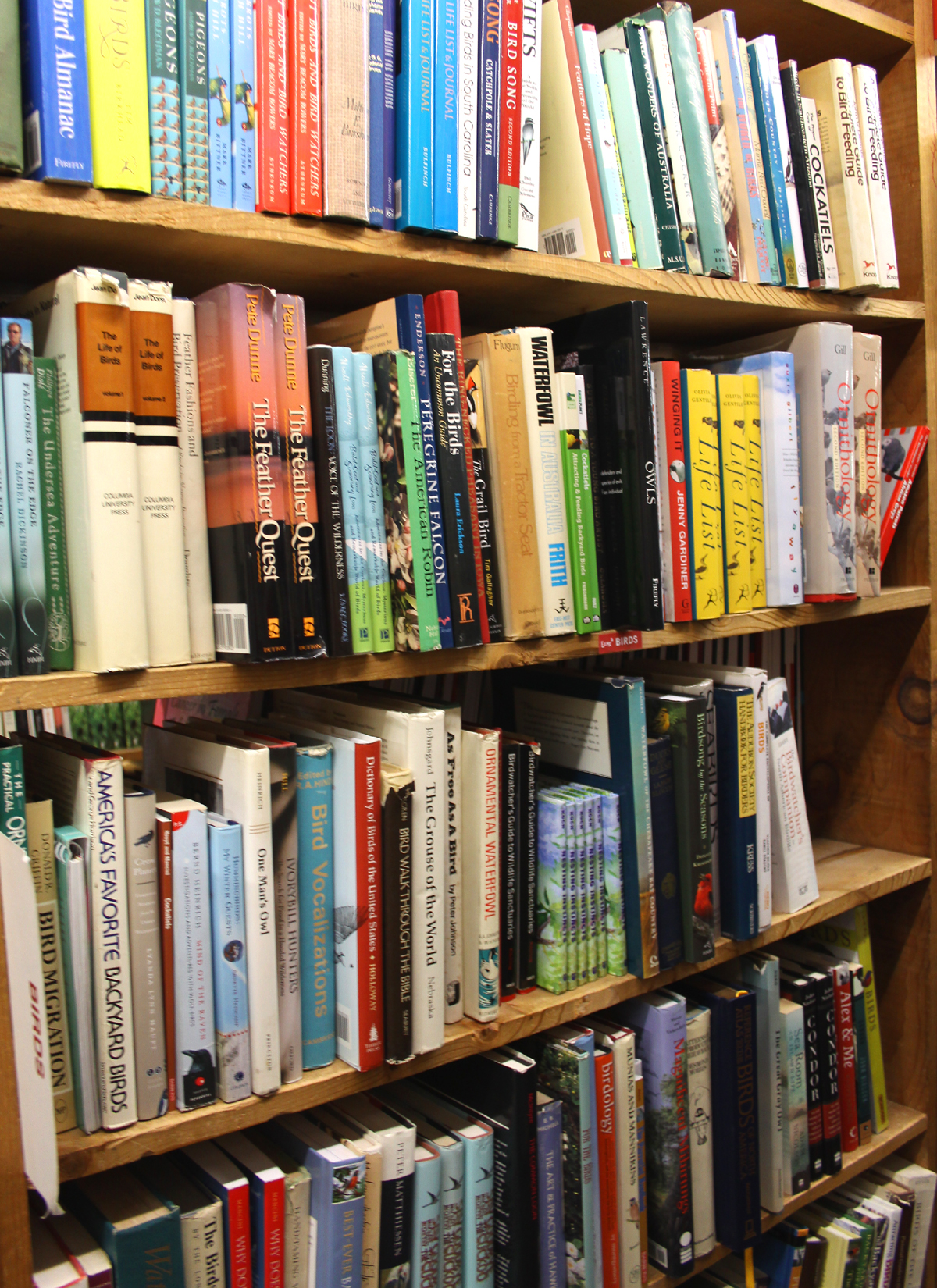 The photo above (which also has a clickable enlargeable version) is of a portion of the bird section at The Strand, New York City's most famous and popular used book store.  I love it and visit often and always find at least one book I must have.  If you wait six months to a year after a new birding narrative has come out you can always find it (usually multiple copies) on the shelves of The Strand for half the cover price, if not less.  And getting a book from The Strand or another used book store always feels like a triumph to me, like I have outwitted the nefarious book industry which was seeking to gouge me of my hard-earned dollars.  Maybe this is another reason I have so many bird books?
Anyway, we birders are a collecting lot, whether we are talking about books, optics, notebooks, bird sightings, or whatever.  Books are perfect for birders and we love them.  Are there other reasons I have missed?  How do you, as a birder, deal with your burgeoning book collection?  Are you a birder that does not have a heap o' bird books?  How do you survive?  See you in the comments…