Right now I should be enjoying astounding views of the greatest natural wonder my country has to offer.  I should be standing on the south rim of the Grand Canyon with my jaw on the ground, seeing what James Fisher described in Wild America with these words:
The world ended; began again eight miles away.  Between the ends of the world was a chasm.

The chasm was awful.

Awe.  Time brings awe to the traveler less often, no doubt, as time goes on; for time gives him, too, the accumulated, stored, recorded, experiece of those who have been before him.  With all of these I had prepared myself – words, music, paintings, photographs, three-dimensional color movies, even.  Yet all of these were, at that first moment of shock, reduced to a whisper, whispering, 'Yes, this is true; this is real; this is it; this is the greatest abyss on the face of the earth; this is the Grand Canyon of the Colorado River.'  The loud voice (I have never heard it louder) was the overwhelming voice of awe…never had my awful friend, awe, stood so long at my elbow, so close, as by the rim of the Grand Canyon.  Never will it come so close again.
That was our plan, Daisy and I, that our little family would, with Daisy's family, make our way from southern California
to northern Arizona to see one of the most incredible sights in the world.  After all, seeing the Grand Canyon is something I have never done, and something I have always wanted to do.  Daisy's entire family, except for her, have had the quintessential American experience of seeing the awful chasm and they wanted us to experience it.  Mid-month we were researching hotels and routes and I had started digging into the possible birds we could see.  Then, suddenly, it hit us.  We can't go to the Grand Canyon.  The Grand Canyon is in Arizona.  We are boycotting Arizona.
Back in April, when the odious and ignorant governor of Arizona, Jan Brewer, signed Senate Bill 1070, a misguided piece of immigration legislation, into law Daisy and I said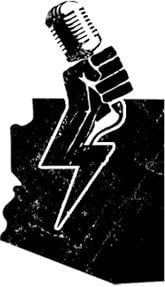 we would not go to Arizona until the law was overturned by the courts or repealed by the state.  Why?  When a state-level law causes the President of the United States to step in and say that the law threatened "to undermine basic notions of fairness that we cherish as Americans, as well as the trust between police and our communities that is so crucial to keeping us safe" it is pretty clear that something is wrong.  When a law is passed that requires people to carry identity documents and for police to question and detain anyone who they think might be in the country without documentation it is obvious that basic freedoms are at stake.  The fact that the law was passed in an environment of xenophobia and hysteria about immigration made clear that the law would be used as a cudgel against the brown, the foreign, the "other."  We could not in good conscience support a state that passed such a disgusting and racist law by spending our tourism dollars there.
Of course, it was easy to say we would boycott Arizona when we had no plans to go there.  After all, it is not as if we would miss going to a place we weren't going to anyway.  From April until December the thought of a trip to Arizona never crossed our minds.  Then Daisy's sister suggested the Grand Canyon as a fun destination while we were visiting her in southern California and the wheels in our heads started turning and I recalled descriptions like James Fisher's, and, well, started to get excited about seeing the canyon.  After all, what could be better than seeing an icon of America for the first time with our one-year-old son?
So it is with sadness that we decided to instead travel elsewhere and spend our dollars supporting the economy of people who wouldn't decide to search, detain, and deport people who look different, act different, speak different.  After all, you don't have to go that far back in my family tree to find those who came from Germany, Holland, Czechoslovakia, and other countries.  And Daisy's entire family is immigrants who came here from Korea by way of Brazil.  Should they be forced to show papers at the whim of a power-hungry cop?  Should I?  Should anyone?  I want to experience an American treasure from a place where I can feel proud to be an American.  Arizona, sadly, is not that place right now (and it is, amazingly, getting worse, with an attack on birthright citizenship being led by the racist state senator Russell Pearce).
I hope that someday, hopefully someday soon, the people of Arizona will realize that they have created a second awful chasm, a deep and terrible rift, between themselves and the ideals upon which this great country was built.  I hope that they do everything they can to fix that rift and welcome with open arms those who are in the United States seeking a better life for their families.  And I hope that when that day comes I am still young enough to make the journey to the rim of the Grand Canyon, guided by my immigrant family and my son, a descendant of immigrants, and see the only awful chasm left in Arizona.
…
Until then, enjoy Gogol Bordello!
…
For more information about the boycott of Arizona and other immigration issues related to the state please visit the following sites: