On this final day of 2010 it is time to share your Best Birds of the Year, well, your Best Birds of the Year if you responded to the post of 23 December in which we shared the Best Birds of the Year of most of us here at 10,000 Birds.  We asked for 100-word descriptions with links and pictures if you had them and below are what we received, a pretty amazing selection of Best Birds of the Year, I must say.  Here's hoping 2011 is as filled with great birds as 2010 was!
David, a commenter on the earlier blog post, gets the prize as having seen his Best Bird of the Year under the most amazing circumstances!
In April, my wife was in labour with our daughter. I went out of the hospital to get her a slurpee at around 3am. Walking back across the empty hospital parking lot a Great Horned Owl flew less than 30 feet above my head. Great birding karma!
Eric Reuter got an absolutely amazing image of his Best Bird(s) of the Year!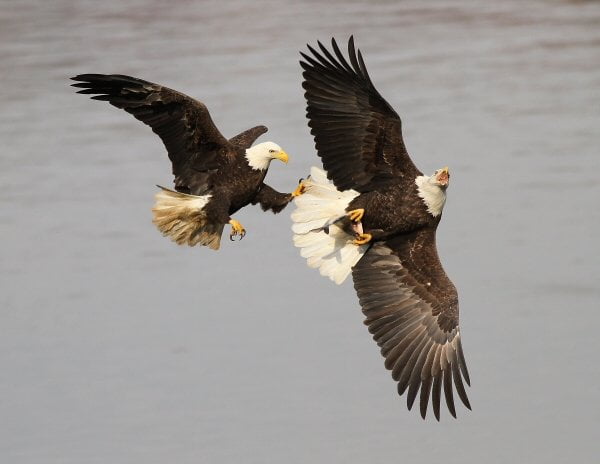 Eric Reuter's BBOTY, Bald Eagles
For me, the bird(s) of the year were a pair of Bald Eagles engaged in a chase for a fish that a large female had caught. I suspect that the smaller one chasing her was her mate because after the catch she went to a tree near me to eat her meal. The other eagle perched on a branch not three feet above her. She didn't protest very much, so I believe it was her mate who was waiting to see if he would get a handout. She did not oblige.
Michelle added in a comment on the earlier blog post that her Best Bird of the Year was an unassuming flycatcher.  She must be a real birder!
My BBOTY was a Hammond's Flycatcher. My husband and I had just reached Comet Falls, in Mt. Rainier National Park, after a strenuous, slippery, uphill hike. I planted myself on a rock to rest and enjoy the scenery, bins in hand, and watched this bird repeatedly fly out from his perch atop a Douglas fir to catch a meal. He was a textbook Empidonax. Alas, only another birder would understand – and appreciate – this vacation highlight!
Jason Forbes at Brewster's Linnet couldn't decide which bird was his Best Bird of the Year so he chose two!  Read all about them and a number of other great birds in his blog post!
one of Jason Forbes' BBOTYs, White-faced Storm-Petrel
Alan Tilt at My Life Outside has a great post explaining why his Best Bird of the Year is a Bittern.  It is well worth a visit, and though I saw an American Bittern this year I am still jealous of his Eurasion Bitterns, though, really, he had waited long enough to see them again and they were well deserved.
Tai Haku was lucky enough to see a Snowy Owl!  And don't you dare question the wild origin of his sighting!
Best bird of 2010 was this returning vagrant Snowy Owl. Anyone mentioning that a Snowy Owl that far south is as likely to be a cage-jumping bit of plastic named "Hedwig II" as a genuine vagrant gets immediately struck off my xmas card list. Full story here.
tai haku's BBOTY, Snowy Owl
Regular commenter Donna S. chose a heck of a dove as her Best Bird of the Year.
Maroon-chested Ground-Dove, Claravis mondetoura, wins as my best bird of 2010. Not a spectacularly beautiful bird, but it is very secretive and difficult to find, especially as deforestation removes the seeds it usually eats. So, Charlie, our knowledgeable Costa Rican bird guide, was flabbergasted when we found the dove energetically feeding on fruits on the path to the dining hall at Sevegre Mountain Lodge this past July. And, again the next morning! There is so little documentation of the bird that Union de Ornitologos de Costa Rica requested our photos and video for their web page. Those aren't visible now, for some reason, so check out the dove here, and my friend Allison's video here.
Judy Jessee of Fairbanks, Alaska, loved watching adult woodpeckers teaching their youngster and included a video of dad feeding the fledgling.
My husband and I had the joy of watching, on more than one occasion, a recently fledged Hairy Woodpecker being schooled by his mom and dad at the feeder on our deck.  We also observed the family in the trees around our house. Eavesdropping on nature can be rewarding; a moment of peacefulness in a hectic world.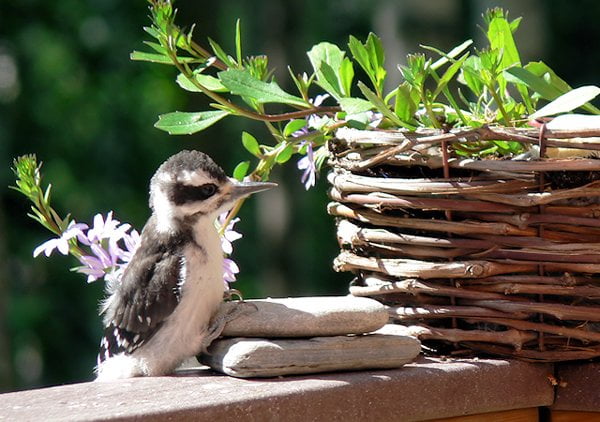 Judy Jessee's BBOTY, a fledgling Hairy Woodpecker
Phillip Downey is a fan of the shorebirds he saw this summer along Lake Erie.
Spurred on by 10,000 Birds, I have chosen two Lesser Yellowlegs as my best bird of the year.  I saw them at Long Beach Conservation Area on Lake Erie in August.  The birds were migrating from the northwest to the far south for winter.  This is my best picture of one of them.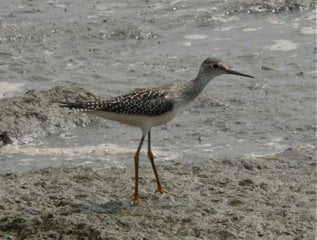 Philip Downey's BBOTY, Lesser Yellowlegs
John of A DC Birding Blog had as his Best Bird of the Year a Chaffinch that I spotted as well.  John never blogged it but you can read about it here.
And, finally, Gunnar Engblom's Best Bird of the Year is a bird that everyone wants to see, including him (there is a picture on his blog)!
My best bird was a bird I did not see in spite doing four attempts for it at four different places – but I did hear it on three occasions. Long-whiskered Owlet. The sheer thrill of searching for it and hearing it at close range was still the most fantastic experience this year. I know I shall see it next year, so I don't worry. Long-whiskered Owlet – and I blogged about it here.
Here's hoping 2011 will bring us all birds as great as the ones in this post!  Happy New Year!

…
I would be remiss if I didn't once again link to those blog posts by 10,000 Birds beat writers in which they blogged about their Best Bird of the Year.  Go see Dale's BBOTY, Larry's BBOTY, James' BBOTY, Renato's BBOTY, and Redgannet's BBOTY.   Go check them out!