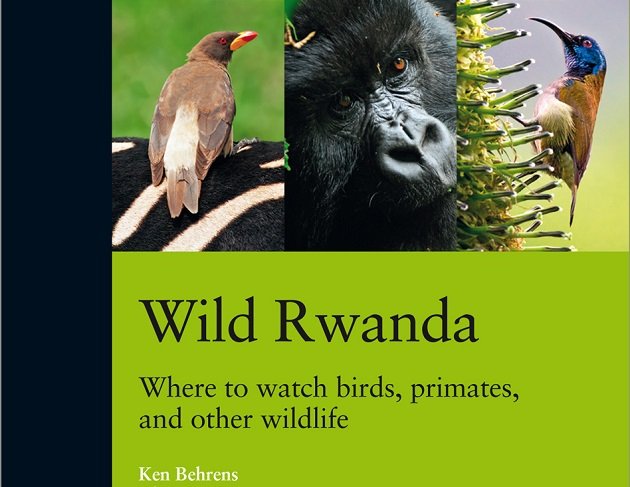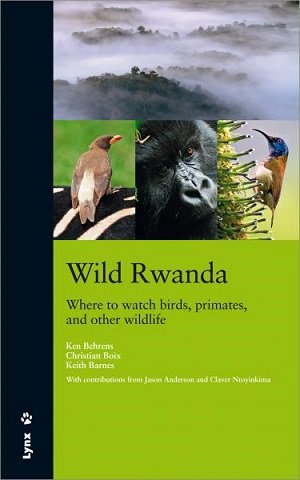 Forget the old news, Rwanda of today is one of Africa's safest, cleanest and most stable countries. Slightly larger than Wales and about the size of the US state of Maryland, this country's lure is its 703 bird species and three dozen Albertine Rift endemics among them. The "Wild Rwanda – Where to watch birds, primates, and other wildlife" gives you the info how and where to look for both birds and mammals (not just primates, the title is somewhat misleading).
Beside the mouth-watering African destination, what attracted my attention to the Wild Rwanda eco-travel guidebook was the trio of authors, all of them famous bird guides (and I do not use that word lightly). Ken Behrens is a tour guide for Tropical Birding, originally from Idaho, but now lives in Madagascar. Ruth Miller describes Ken in her and Alan Davies's travelogue "The Biggest Twitch – Around the world in 4,000 birds": "what I remembered most about him from our first acquaintance was that he was another tall guy (beside some of our male guides during The Biggest Twitch, I often felt vertically challenged). Ken also had a very dry sense of humour … and we definitively enjoyed his wry take on life… Despite being only in his twenties [in 2008], Ken seemed to have been birding for at least forty years, so good were his birding skills."
Christian Boix left his native Spain to become an ornithologist at the University of Cape Town and a tour guide for Tropical Birding, specialising in new destinations throughout Africa. Rut describes "his seemingly limitless enthusiasm and bounce, plus his ability to keep going long after the rest of us mere mortals have run out of steam. Christian is a gifted storyteller and will have you in stitches after he tells the tale of some death-defying escapade or another. But do not be fooled by his relaxed appearance. Inside is a birder so hardcore that he makes concrete look soft. He will dig you out of your bed in the wee small hours and make you run around after birds all day in the heat of the sun. Food and drink is for wimps. This man is driven, but he gets the birds…"
Keith Barnes has birded Africa intensively for 30 years and has led tours on the continent for the last 15 years, after creating the company Tropical Birding. Among others, he edited The Important Bird Areas of South Africa and The Red Data Book of Birds of South Africa. Rut wrote that "he's very tall, with legs that go on forever and can cover the ground extremely quickly, and he has piercing blue eyes that miss no bird. He is also a storyteller, in fact if there's anyone who can beat Christian at telling great tales, it's Keith."
The "Wild Rwanda – Where to watch birds, primates, and other wildlife" combines Ken, Christian and Keith's birding skills, African expertise and story-telling talent. Is there a need to say anything more?
Wild Rwanda's 256 pages and 157 colour photos covers topics ranging from standard travel guide staple of trip planning, climate, driving, language, money, accommodation, food, health and safety to geology of the region, biogeography of birds and mammals, habitats, conservation and local contacts (all packed in 44 pages).
It continues with the main part of the guide, the 15 site accounts (further 150 pages), especially detailed in case of national parks Nyungwe (45 pg – montane forest; that is where the best birds are), Akagera (35 pg – additional savanna and papyrus swamp birds) and Volcanoes (21 pg – that is where to look for the mountain gorillas; but primates aside, those birds are easier to find in other areas). The smaller en route sites such as Mukura and Gishwati forests, Rugezi marsh, Lake Kivu, etc., are covered in the remaining 49 pages.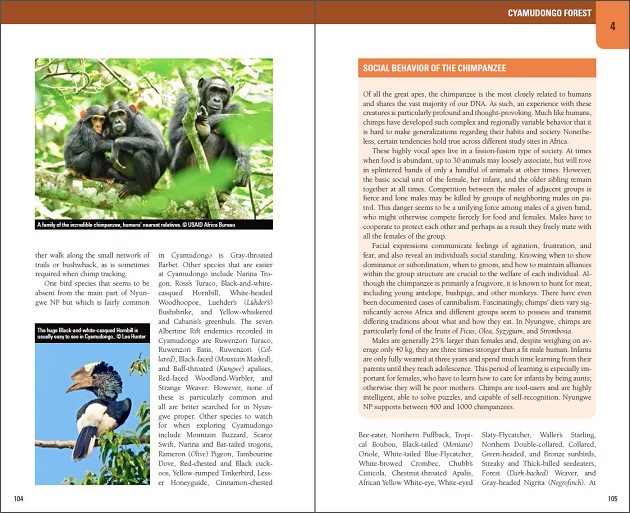 The next 32 pages are devoted to a specialities section covering the region's best mammals (25 mammals / 17% of the country's total of 151 species) and birds (168 birds / even 24% of the country's 703 species; not surprising having in mind that the authors are bird guides themselves) and describing their status, taxonomy and where to look for them. For birds, this guide follows the Clements list (2007, with revisions through 2013), so it is mostly compatible with your eBird app. The endemics of the Albertine Rift Mountains are marked in bold, 10 mammals and 26 birds. At the time of writing, Rwanda had 25 endemic birds (nowadays 27 to 29, depending on the taxonomy), but among the 26 mentioned and described is also the one that is not – yet – among them: the Congo Bay-owl, not confirmed for the country and recorded only in the guerilla infested montane forests of the neighbouring Democratic Republic of Congo.
There are 10 side boxes further underlying some topics, e.g. Colobus monkeys, Chimpanzees and mountain gorillas, with a separate box describing all the gorilla groups of the Volcanoes National Park, then a box on Dian Fossey and other gorilla researchers, as well as the Albertine Rift endemic birds of Rwanda. In the Albertine endemics one, the authors claim that that this region "is one of the most fascinating areas for a birder to explore [and I fully agree]. The intrepid could easily discover something totally unexpected if they stray from the beaten path…"
The Wild Rwanda is a paperback edition (so you can easily squeeze it inside your day pack or push it into a vest pocket), printed on a thick glossy paper that can survive rough field conditions (yet, that also makes it a bit heavy, but still manageable). The landscape photos are particularly illustrative, giving you a clue on local habitats.
Guides (the authors) know where the best birds are and know how to guide and how to describe trails and routes with military precision. The text is just what you want it to be, practical, down to earth, no fancy-shmancy "beautiful", "spectacular", "superb" or other Conde Nast style exaggerations, even where they may be fully deserved.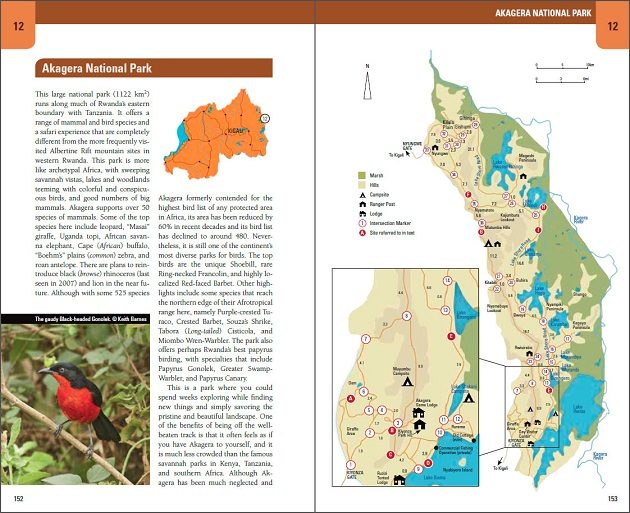 What is it that I do not like about this book? There are very few maps. The first map in the Introduction chapter (pg 16) depicts the road network with marked/numbered birding sites, while the second map (pg 31) shows birding sites relative to their elevations. The one-page map of Akagera National Park (above) is certainly the most detailed in the guide. The three smaller maps of Nyungwe are less detailed, but at least there are three of them. Practically, other sites have no maps, aside from the small outline of the entire country with the site location marked on it.
So what if there are no proper maps, when I said that the text describes the trails with military precision? It may be so, yet I am a visual type (isn't every birder?) and to get my bearings I need some, however rough sketch of the area.
Maps aside, "Wild Rwanda – Where to watch birds, primates, and other wildlife" is an exceptionally well written guide. In ten days in Rwanda, one may expect to observe the majority of Albertine Rift endemics, plus most of the East African papyrus specialists, reaching some 250 to 350 species and this book will tell you how to achieve that goal.
Wild Rwanda – Where to watch birds, primates, and other wildlife
By Ken Behrens, Christian Boix, Keith Barnes
Published by Lynx Edicions
Format: 14 x 22.8 cm, Paperback
Pages: 256
Publication date: March 2015
ID: ITI0007
ISBN-13: 978-84-96553-96-5