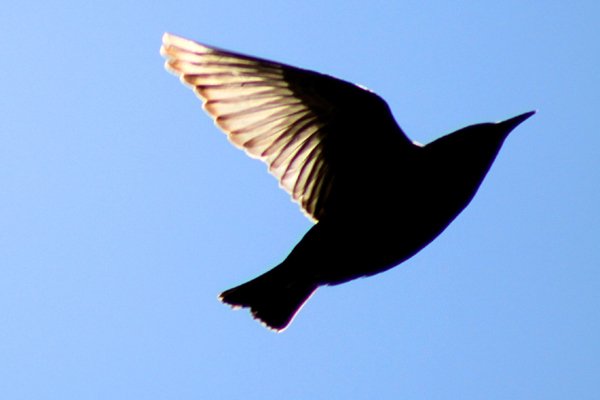 European Starlings count as much as any other bird on a big year
Now seems like a good time to look in on the birding big years happening in 2013 to see how folks are doing as they tear around their county or region or state or province or country trying to see as many birds as possible before 1 January 2014. Since the initial post on 2013 big years I have learned of several more people attempting big years this year. Enjoy the rundown and if I missed any big years out there please share your knowledge in the comments. This time around I will only be reporting on big years with a blog component because that is where the interest is. If you are doing a big year why wouldn't you blog it?
By the way, where current numbers were readily available on the blogs big year birders use I took numbers from there. Where numbers were not available I took numbers from the eBird "Top 100" if there was a relevant category and if I could find them.
Mark Kirk and Alisha Belo are doing a southern Africa big year, trying to see 800 species. You can follow along at their blog, The '800 Challenge' – Southern Africa. As of the end of March they had already reached a whopping 652 species!
Ali Iyoob is sitting pretty at 230 species in his North Carolina big year during which he is trying to break the state record of 351. He better watch out though, because another birder in North Carolina also has reported 230 species so far this year! You can follow Ali's big year at NC Big Year '13.
David Pavlik is doing a photographic big year, trying to photograph 500 species in the ABA-area in order to fundraise for the American Bird Conservancy's work with the endangered bird species of Hawaii. You can follow along at Birding for Conservation, where I learned that David has already reached 270 species for 2013.
Rangel Diaz's big year in Miami-Dade County, Florida, is going well. He's hoping to reach 300 species and blogging it at EPIC Big Year 2013. So far he has logged 216, well on his way and good enough for third in his county so far.
Greg Majewski is hoping to reach 250 species in Indiana this year, a relatively modest goal but one that is fitting for a new birder. If you follow his adventures at Greg and Birds you will already know that he has reached 90 for the year.
Laura Erickson is doing a "Conservation Big Year" seeking to see, photograph, and highlight conservation stories around the United States in 2013. You can see what she is up to at Laura's Conservation Big Year 2013, but the metrics that Laura is using to measure her big year are really beyond simple numbers.
Matt Timpf is doing a Canada Big Year. I'm not at all sure what his goal is other than seeing lots of birds but Canada is a big country so I bet he succeeds! You can keep up with Matt at Canada Big Year 2013, which lets us know that he has seen 177 species so far this year in Canada, which means only five birders have seen more birds than him in Canada this year.
Jay Lehman is doing an ABA-area big year this year and has so far racked up 331 species. I'm not sure what his goal is but you can follow his big year at Jay's Big Year 2013.
Willie D'Anna is doing a big year in the region covered by the Buffalo Ornithological Society (essentially western New York State and the Niagara peninsula). He's at 160 so far, and hoping to reach the record of 283 set way back in 1962 by Richard Rosche. You can follow along with Willie's big year on the big year page of his wife, artist Betsy Potter's website.
Greg Cantrell is doing a New Jersey Big Year, hoping for 300 species, and raising funds for the New Jersey Audubon Citizen Science program. He's reached 189, pretty impressive for mid-April, and you can keep up with him at My New Jersey Big Year.
Daniel Levinson is doing a New England big year with a goal of 300 species and has reached 113 so far. You can keep track of his birding exploits at New England Nature Notes.
Last, but certainly not least, Josh Crickmay, a fifteen-year-old with Tourette's and Asperger's is doing a worldwide big year (though mostly in southern Africa). He has reached 462 species so far and is off to the Amazon! You can follow along at Josh's Big Year.