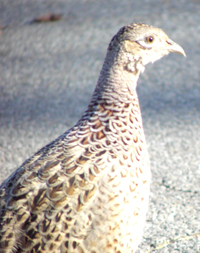 The Core Team rose before dawn today, quite a departure from our typically retiring ways. We don't greet the rising sun for just anybody. However, today is the Bronx/Westchester Christmas Bird Count and we had to do our part.
Our role was a simple one: ignore common birds and try to pick up some rarities. Individuals who bird this neighborhood more often than we do would have better equipped to fulfill this task, but we had some decent leads.
We started at Riverdale Park in an attempt to catch the Eastern Screech-Owl we'd seen before. That didn't work out for us. Our next stop was the Spuyten Duyvil Metro North station. Rumors of falcons and eagles in Inwood Park in Manhattan were too good to pass up. Since the Spuyten Duyvil separates the two boroughs, we though we might poach some downtown birds. Although we did see some kind of raptor, we were not able to ID it. We did walk away with a beautiful pair of Canvasback, new to us, and a Great Blue Heron.
A lot of people envision the Bronx as some post-apocalyptic landscape of burning, graffiti-covered tenements. Of course, they couldn't be more wrong, at least as far as our neighborhood goes. As the sun climbed to a more reasonable height, the Core team repaired to the fabulous mansions of Fieldston. This swank neighborhood's privately-policed streets are so quiet that birds are fooled into thinking that it is some kind of refuge. Tons of common winter birds abound there, but we were looking for something better and we found it. We spotted a raptor searching the well-manicured laws for salmon rolls or caviar-stuffed chipmunks. This was our first Cooper's Hawk.
Next, we turned our eye to our neighbor to the north — Westchester County. We joined our friends in the Hudson River Audubon Society for a count of the birds of Tibbetts Brook Park in Yonkers. The group saw a fair number of species, all of which will be reported in the final count. It wasn't until we left the more dedicated birders that we saw our final new species of the day. A Ring-necked Pheasant, probably immature, was being fed by a woman in the park's parking lot. This bird was as tame as they come. I walked over to take its picture and it circled me so closely, it practically walked between my legs. Other birds could learn a lot from this pheasant's congeniality.
Everything mentioned so far happened before noon. Impressive, no? Our plan was to dedicate the rest of the day to another Core Team passion, football. After all, our fantasy football team is playing for the league championship today (go, Bling!) Birding was officially over for the day. However, as I sat down to write this very post, something special happened. I spotted an odd silhouette on a tree about 80 yards away from my apartment window. I figured it was a pigeon but had to check it, considering the spirit of the day. I looked, then looked again, then called Sara in to look. The bird was unmistakably a male American Kestrel in full blue and orange plumage. We've never seen one in the Bronx, nor have we ever seen a bird more exotic than a mockingbird anywhere near here. We watched him sit for 30 minutes, then pull a bird (probably a sparrow) out of a bush on someone's terrace 16 stories up. Then we watched him perch atop a chimney to devour his prey. Then, if that wasn't incredible enough, a different Cooper's Hawk than the one we saw earlier landed in the same exact tree. It was a Christmas Bird Count miracle!