Maybe you've seen the news, or read it on another blog but here in the UK we've had a drop of the white stuff. It closes schools, causes chaos on the roads and has the British media almost falling over themselves to highlight our plight. Whilst the snow that came at the end of November has cleared from the lowlands here in the North, more is forecast, in fact judging by the excitement of the weather reports by the time this post is up we could have entered a new Ice Age.
Snow changes the birding landscape on a number of levels. The garden feeders become a destination for new visitors displaced from higher ground or feeding areas that are no longer accessible. Over last winter and this one the snow has brought several species into our garden that may have otherwise not arrived, particularly thrushes, finches and buntings. Some have taken up temporary residence for a few days at a time, others have been transient moving through quickly.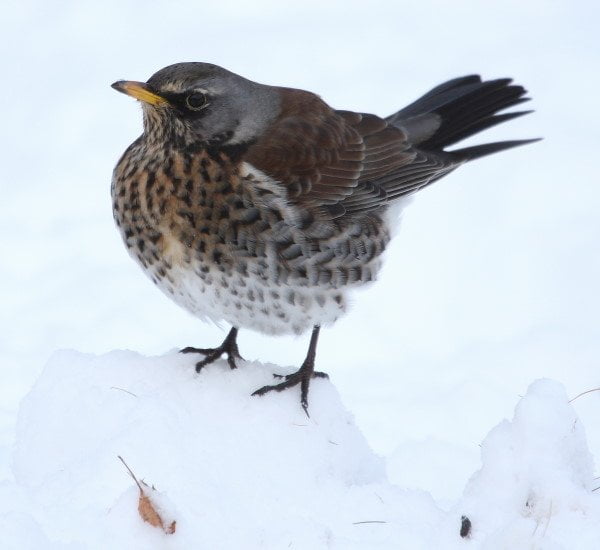 Fieldfare – One of the snow driven garden visitors.
Getting around to get any birding done becomes a little tricky. A fortnight ago both our cars remained at home for two days whilst we dug them out and waited for the roads to be cleared. Setting off on foot I hiked about 5km one morning around some of the local areas not long after the first snowfall. Many areas were bird free zones with the usual residents having moved on quickly. Several species became much more obvious, a Tawny Owl still hunting in daylight, overflying ducks moving to find unfrozen open water. That same morning five Goosander flew low overhead as I left the village, an odd sighting far from water and a 'village first' for me.
Heavy and prolonged snow pushed birds to the coast where it was perhaps slightly warmer and less snow cover allowed them to feed. This year the usually secretive and nocturnal Woodcock has been found along the coast in large numbers, shunted out of their woodland home they've been popping out of ditches and from under bushes almost everywhere. Whilst its great to get good views, after a while I couldn't help feeling guilty at disturbing them, however unintentional it was.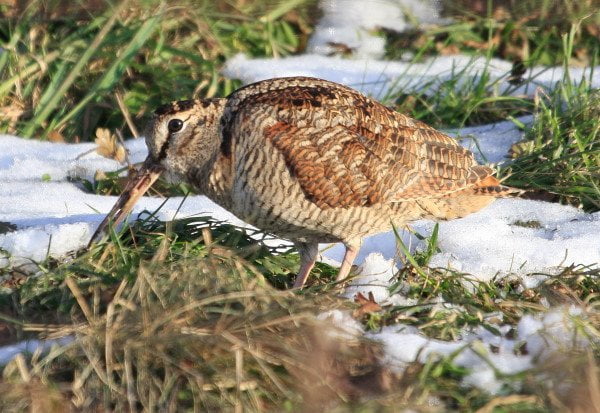 Woodcock – one under every bush
There have been some substantial and obvious wildfowl movements, lots of geese moving on south away from the snow and those that remain corralled into any coastal field that offered feeding opportunities. Two Dark-bellied Brent Geese were my best goose' find' during the snow, Northumberland is better known for the wintering Pale-bellied Brent Geese on the Lindisfarne National Nature Reserve. One of my Brents was banded though I'm still waiting to discover its history. A Ross's Goose of unknown origin also moved through the county during the snow cover. Our local wintering Whooper Swan flock had reduced to 25% of it's pre-snow peak after about a week of the white stuff.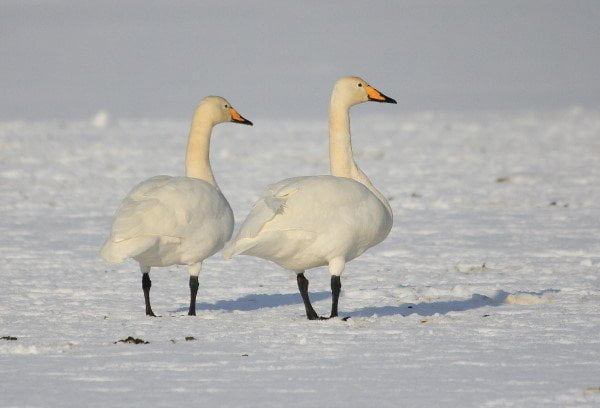 Whooper Swan – a couple of the survivors
One of the biggest changes brought about by the snow is in some of the birds themselves, reluctant to move away from unfrozen water or a much-sought after food source many become remarkably confiding. They can become a bird photographer's dream, though the converse is also true bird photographers can become a bird's worst nightmare. We all need to consider how our presence is impacting on the birds we're watching/photographing in severe weather, especially water birds. Spending too long at one site in the open can prevent them from feeding and making the most of the short daylight hours.
Having said that any site with reasonable cover where there is still open or running shallow water can prove remarkably productive in these conditions. A broken water pipe flowing into a field corner not too far from home produced 10 different species for me in one morning, all taking advantage of the unfrozen flowing water and presumably the softer earth.
So if you get a little of the white stuff, enjoying the changes it brings to your birding but spare a thought for fellow 10,000 Birds blogger Clare Kines, with nine months snow cover he is the real snow birding expert.